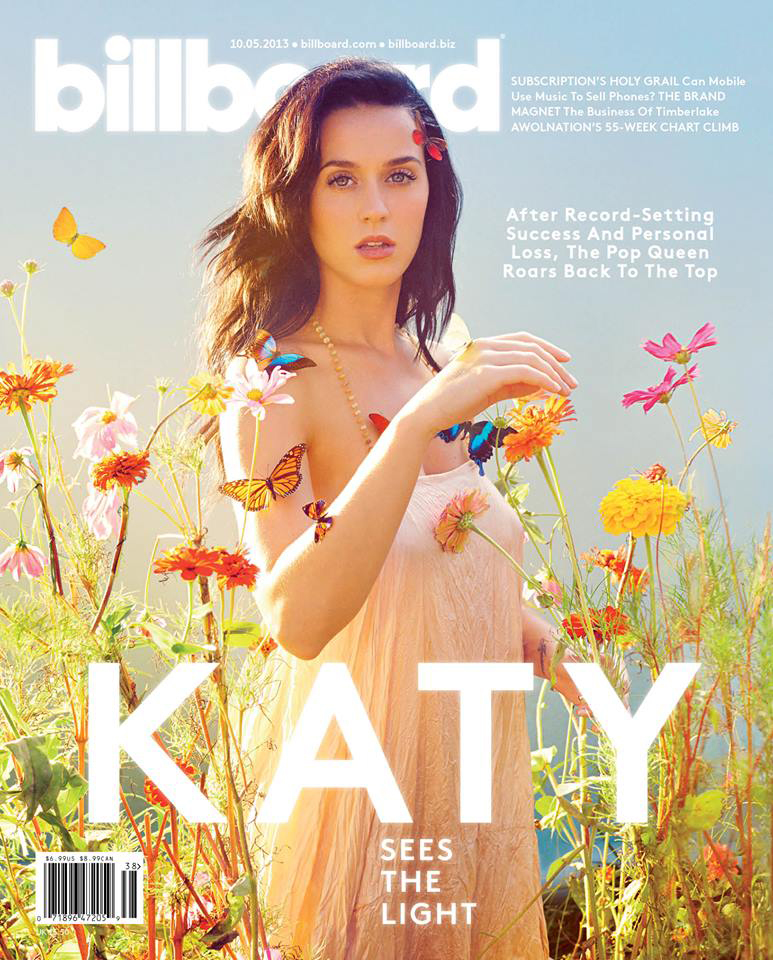 Katy Perry covers the upcoming issue of Billboard magazine to promote her PRISM album. She looks super pretty here, right? Katy has just the right coloring to look ethereal while lounging in a lush, green field full of flowers. I'm glad she left her rainbow grill at home for the shoot. Good call.
The interview features Katy throwing Russell Brand under the bus all over again. There's more about how he dumped her via text message. Now Katy's painting Rusty as a mega bad guy because she claims to have been suicidal after he filed for divorce. The story's headline alludes to how Miss Katy "sees the light" now, which probably means she's not falling for bad boys anymore. We'll see how that pans out next time she and John Mayer break up. Of course she's gushing over John here and calling him a "genius" because he's so good at crossword puzzles. Oookay: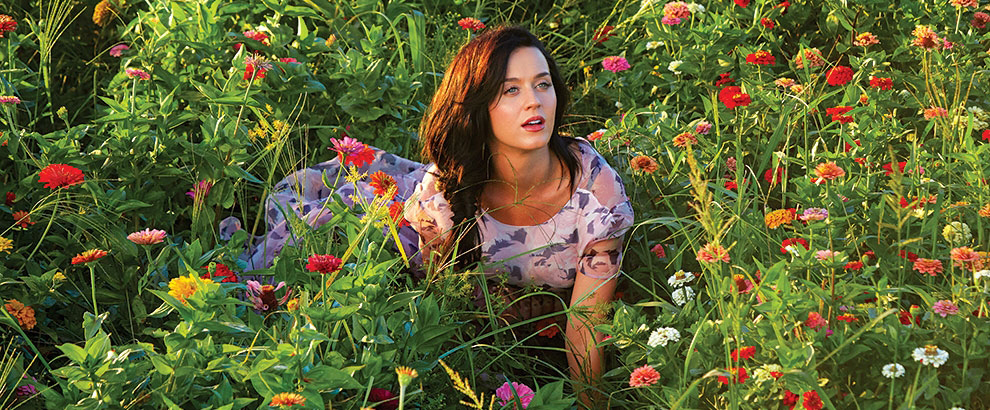 On PRISM: "I was really inspired by this little six-minute thing by Eckhart Tolle where he speaks about loss. When you lose something, all your foundations crumble-but that also leaves a big hole that's open for something great to come through. I took a trip to Africa that really put my priorities in perspective and started doing more work on myself. I didn't want to do Teenage Dream 2.0," she says. "Teenage Dream was highly conceptual, super-pop art. PRISM is more organic, au naturale, vulnerable and honest, but still has the same amount of fun."

Katy is surprised by her own success: "Honestly, I'm just masquerading as a pop star."

She's training hard: "I am exhausting so much energy right now," Perry exclaims between bites of Cheez-Its — furtive bites, because eating Cheez-Its is breaking training. "For eight days straight, I've been conditioning — just going, going, going at the height of my physical capabilities. I'm supposed to eat meals every two hours, but it takes me an hour to think of what I want to eat, so by lunchtime, I'm starving. I'm just so hungry all the time."

Barbara Walters schooled her for being late: "I shouldn't have done the interview: I was playing Madison Square Garden that same night, and I knew that the end of my marriage was coming. I was just exhausted and stressed. I'd prepped everyone that I was running late, but Barbara showed up at the original time anyway. When I got there, I apologized immediately, but then she said to me, 'You know, I've only ever waited for one other person this long, and you know who that person was? Judy Garland. You know how she turned out, right?' I was like, 'Oh, snap! Yes, bitch!' I think it's the coolest thing that Barbara Walters shaded me. I just couldn't tell her as we were sitting down for a mega-interview, 'Hey, my marriage is falling apart. Give me a break.'"

Rusty made her suicidal: The line "You sent a text/It's like the wind changed your mind" from "Ghost" references how Brand delivered the news he wanted a divorce. "By the Grace of God," meanwhile, begins with Perry lying on the floor of a bathroom, fighting suicidal thoughts. "That song is evident of how tough it really was at a certain point. I asked myself, 'Do I want to endure? Should I continue living?' All the songs are real-life moments. I can only write autobiographically. I put all the evidence in the music. I tell my fans if they want to know the real truth about stuff, just listen to the songs."

She calls John Mayer "darling": "He literally is a genius, as is evident from his songwriting. I always tell him, 'Darling, you know I'm going to have to give your mind to science after you've passed, because we're going to have to understand how all these sparks work.' We'll be in bed, and he'll be doing the crossword puzzle. Every night, he tries to finish it in under 10 minutes. When he puts his mind to something, he really gets it done very well. I always ask for his help."

She's more Joni Mitchell than Madonna: "I love Madonna to death, but she's never going to give me that damn baton. I'll probably turn into more of a Joni Mitchell. As I inch towards my 30s, I think my fourth record will be more of an acoustic guitar album. That's where I started when I was first discovered by Glen Ballard and got my first record deal. We'll see-I can't get ahead of myself. I'm still doing the work: I'm a good balance of left and right brain, and to be an artist with a long career, you've got to have both. One thing John said to me was, 'It's harder maintaining success than finding it.' I've got a few records under my belt, and I still feel like a brand-new artist. People still want that truth to cut through."
[From Billboard]
Oh the contradictions. On one hand, Katy claims she knew her marriage was coming to an end, but the "It's like the wind changed your mind" lyric makes it seem like she was truly shocked by Rusty's final farewell. Then she signed the divorce papers with a happy face, which doesn't sound like a suicidal action. Oh well.
Here's some photos of Katy promoting her new Killer Queen fragrance in Berlin and suppering at Nobu in London. The "quirky" backpack kills me.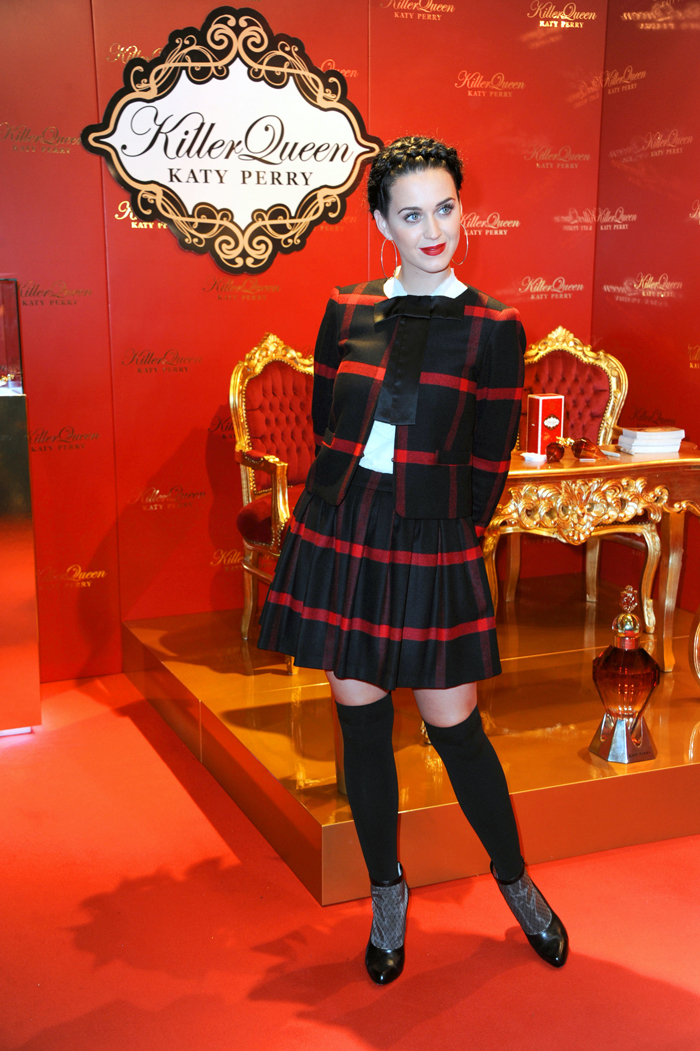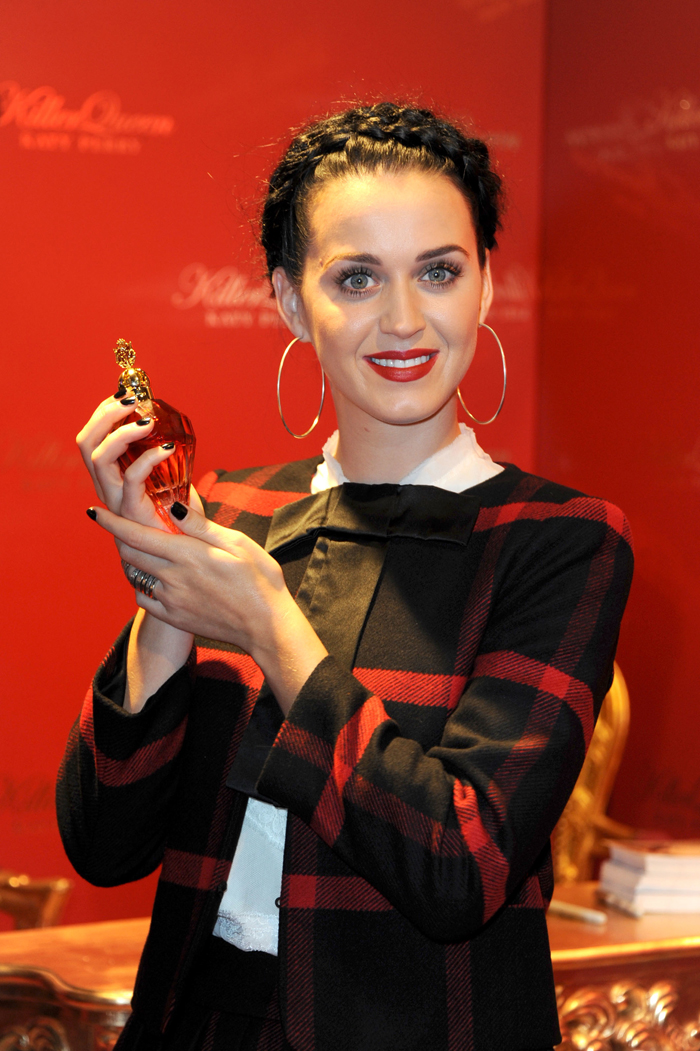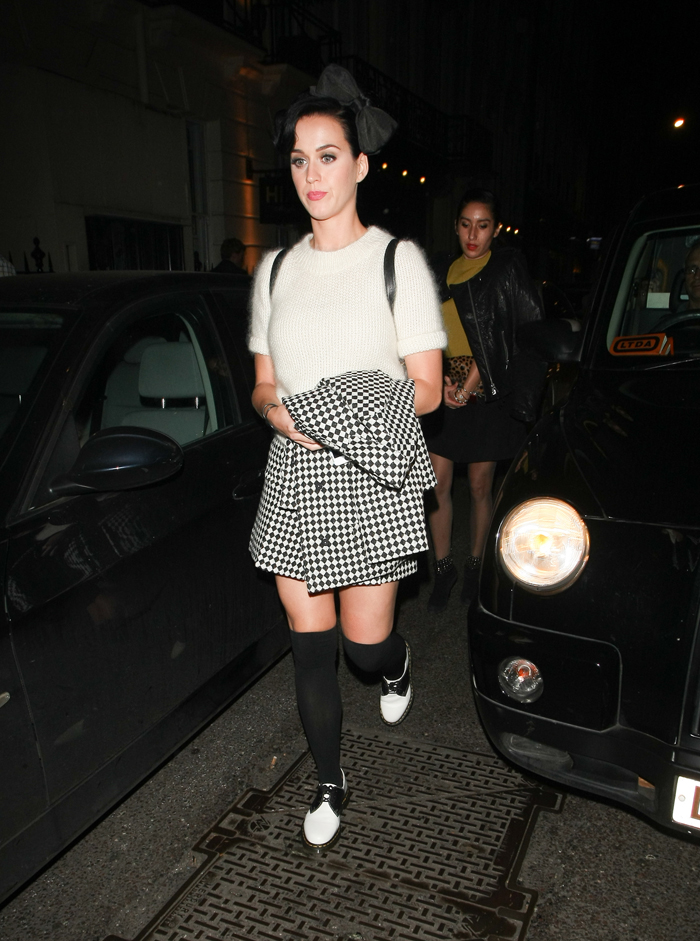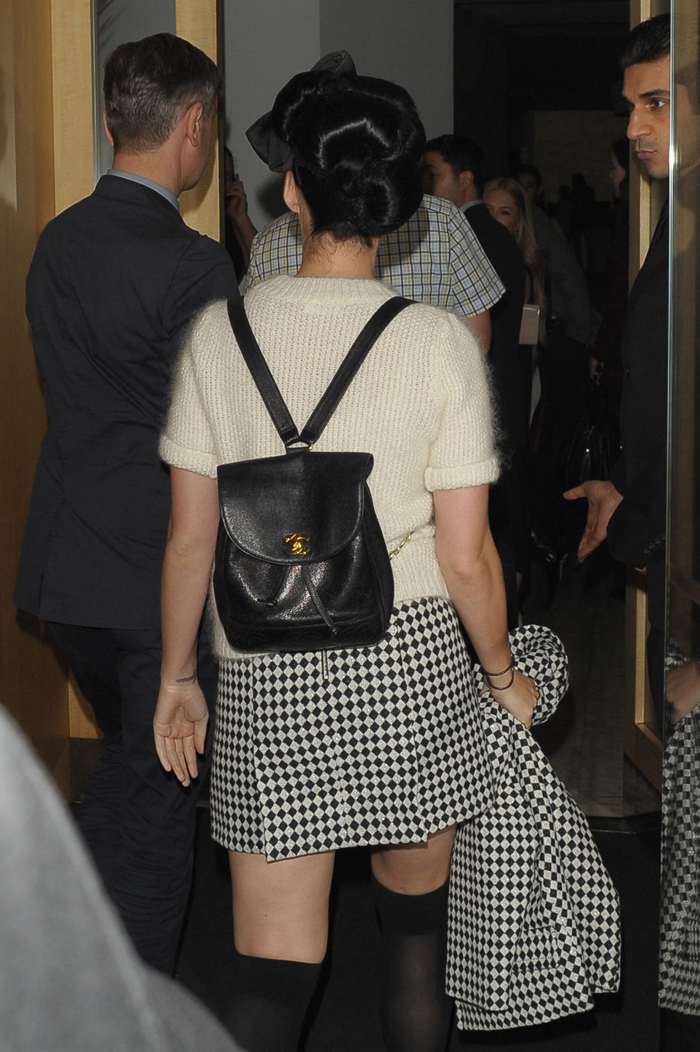 Photos courtesy of Billboard and WENN