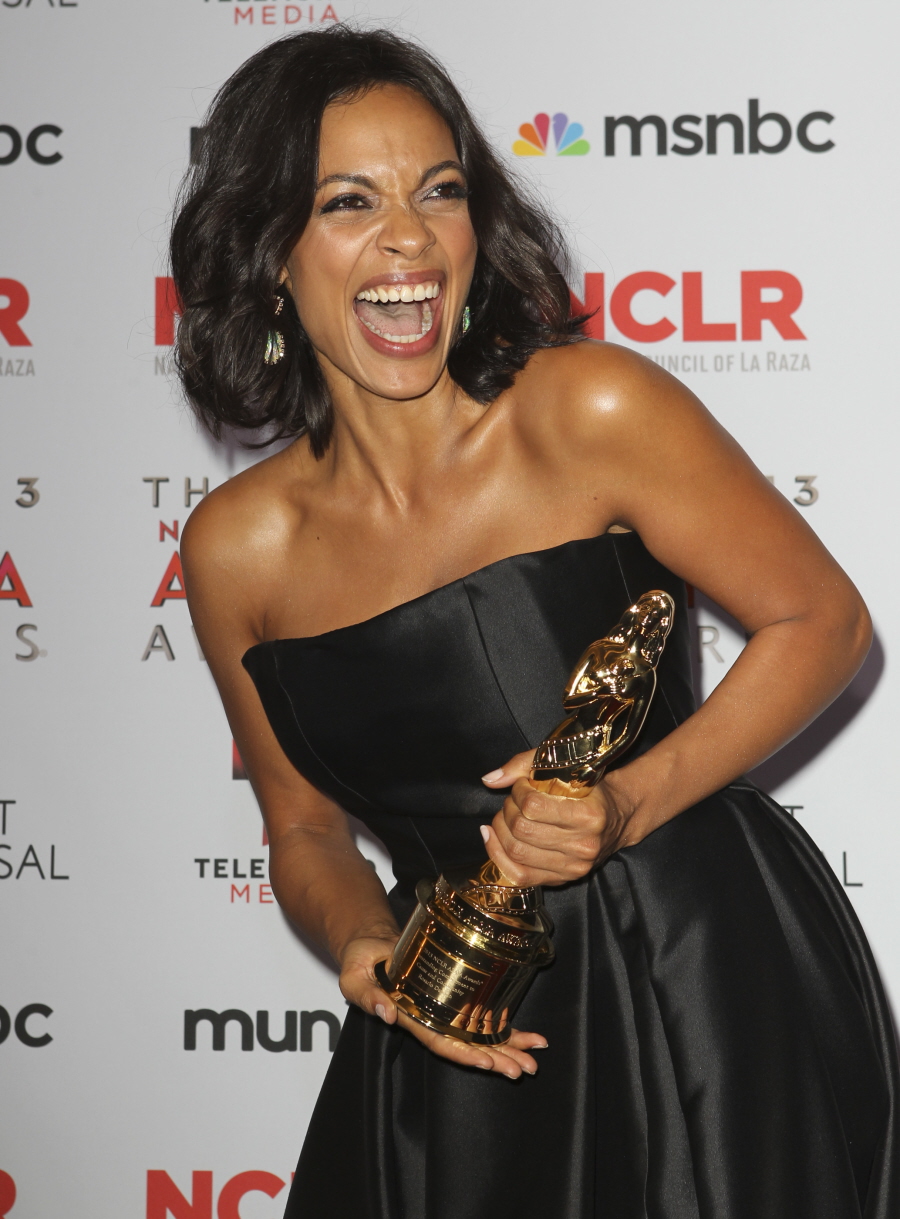 I don't really care when people lose their virginity. I'm not about judging women or men about when and how they "lost it". My first time was awful. My second time was awful. My third time was… well, you get the idea. When I do look back on those experiences, I'm embarrassed for myself and for the dudes. I didn't know what I was doing and neither did they. I've known lots of women (and men) who've waited until their late teens and early 20s, and they seem to have a better time of it in general, or at least they have the maturity to not freak out when their first time isn't all hearts, rainbows, unicorns and Big Os.
So, with all of that being said, is it shocking to learn that Rosario Dawson lost her virginity when she was 20 years old? I'm only surprised because she started acting and modeling when she was so young, and it seems like she was being pushed as "sexy" years before she actually had sex.
Rosario Dawson has no problem getting personal. During a discussion about her 1995 film Kids — the very first film she ever made — the 34-year-old actress revealed what age she lost her virginity in real life.

"I got spotted on the street. I auditioned. I worked on it for four days," Dawson recalled of the film to HuffPost Live on Tuesday, Oct. 1. At just 15, Dawson acted in the controversial Larry Clark film that centered on New York teenagers (at least one of them knowingly HIV-positive) doing drugs and having unprotected sex. But, as Dawson pointed out, her character Ruby wasn't someone she could relate to at the time.

"I didn't even have sex until I was 20," the 10 Years star admitted. "My mom was a teenage mom, I was deathly afraid of being a teenage mom."

And as for the film's uncomfortable sex scenes, it surprisingly didn't alarm her parents one bit!

"With all the insanity that my character goes through, the only thing they cared about was not smoking," she joked.

Though the stunning actress didn't mind sharing her sexual awakening, Dawson would later down the road keep tight-lipped about several of her romances after the mid-90s project. The Chavez star was briefly linked to Joshua Jackson in 2002 and split from French DJ Mathieu Schreyer in 2011 after three years together. She would later date Oscar-winning director Danny Boyle for eight months before splitting in December 2012.
Confession: I never saw Kids. I know, I know. It's a super-important film and it launched blah blah. Sorry, I never saw it. But I remember the buzz around it and I remember how Rosario was considered the hot new "Indie It Girl". Whatever. I bet she's glad she waited until she was 20. Waiting until your 20 is so much better than doing it when you're a dumb teenager and you don't know what the hell you're doing.
Meanwhile, I still wonder what happened between Rosario and Michael Fassbender. Remember that? They dated briefly in March-April of this year, shortly after Michael and Nicole Beharie split up. I guess they just couldn't find time to be together. Michael seems like a very "love the one you're with" kind of dude.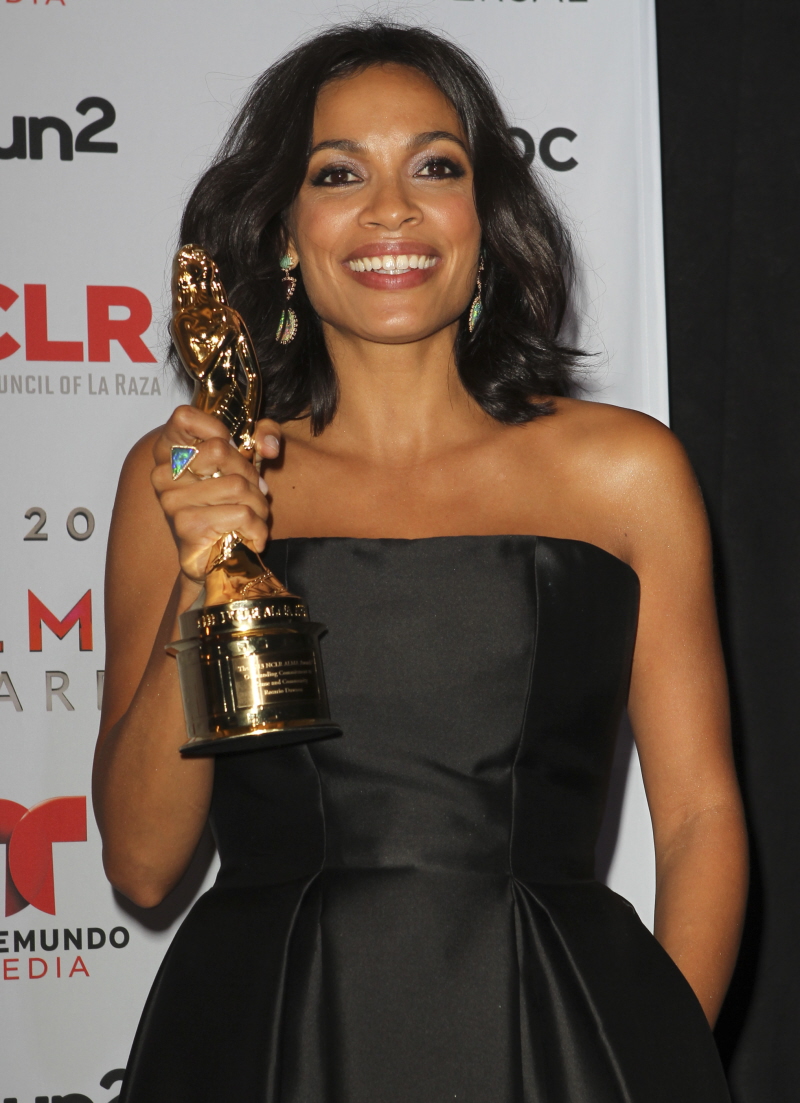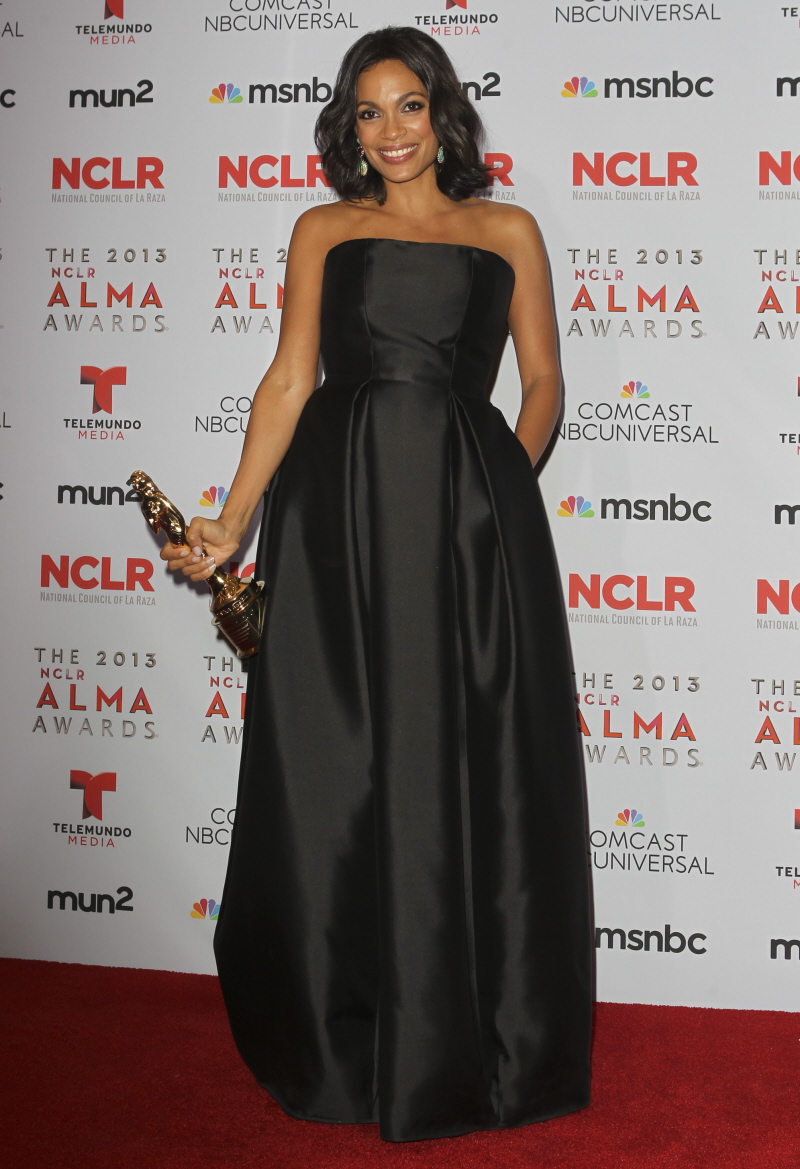 Photos of Rosario at the ALMAs last weekend, courtesy of WENN.