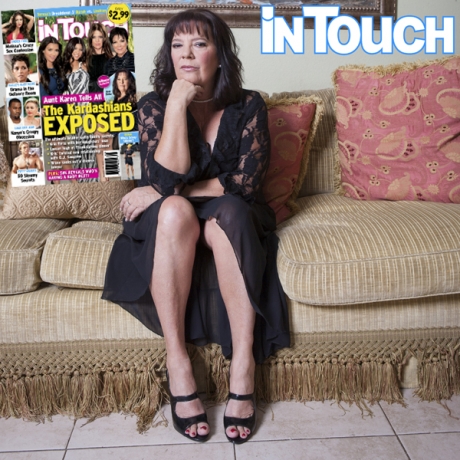 You've got to hand it to In Touch for putting the screws to Kris Jenner on multiple covers. Remember all those "Kris is a Monster" covers earlier this year, gleaned from her late ex-husband's diaries? Good times. Those covers much have sold well because they're at it again.
In Touch's previous anti-Kris stories came from by her ex husband's widow. Now Kris's little sister, Karen Houghton, is talking smack to In Touch. This is despite the fact that Kris gifted her sister with a car this year and $50,000 worth of furniture in 2009. I guess she expects more. She is Kris's sister! The last and only other time I've heard about this woman, Star Magazine was reporting that she'd had relationships with at least two men who were convicted felons and drug addicts. It's not like the Kardashian-Jenner family has any experience with that, right?
Here's In Touch's interview with Houghton, and she confirms the fact that Kris and Bruce Jenner are separated.
After decades of keeping the Kardashians' secrets under wraps, Kris Jenner's younger sister, Karen Houghton, is breaking her silence and revealing what really goes on behind the closed doors of her sister's reality empire.

In an exclusive interview with In Touch, Karen reveals the truth behind Kris' rocky relationship with Bruce Jenner: "[Kris and Bruce] are separated," Karen confirms to In Touch, adding that he has "sought out a lawyer." But despite their separation and frequent fights, Kris and Bruce "still do things together," says Karen. "Their relationship goes back and forth. I would love to see them get back together."

While Kris herself has admitted to cheating on her late ex-husband, Robert Kardashian, and straying at the beginning of her relationship with Bruce when she slept with an ex, soccer player Todd Waterman, Karen says there are whispers of even more inappropriate behavior.

"I've heard she flirts with Scott [Disick, Kourtney's boyfriend] and Lamar [Odom, Khloé's husband] when she's drunk," says Karen.

But the whispers don't end there. Before he was accused of murdering wife Nicole in June 1994, O.J. Simpson would get "flirty" with Kris at parties. Now O.J. — who's in prison for unrelated crimes — "has been trying to contact Kris from jail," Karen tells In Touch.

Karen, known as "Crazy Auntie K" to her famous nieces and nephew, "knows where all the bodies are buried. Her talking is Kris' worst nightmare," says an insider close to Kris. That may explain why Kris keeps her sister away from the reality cameras — but lavishes her with gifts.

"She sent down a Mercedes for Valentine's Day. I went out front, and there was a big bow on it," reveals Karen, a part-time nurse and single mom to daughter Natalie Zettel, 15. "She also furnished my whole house [in 2009]. A truck came down with $50,000 worth of furniture."

Kris may be "generous and giving," says Karen, but she's also "crazy and controlling."

Read the full interview with Karen sharing the Kardashian's darkest secrets — including details inside Lamar Odom's recent drug scandal, Kris' epic clashes with Kanye West and more — in this week's issue of In Touch, on stands now.
This has got to annoy Kris. She's dealing with Khloe's marriage crisis (Lamar is telling TMZ he's been sober a whole 5 days btw) and she doesn't want the press to focus on her own dead marriage. I doubt that Kris is going to divorce Bruce, they probably have some sort of agreement for business purposes and are just avoiding each other in general. We've heard that Bruce consulted a divorce lawyer, but that was a while ago. I bet that Kris convinced him that he didn't have to go that route, and since he's followed her demand for over twenty years so far he of course acquiesced.
As for the news that Kris flirts with her daughter's partners when she's drunk – of course she does. Kris thinks she's the hottest thing in the room no matter what.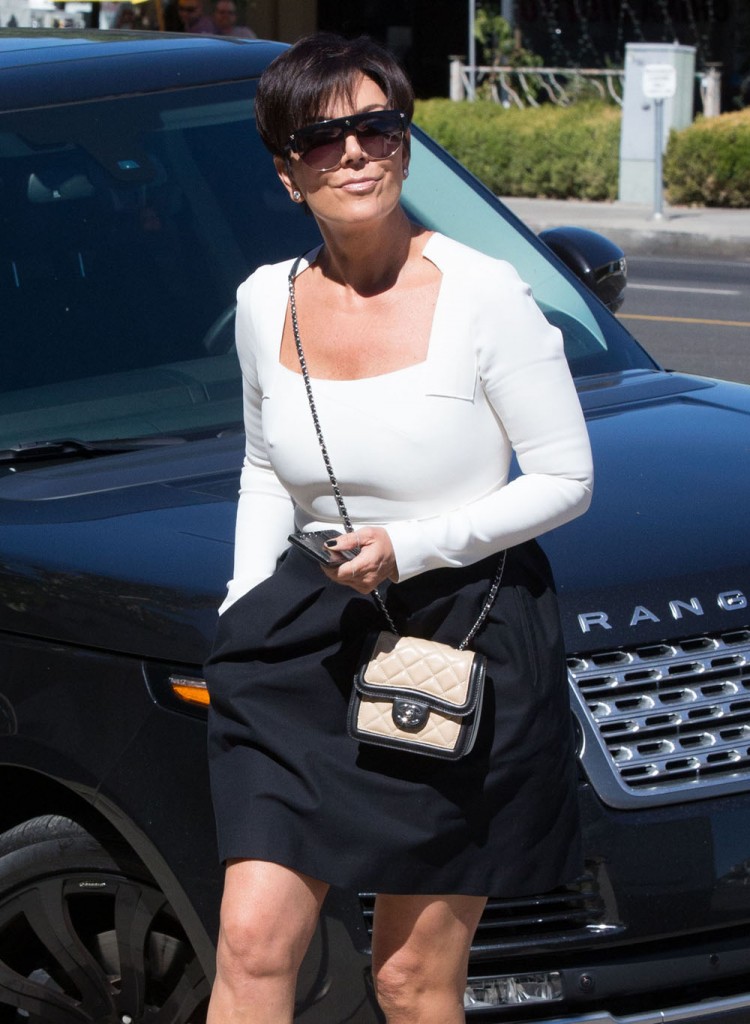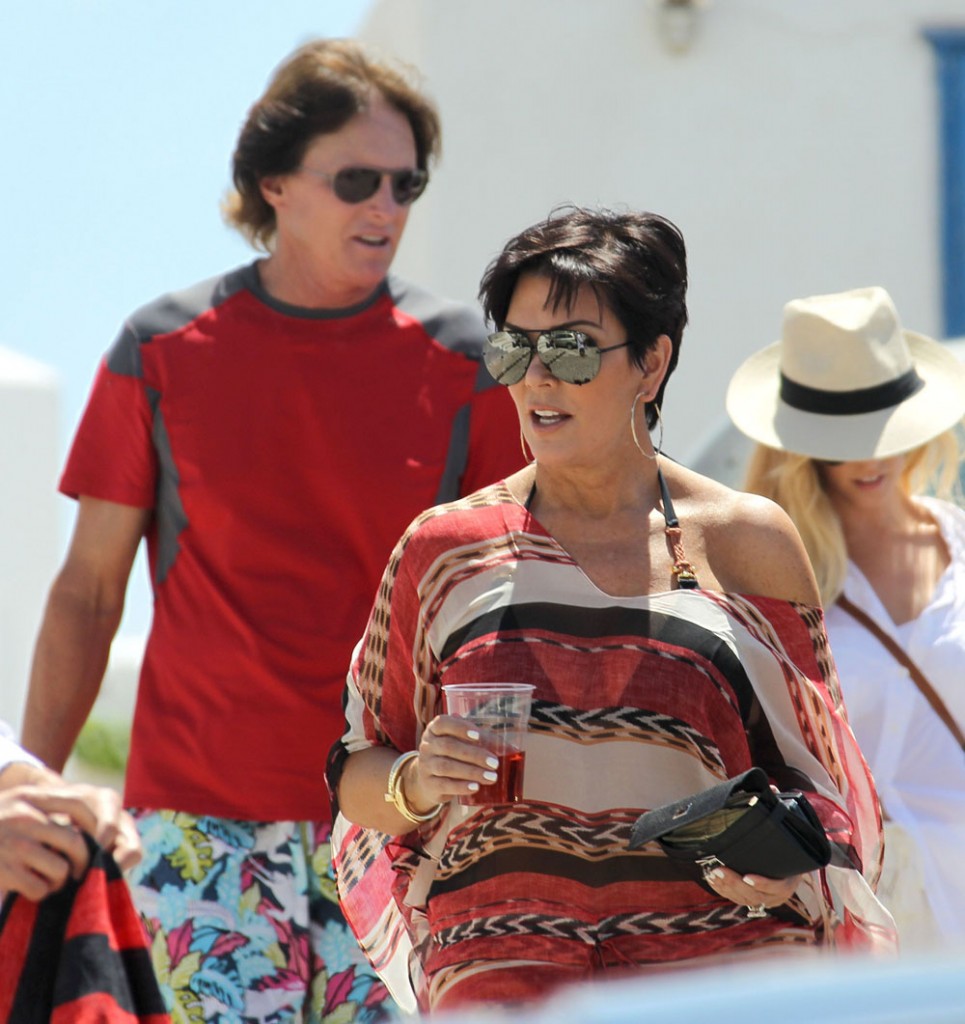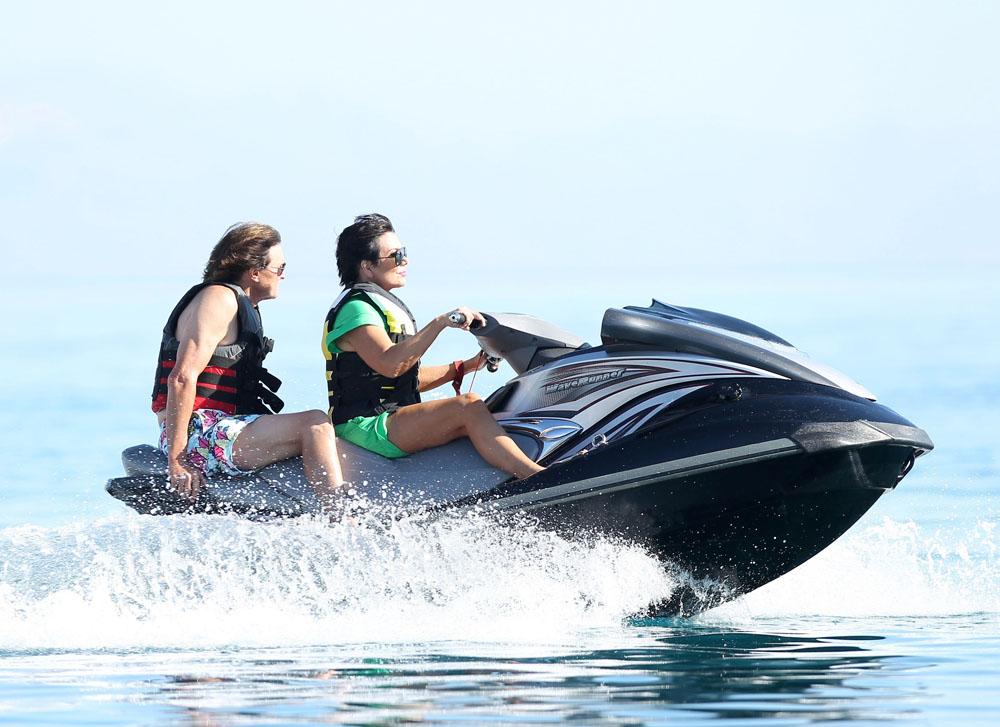 Kris and Bruce Jenner are shown filming scenes for their show in April. Kris Jenner is shown out on 9-30-13. Credit: FameFlynet