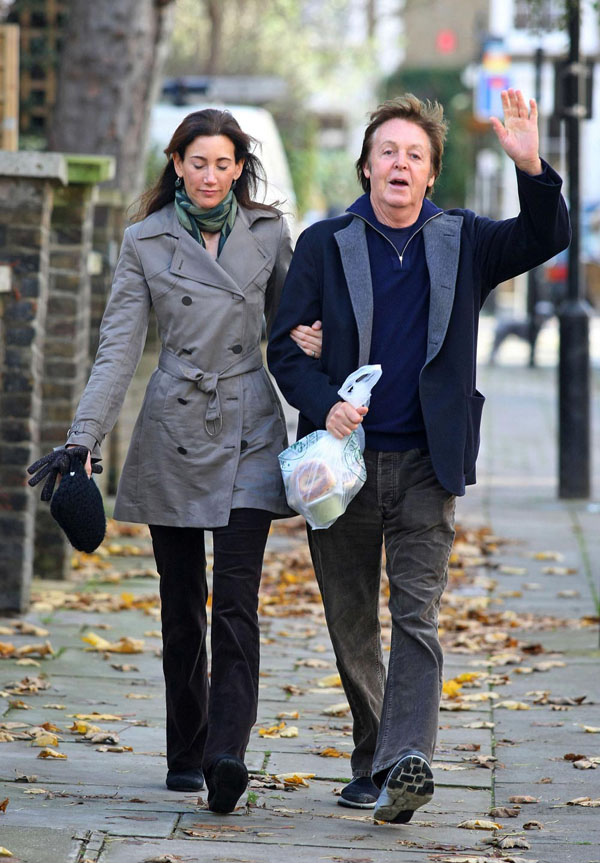 Paul McCartney may be ready to walk down the aisle a third time. This time, it's to his current girlfriend, Nancy Shevell. Though they have only been dating for a year, Nancy and Paul have known each other for over 30 years, and his children adore her. Even Paul's daughter Stella McCartney, who was highly vocal about her dislike of Heather Mills, approves. Nancy separated from her husband of over 20 years in 2007, and their divorce became final last month, leaving the couple free to get married. Sources close to the couple say that it might happen very soon.
Sir Paul and Linda were friends of Nancy and her ex Bruce on the dinner-party circuit in the exclusive US East Coast holiday retreat of The Hamptons, Long Island. The families developed a closer bond when Nancy was diagnosed with breast cancer in 1996, a year after Linda.

Maccas's friends and family view Nancy as much closer in spirit to Linda than former model Heather, whose murky past caused Sir Paul huge embarrassment before to their £24million divorce.

The source added: "Nancy has been through a lot – not least overcoming breast cancer. She also comes from a similar wealthy East Coast background to Linda. They shared a similar outlook on life. She joined the family firm in the 1980s and has become wealthy in her own right. It makes everyone comfortable that she is clearly not after Paul's money.

"It suits Paul that she is also discreet and, unlike Heather, does not court publicity."

Nancy has even reportedly toned down her right-wing Republican views to align herself more with Sir Paul's liberal political outlook. She has also swapped her favourite steaks for veggie dishes in deference to his long-standing refusal to eat meat.

The friend said: "Paul is a big believer in the institution of marriage, and his friends are in absolutely no doubt he will propose to Nancy in time.

"Her divorce has been hanging over them – with all the baggage from the past that it represents. So it feels like a great relief to have it all sorted."

Nancy, whose family freight business is worth around £250million, legally separated from Bruce in November 2007 after 23 years.
[from Mirror.co.uk via Gossip Rocks]
I'm not convinced that Heather Mills' recent comments on her desirability and the finalization of Paul McCartney's girlfriend's divorce are purely coincidental. Heather may never be likeable, but she does have a knack for getting noticed in the press at just the right moment. Just not for the right kinds of things.
If the reports are true, congratulations to the couple and hopefully the marriage will go more smoothly than Sir Paul's last.
Nancy Shevell and Paul McCartney are shown out in London on 11/11/08. Credit: Bauergriffin