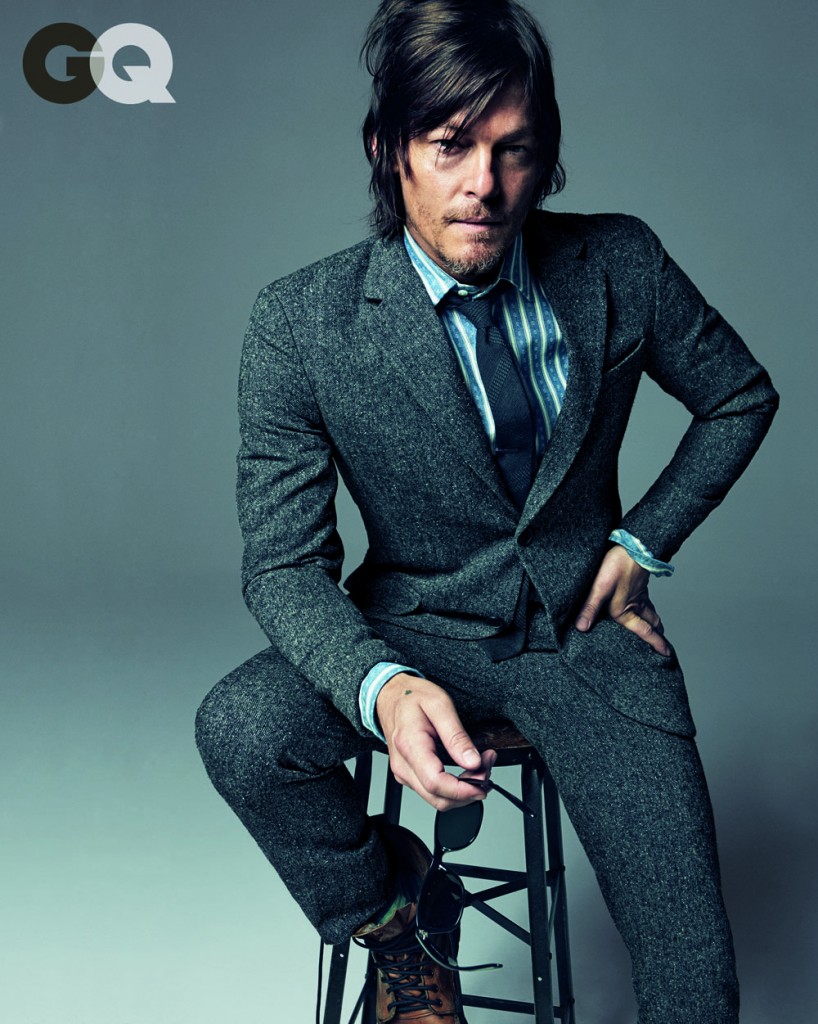 Just when I was mourning the death of Breaking Bad, The Walking Dead returns this Sunday to AMC, yay! They really don't have to do much promotion for this show, the ratings are huge are people are going to tune in no matter what. Still it's nice to see the resident badass with a heart of gold, Norman Reedus, get some press. Reedus is featured in October's GQ, and they have a lovely slideshow and brief interview there. The GQ people were kind enough to send us the image above to use.
I usually go for clean cut guys, but apart from the goofy hair Reedus is doing it for me here. He's a dirtbag with scruffy facial hair and sh*tkicker boots in a nice suit. Can you believe he's 44 freaking years old? I love it when hot famous guys are older than me. Did you know that Reedus has his own fangirls? Of course he does, and they have a name for themselves that reminds me of a little of the Cumberbitches. They call themselves "Reedusluts" and "Norman's Nymphos." "Reedusluts" is catchy but "Norman's Nymphos" is chessy. They need to come up with a better group name, but Reedus is cool with it. Here's his GQ interview:
When Norman Reedus first wandered onto The Walking Dead halfway into the first season, it didn't seem like he was going to last long. His character, Daryl Dixon, was angry, greasy, a loner on a show whose ethic is that unity is the only way to survive. But Reedus, 44, played Daryl's nasty lines like they were born of existential torture—more abused than abuser. "I wanted to play it like I was sort of embarrassed of who I was," he says. And as the fourth season begins, Daryl has evolved from a racist hillbilly to the show's unlikely moral center.

Reedus, meanwhile, has gone from tenuous guest star to the mega-hit's most beloved regular. His online fans (they have names like Norman's Nymphos and Reedusluts) gave him a huge reception at Comic-Con this year—amazing, considering Daryl's mere presence used to annoy fans of the comic because his character wasn't in it. "Call them nerds, whatever, man," he says. "I f*ing love nerds.
Reedus' character Daryl has really evolved on WD and I appreciate his story arc. Maybe that's down to what an excellent actor Reedus is and how he convinced the writers to keep him. Other characters, like T-Dog, didn't seem to get a chance. I'm interested in the new people at the prison this season and how they'll interact with the core group of characters. I can't wait!
Reedus also has a "25 Things You Don't Know About" in the upcoming issue of US Magazine. They sent us a preview and it's hilarious. My love for this guy just keeps growing.
"When I was a kid, 3 was my favorite number because if rotated, it looks like a pair of boobs."

"Growing up, the Clash's "Straight to Hell" was always our sing-along song while we washed the dishes. (Hi, Mom!)"

"I think apple pie-flavored gum is a revolutionary concept and I love it."

"My best friend is my cat."
[From US Magazine, print edition, received via e-mail]
I know that's only four items, I'll have to wait to read the rest, but it's already one of the best "25 Things" I've ever read. Either Reedus has a great publicist or he really is that clever and funny. I think it's the latter, I really do. "3 was my favorite number… because it looks like a pair of boobs." That's awesome.
Here are some photos from the Walking Dead premiere party earlier this month featuring Andrew Lincoln, Chad Coleman and Steve Yuen. I can't with Reedus' hair here. I know it's part of his character but he would look so much better with it cut.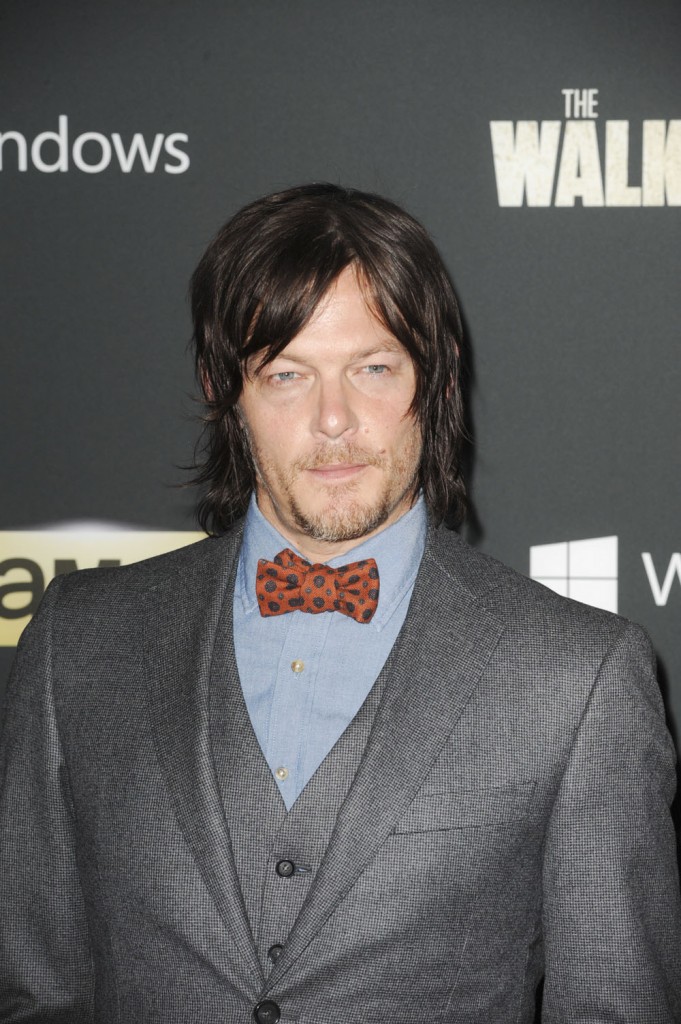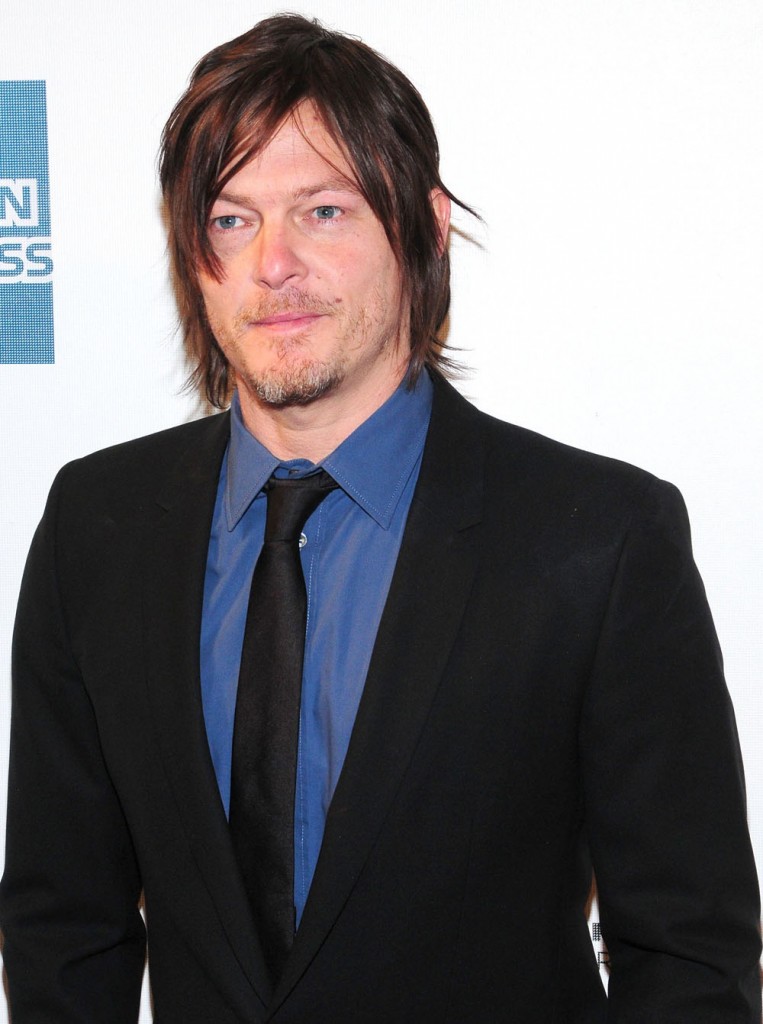 Photos are from the WD premiere on 10-4 and of Reedus at events earlier this year. Credit: WENN.com