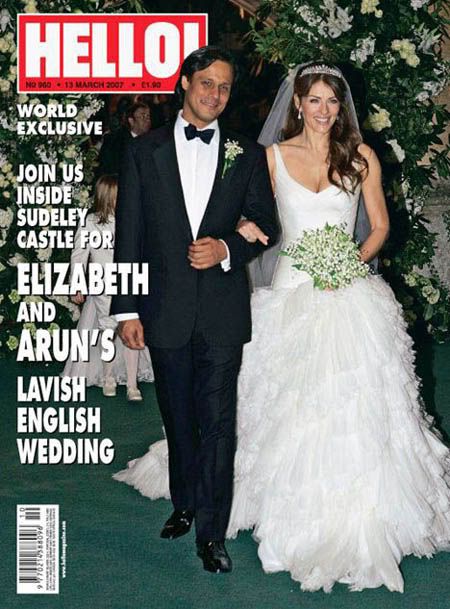 As Chic Mommy detailed, Liz Hurley's wedding to Indian-born Arun Nayar was over the top in England with an initial civil wedding at an castle followed by a week long of festivities in India, and another Indian wedding this Friday to cap it off. Hurley sent all the invited guests to her Indian wedding a dress code and set up a special shop for them at the Hilton in Mumbai so that they can dress according to standards. The men were told to wear turbans and long orange tunics and women should don hot pink saris.
She's thought to be riding into her Indian wedding this Friday on an elephant, and Bollywood type dance numbers will entertain guests.
At their English wedding, Elton John walked Hurley down the aisle as her father is deceased, and gave a speech which left her new husband in tears. Hurley wore a Versace chiffon gown with a Chopard diamond tiara. (I read somewhere today that she ate one meal for a day for a month and snacked on veggies and vegetable shakes in order to lose weight, but I can't find the link again.)
Hello! Magazine has 50 freaking pages of pictures from the Glouchester wedding in their upcoming issue, and will have scads more from the Indian leg of the bridezilla tour in the following issue. It doesn't matter what it cost, they probably recouped most of it selling the pictures.
Here are some candids from one of their opening Indian parties, the "glamorous casual" affair at the Taj Hotel. We're sure to see more later in the week. The header image is the cover of Hello! and is of their English wedding.