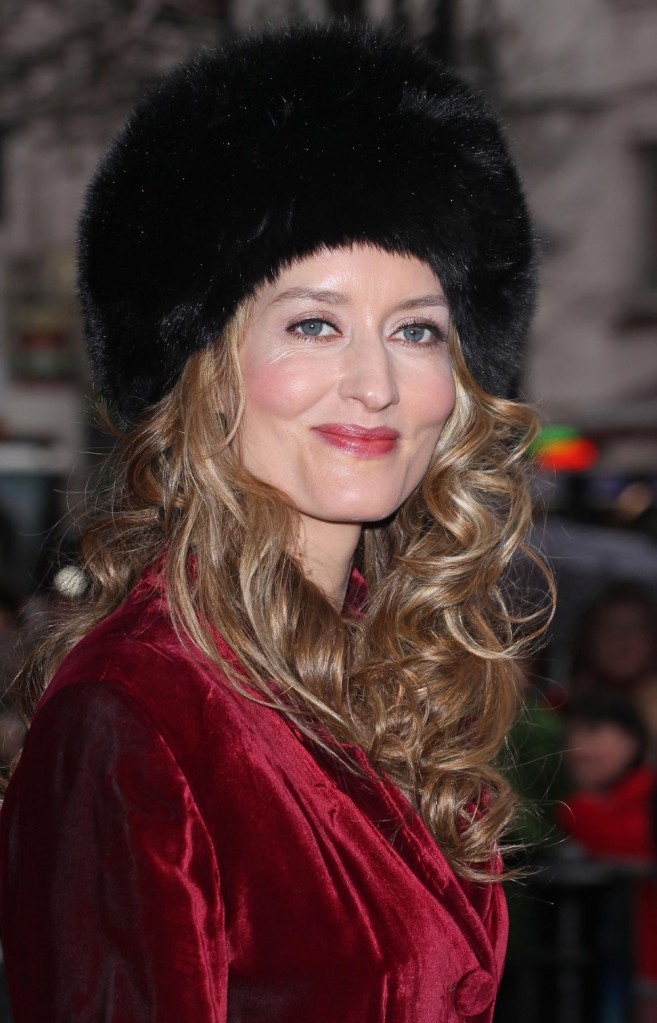 It's been months since Natascha McElhone has made a public appearance. The "Californication" star lost her husband last May, when he died of a sudden heart attack in their London home while McElhone was filming in Los Angeles. Production on "Californication" was at a stand-still briefly while everyone regrouped from the loss. At the time, McElhone was pregnant with their third child, a son her husband would not live to see.
McElhone honored her publicity requirements by attending the premiere of her film The Secret Of Moonacre in London last night, as David Duchovny was losing the SAG Award for Outstanding actor in a lead comedy role. She brought along her three sons probably for moral support, and perhaps because she isn't comfortable leaving them, even for a night.
Natascha McElhone put on a brave smile as she appeared in public with the son her husband did not live to see. Cuddling baby Rex, the 37-year-old seemed in good spirits, wearing a scarlet ankle-length velvet coat at the UK premiere of her new film.

Natascha, who starred with George Clooney in Solaris and Robert De Niro in Ronin, also took her other sons, Theo, eight, and Otis, five, to the screening of The Secret Of Moonacre at Vue in London's Leicester Square.

Natascha, whose plastic surgeon husband Martin Kelly died of heart problems at their west London home in May last year, previously revealed that her husband's last message to her was that he was looking forward to visiting her in Los Angeles, where she was filming the TV show Californication.

After the death last year, the actress told reporters: "I haven't been able to go off into a corner and be self-indulgent."

"I had this irrational fear at first that by moving on I would be leaving him behind. But that's obviously what you must do, as a parent. I have grabbed life by the throat and I am packing in as much as I can and trying to keep things fun for the boys, actually."

The Secret Of Moonacre is a fantasy-based tale about a 13-year-old orphan, set in the 1840s.
From AP Hosted by Google
I feel so bad for her. She's always seemed like such a classy and elegant woman, and she had such a quiet, no-drama marriage with a man outside the industry. It's really sweet that she brought her kids to the premiere, and it's good that she's pulling her life back together. The rumor is that she will definitely return to the next season of "Californication", so I hope she continues to get steady work to support those boys.
Photo Credit: WENN