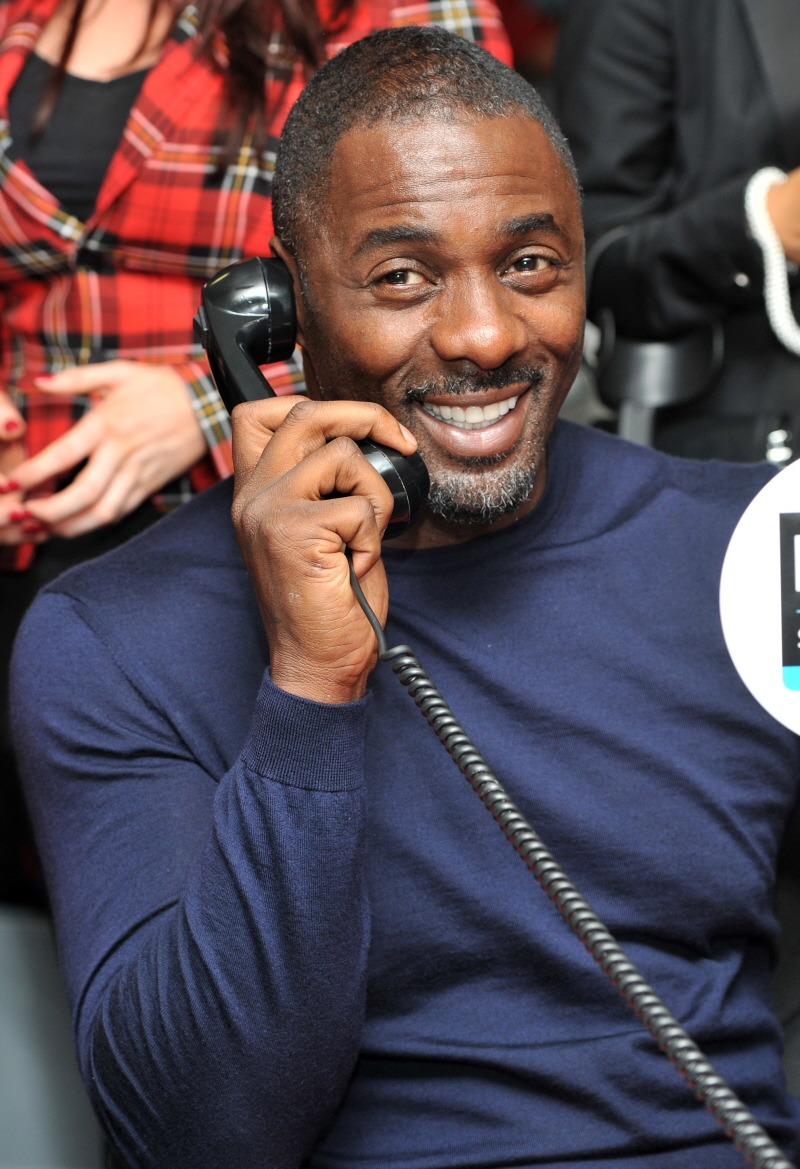 Idris Elba is Playboy's "20 Questions" feature in the November issue. Y'all know I love Idris, even if his interviews are usually rather messy (to his credit, though, he seems to let all of his mess hang out). But you should not expect some Samuel L. Jackson magnificence with this interview. Still, it's a decent piece and I do love that Idris is getting more coverage overall. You can read the full piece here, and here are some highlights:
Struggling in real life made Stringer Bell: "Yes. People I'd been raised with in London made money as a hustle, whether it was drugs or being a pool shark. Flash drug dealers went to jail, cool drug dealers didn't. I had that embedded in my system since I was a kid. My dad was a pool shark. We'd go to pubs and he'd pretend he didn't know how to play, put down a bet and win. The point is, Stringer was in my system. And when I got to America, I understood what was happening in the hood. I lived in Jersey City, which is a rough neighborhood, and in Flatbush for a while. That was my preparation for the role. [pauses] By the way, you know I've never watched The Wire.

Judging his own work: "I'm supercritical of my own work. As an actor, if you're being told how wonderful you are, what do you need to strive for? I don't know if I'm good just because some critic says I am in the press. [When told that he's good, he smiles.] The Golden Globe award told me that, thanks. And the two Emmy nominations. Just the small things."

His cockney accent: "In the circumference of London, if you come from the east, people know you're a cheeky chappy. You've got a bit of a mouth, a gift of the gab, you're wheeling and dealing. My personality is formed by that. East Londoners speak cockney—if you're born within a three-mile radius of the Bow Bells, then you're cockney. That's typically what my accent is, but it depends on who I'm talking to. Today I did a BET show and was like, "Yo, man, what up? How you feelin', bro?" I'm a bit of a parrot. [Holds up a pint] It depends on how many glasses of Guinness I smoke down… I tell a better story in a cockney accent—I'm more cheeky, there's more eyewinks and finger-pointing—but I'm always worried people don't understand what I'm saying. East London language is quite lazy and laid-back, which makes it easier for me to speak American. When I hear people from Brooklyn, I can understand how they make those sounds, because my accent is similar. Our tongues work the same way."

He went to an all-boys school: "It felt like punishment. My parents moved, and they signed me up for the nearest school to our house. It was lunchtime, and I asked, "So do the girls eat in a separate building?" And the teacher said, "Son, this is a boys' school." I was mortified. But there were loads of girls in the neighborhood. Trust me, I wasn't short of girls."

Whether he's more like his mom or his dad: "More like my mum, believe it or not. Man, what's that about? I'm very protective of my daughter and who she hangs out with. Same stuff my mum used to do, when I'd tell her, "Mum, relax." [laughs] You can drive yourself nuts as a parent, thinking about what boys do and what I got up to as a kid. If my kid got up to that same stuff, I'd be horrified."

On drugs: "Drug culture is a big part of the house music scene that I deejay now. Loads of DJs get smashed. But then you end up playing sh–ty music. At first I bypassed drugs. I didn't start smoking weed until later in life. Am I allowed to say that? I mean, I'm not gonna lie—I've tried everything, just between you, me and the people who read this magazine. I've tried it all. I played one of the biggest drug dealers in the world on TV, so you think I'd know what I was talking about."

Whether he's like Luther in real life: "In real life I'm a shy person. As soon as the spotlight's on me, I feel awkward. Idris feels like he doesn't have much to offer. That's why I end up plowing myself into these characters. With Luther I get to play a guy who can be grumpy all day long and doesn't give a f–k about it. I'm not allowed to be that grumpy! As an actor I have to be friendly and super-accessible… I'm really f–king serious; I'm a shy man. I'm great at hiding in characters. When I deejay, I'm great at standing behind the turntables. If I go to a club, I'm awkward. Should I stand there? Should I dance? You're not going to see me dance. I end up standing by the DJ."

Guesting on The Office: "Miner was a prick. I was really f–king excited to do that show. I wanted to be funny. I was going to do my impression of Ricky Gervais and use all these weird English expressions you've never seen a black man use. Then the producers decided they wanted me to play the character as an American. S–t. I was so disappointed, because it was my chance to be funny. Instead, Miner was the straight guy—to the point where he was a bit unlikable."

How fame affects his chances with women: "It happens to me all the time, still. I'll sit in a pub and nobody will recognize me. I might see an attractive woman, but she doesn't recognize me, so I'm not getting any love. Then one person goes, "Oh, it's you," and suddenly they all overhear and start asking questions. It's bulls–t. I've been in and out of relationships, I've been married, and it's hard to keep a relationship when you're an actor. A girl I knew said to me, "My dad told me, 'Never date an actor or a DJ.'?" It was over, right there on the spot. I was f–ked.
The Playboy interviewer also read back some of Idris's rap lyrics to him and he got slightly embarrassed by the lyric "my d–k's as thick as butter." *headdesk* And this is why I don't pay attention to Idris's rap career. I like to pretend it never happened.
Also – I think I've seen one of two episodes of The Office with Idris, and I remember being surprised that they made him do an American accent. He's right, it would have been funnier with an English accent.
Last thing: "Idris feels like he doesn't have much to offer." OH MY GOD. Kaiser doesn't understand why actors ever feel the need to talk about themselves in the third person. Kaiser feels like it's so… Kellan Lutz.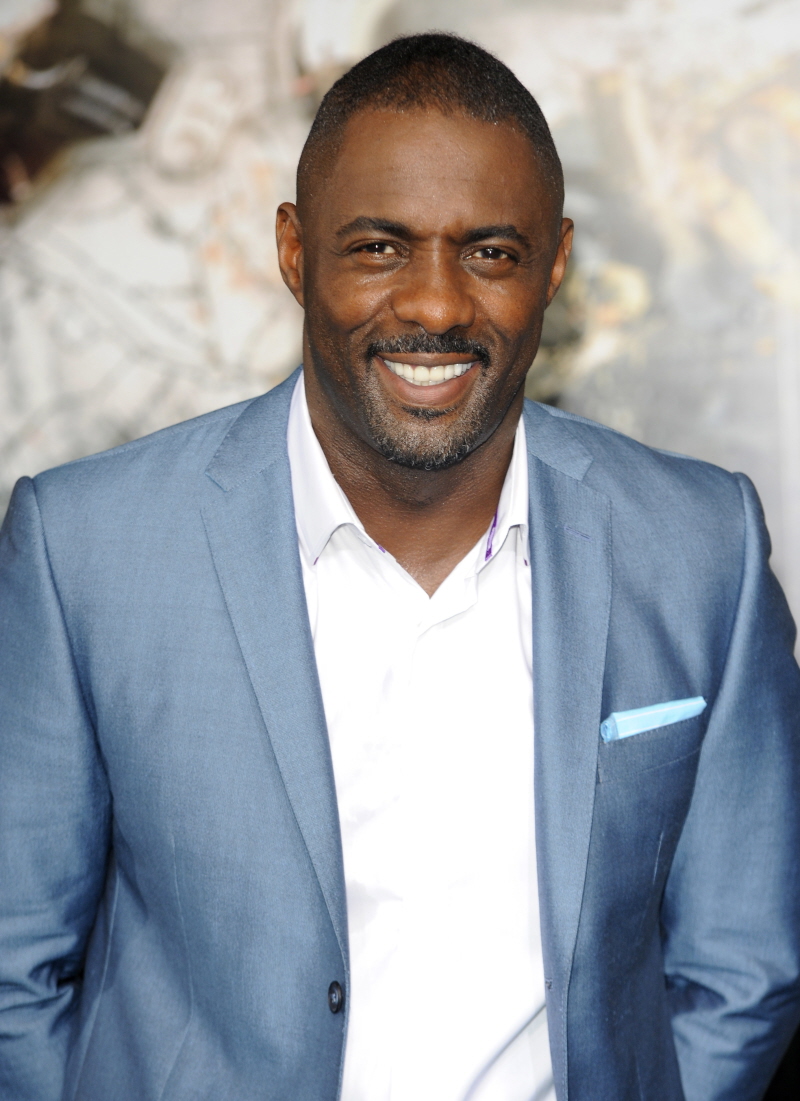 Photos courtesy of WENN.