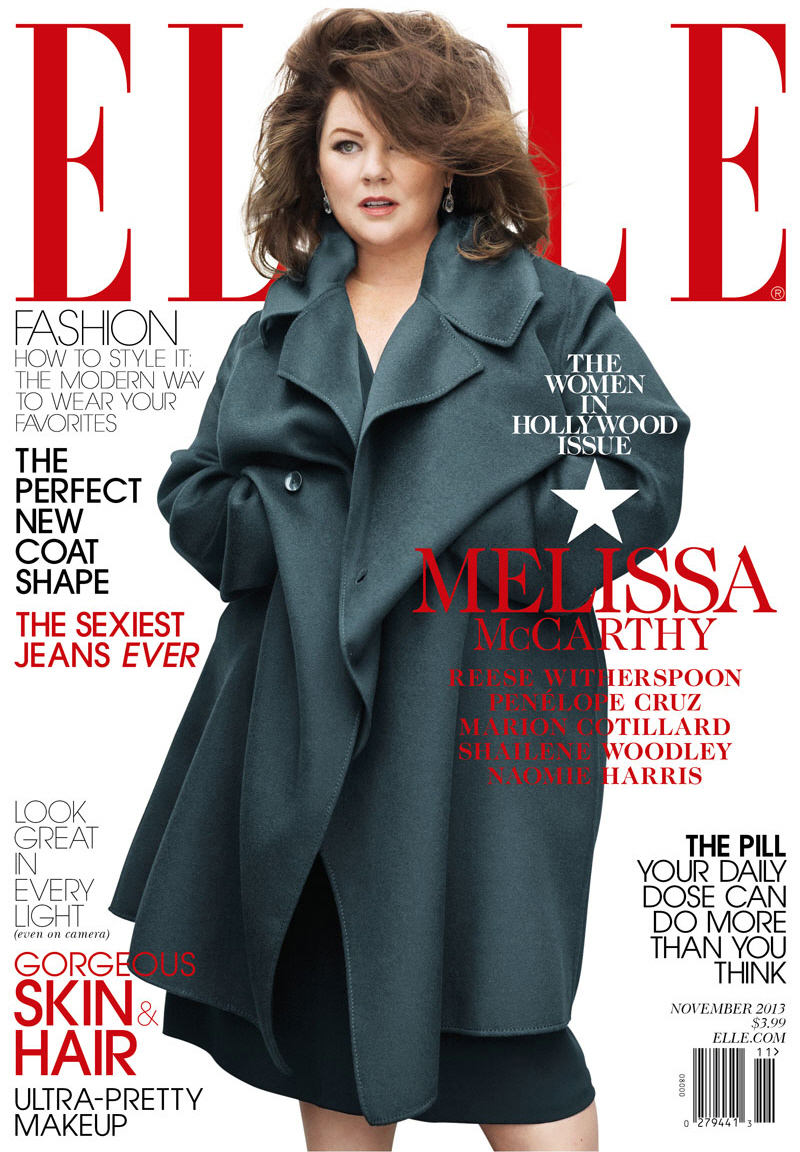 A week ago, I covered the multiple covers for ELLE Mag's November "Women In Hollywood" issue. The covers featured ladies like Penelope Cruz, Reese Witherspoon, Shailene Woodley and Melissa McCarthy. As many of you mentioned a week ago, the styling on Melissa's cover was… "off". While Shailene and Reese both showed some skin in their photoshoots, Melissa was covered in a bulky coat, her hair teased up and half-covering her face. I still think it's a sexy shot, mostly because I like the way Melissa looks with her hair teased up, and because I'm glad that the magazine didn't default to the standard edit for a "bigger" girl – which would have been a photo of Melissa from merely the chest, or just a headshot. Still, there were complaints. And now ELLE's editors released a statement about the situation:
The heat is on! Not everyone loves Melissa McCarthy's Elle cover for its November Women in Hollywood issue. In fact, a significant number of fans are irate over the fashion glossy's decision to photograph her swathed in an overcoat, her face partially concealed by her hair — especially in comparison to the magazine's other cover girls that month, all of whom are much more exposed in their photos.

In an essay for Slate about McCarthy's cover-up, culture editor June Thomas wrote of the full-figured actress' Elle shoot, "[She] was photographed in a Marina Rinaldi coat so huge that she could hide her Mike and Molly co-star Billy Gardel underneath. McCarthy's hair covers a quarter of her gorgeous face, and with her hands stuffed deep into her coat pockets, the only visible flesh is a tiny triangle between the coat's lapels and the briefest glimpse of calf."

Elle has since released a statement defending their styling of McCarthy. "On all of our shoots, our stylists work with the stars to choose pieces they feel good in, and this is no different: Melissa loved this look, and is gorgeous on our cover," the magazine said. "We are thrilled to honor her as one of our Women in Hollywood this year."

While the Heat star certainly looks glamorous and stylish in the cashmere outerwear, she is definitely and suspiciously far more concealed than her fellow honorees are on their covers. Reese Witherspoon wears a sexy cutout Versace dress on hers; Shailene Woodley is clad in a black one-piece swimsuit; and while Penelope Cruz, who was pregnant at the time of the shoot, doesn't show her body at all on her cover, her face is left relatively bare and natural-looking.
Several things piss me off about this situation. For one, Melissa was in one of the biggest hits of the summer, The Heat, which was actually just a really great comedy starring two very funny and talented women. Melissa is also an Emmy-winner and multiple Emmy nominee and she's already got one Oscar nomination under her belt. My point? Melissa doesn't need anyone's pity. She doesn't need us to wring our hands over the potential "sizeism" of a magazine editorial. Melissa is already winning at life.
The second thing that pisses me off is that I feel like ELLE is kind of blaming a sloppy editorial on Melissa. Yes, I'm sure she had a say in her wardrobe choices (I really wonder how plentiful those choices were, though, considering most magazine stylists default to sample sizes) and I'm sure she had a say in her styling and poses, etc. But ELLE is ultimately in control, and this is the image they chose for the cover, so they need to own that sh-t.
Oh, and E! News reports that Melissa "loves her cover." So there. Whatever.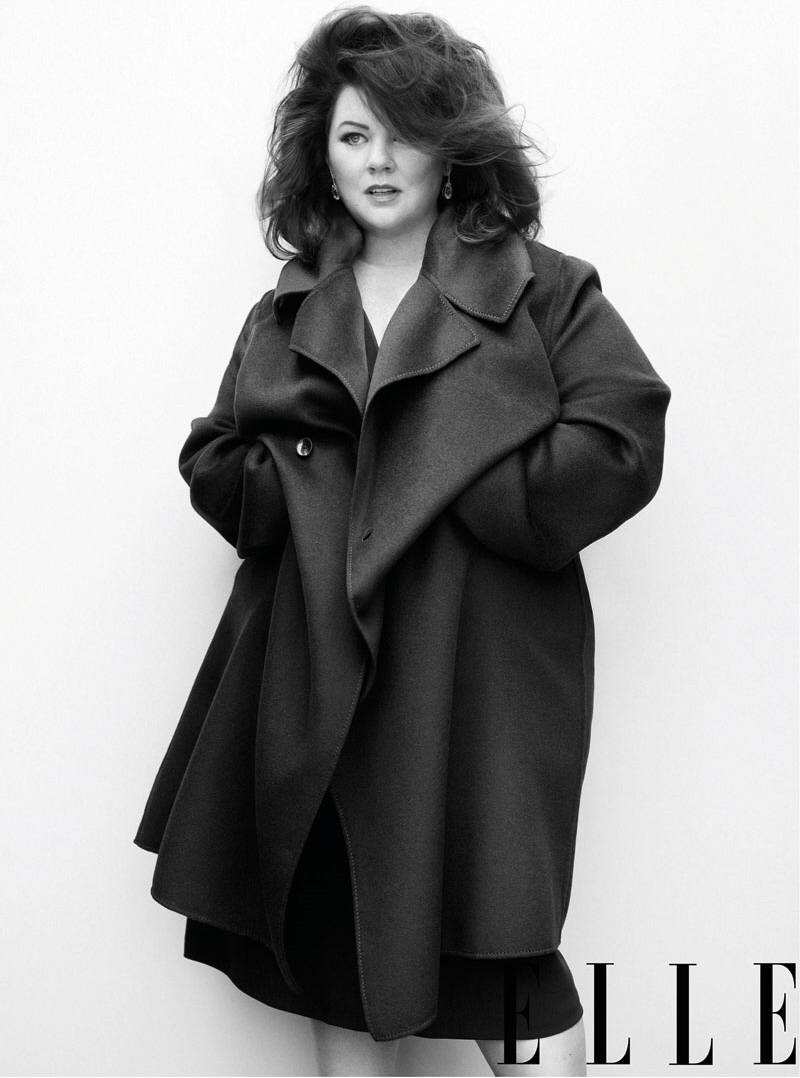 Photos courtesy of Thomas Whiteside/ELLE Mag.