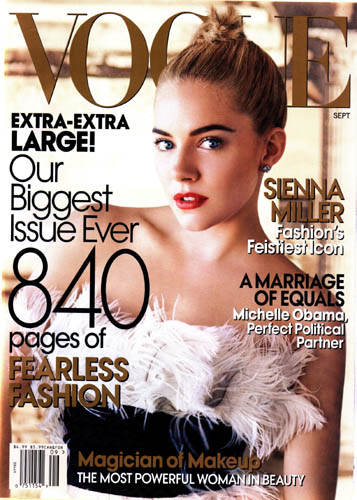 Last week, we covered the new documentary about Vogue's Anna Wintour, premiering at Sundance, called The September Issue. As more people see the film, funny parts of the true story of putting together Vogue's biggest issue, the September issue, come out. The documentary was filmed in 2007, and the September cover girl was Sienna Miller, pre-Balthazar Getty, aka when she was hot stuff, and people still wanted to work with her.
According to reports, the documentary features scenes where Anna Wintour and her staff repeatedly complaining about how "toothy" Sienna Miller is. So "toothy" they have to retouch her smile. Tabloid reports are making this into some kind of scandal, but I just don't see any "there" there. It's not exactly breaking news that women get epically retouched on or in magazines. But here's the dirt, from the Telegraph:
The revelation was contained in a fly-on-the-wall documentary about the magazine, The September Issue, which was screened for the first time at the Sundance Film Festival.

The documentary, put together by veteran producer and director RJ Cutler, lifts the curtain on Vogue's production process for the most important issue of the year.

In it, staff are seen despairing over the state of their cover star in pictures taken by the world-renowned Italian photographer Mario Testino.

Wintour, 58, who is said to have been the inspiration for the boss from hell in The Devil Wears Prada, memorably played on screen by Meryl Streep, is shown complaining about her being "toothy" while other staff are concerned by the number of fillings she has.

At the last minute, staff are reduced to superimposing one picture of her face onto another of her body. One viewer who watched the documentary told arts news website The List: "It must be awful for Sienna to see. Anna keeps complaining she is too 'toothy' and the other staff are worried she has too many fillings. The editors hint at Sienna to cut her hair and she ignores them, which worried them even more.

"It was funny, but probably not for her."

However, Vogue's head of publicity insisted the retouching was not personal. Head of communications Patrick O'Connell told the Daily Mirror: "While some retouching is a fact for any cover, no one is more convinced of Ms Miller's beauty than Vogue. The fact she appeared on the magazine's September cover, our most important issue of the year, is a testimony to this truth."

Miss Miller's US publicist Leslie Sloan told the paper: "Sienna Miller is the first person to admit that her photos are always retouched – no one is ever that perfect."
From Telegraph
What's funny is that I remember this Vogue cover, I might even still have it somewhere. Sienna's smile isn't the problem, it's her little rooster-tail hairstyle that sucks. For some reason, Vogue stylists thought it would be fashionable to pull Sienna's hair into an extremely high ponytail – I just didn't get it.
Reports are flying back and forth that Sienna is coming to New York to do a play, but it's still up in the air. One thing is for sure, she won't be getting another Vogue cover any time soon.
Here are the photos of Sienna in the September, 2007 issue of Vogue, via Stylecrunch.