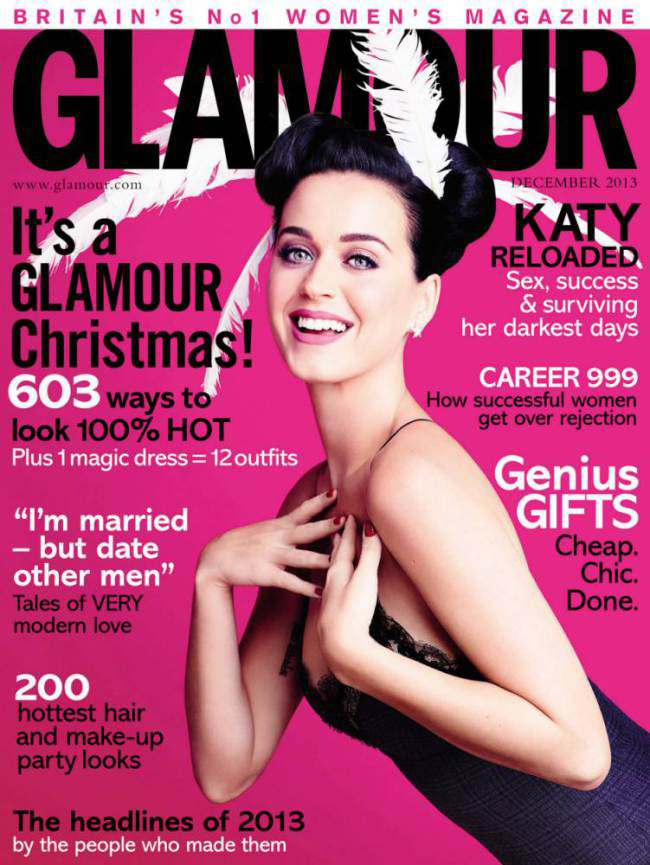 Katy Perry covers the December issue of Glamour UK to promote Prism. I don't know what's going on with me lately with Katy. I'm actually warming to her "music," but this cover reminds me of everything that ever annoyed me about Katy Perry. The quirky hairdo, the kicky feathers, and the oh-so-precious hand placement — it's all so wrong. The cover boasts a headline about "sex, success & surviving her darkest days," which means she'll probably trash Russell Brand again in the interview. Glamour hasn't released excerpts yet but has revealed that Katy says she'd only be friends with Rusty "in another lifetime." There you have it.
Katy also sat down with NPR, which describes her as "the biggest pop star in the world" (someone had better warn Miley Cyrus about that). Many topics of discussion came to the forefront, but the most interesting detail is how Katy feels about pop stars who use their sexuality to make it big. Ahem:
On writing "Roar": "I was living in a little bit of fear. And I just kind of just listened to myself and I thought, you know what, I need to kind of find that inner strength again 'cause I had just been through a real, a little bit of a self-confidence shattering in my own personal life. And so I was just looking for my voice again, and that came out as a roar."

Her thoughts on "other" pop stars: "Well, I think I like to be an inspiration. I think when you set out to be an artist, first and foremost – a musician, a rock 'n' roller – you don't come with this kind of, like, hey, I also want to be a role model that, obviously, will let you down because I'm a human being. And a lot of people see me as a role model but I'd like to kind of turn that around and say I appreciate that but I'd like to be seen as an inspiration. Because a role model, I think, will fail you. I mean, I couldn't tell kids when it's time for them to try things or do things. I mean, that's not my role. But, you know, it's funny. I do see myself becoming this, whatever, inspiration out of default right now, 'cause it's such a strange world. Like females in pop – everybody's getting naked. I mean, I've been naked before but I don't feel like I have to always get naked to be noticed. But it's interesting to see…

"I'm not talking about anyone in particular. I'm talking about all of them. I mean, it's like everybody's so naked. It's like put it away. We know you've got it. I got it too. I've taken it off for – I've taken it out here and there. And I'm not necessarily judging. I'm just saying sometimes it's nice to play that card but also it's nice to play other cards. And I know I have that sexy card in my deck but I don't always have to use that card. And especially like with this new song called "Unconditionally" that's on the record."

On getting back onstage: "Lately, I've been all ritualed up because I'm trying to build endurance for being back on stage, 'cause I was kind of off the stage for a year and ate a lot of fatty foods and, you know, got a little plump. And that was OK. But now it's time to get back in the game. Sometimes I do this thing called transcendental meditation that helps. So, that's kind of my ritual."

On being a pop star: "It's a balancing act. It's like dancing and running and jumping and sleeping all on a balancing beam. But it's super fun and sometimes you get a great soundtrack to go along with that dance."
[From NPR]
Katy also sat down with a French television program to further elaborate on her position: "I really like all of my focus and attention to be on my music. I'm 28 now and I'm an old lady, so I keep my clothes on!" Says the girl who — just five years ago — stroked a kitty while singing about getting it on with another girl. Says the girl who posed naked (with only a cotton candy cloud to cover her "modesty") on the Teenage Dream album cover. Says the girl who shot whipped cream out of her boobs. And so on.
Here's the rest of Katy's Glamour shoot. I like the red ribbon photo — it's super cute. Very festive.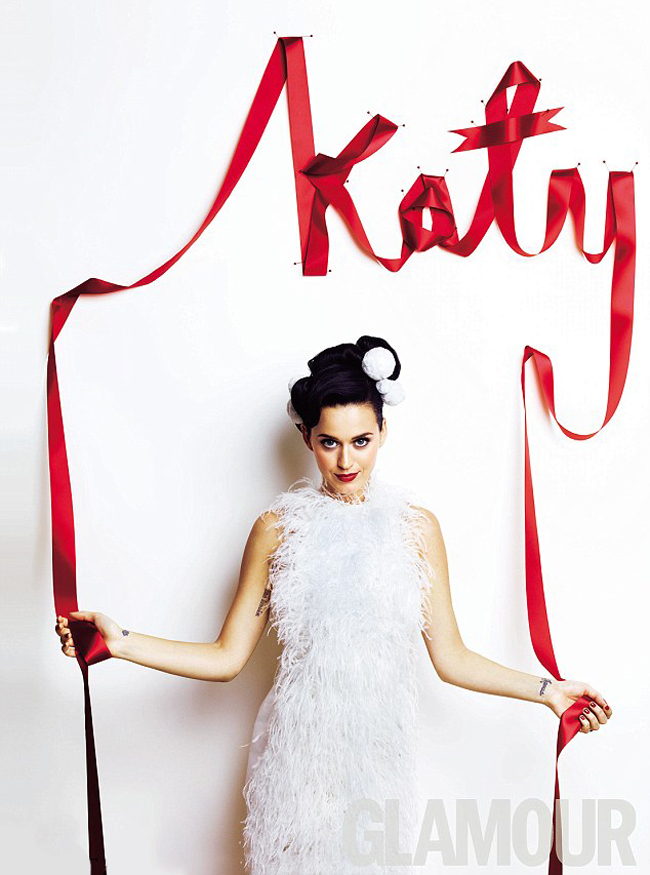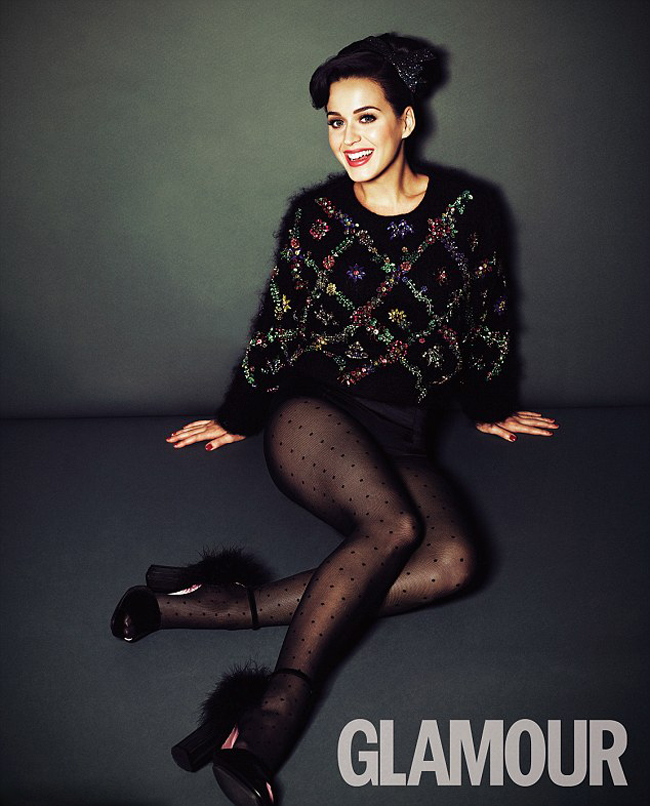 Photos courtesy of Glamour