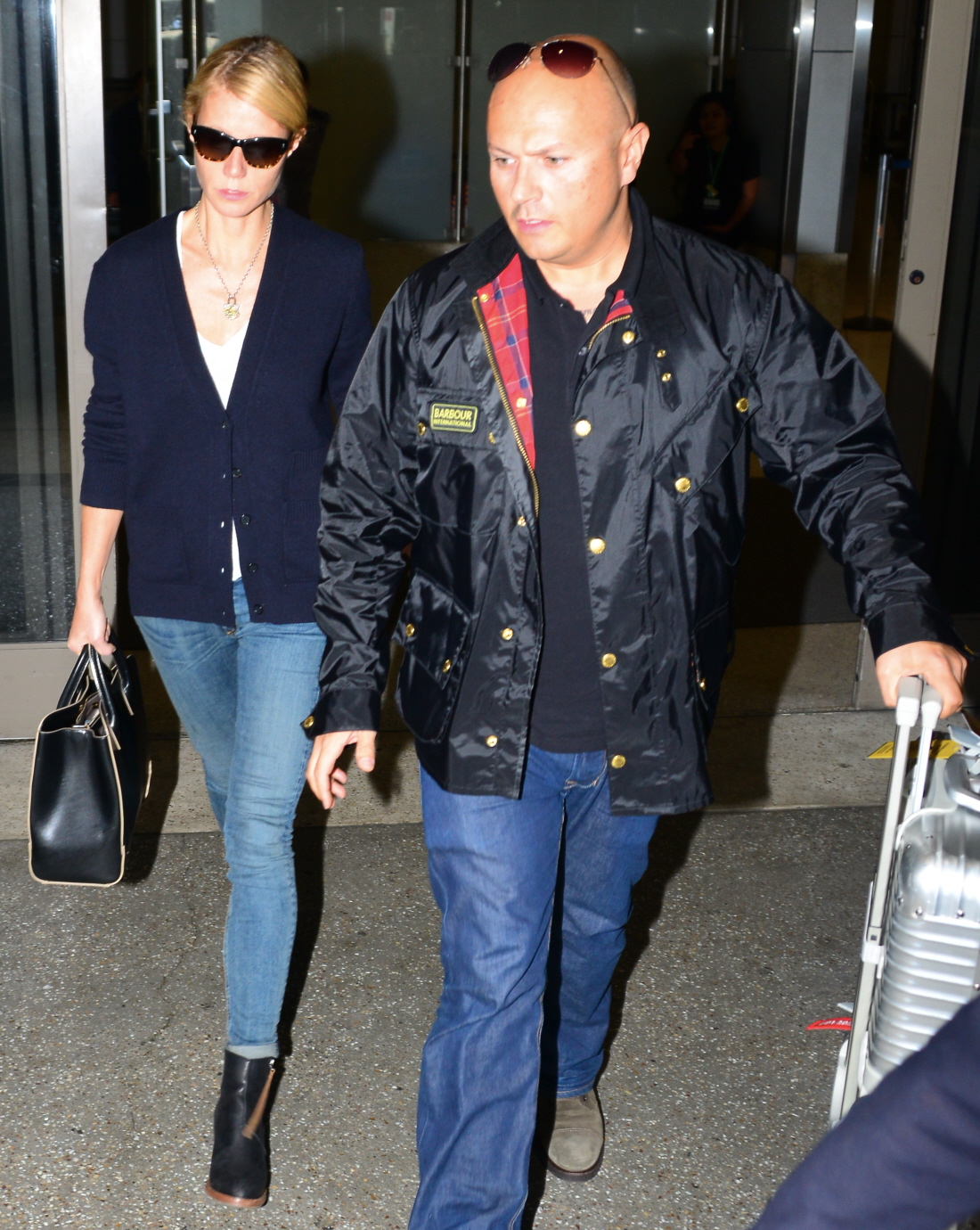 Here are some photos of Gwyneth Paltrow arriving at LAX last week. She seems… like she doesn't want the attention. Like months of shilling Iron Man 3 and her second cookbook left her tired and weakened. She's too fragile and vitamin-deficient, Vanity Fair! Yes, that may be one of the big reasons Gwyneth seems so hassled these days and why she's been keeping a lower profile. Everyone is talking about what Vanity Fair will or will not reveal in their (epic?) Gwyneth takedown. We don't even know when this takedown is going to be published, but I've got my fingers crossed for the January issue, which would mean VF would release the article online in early December. It would be the perfect early Christmas present. But Gwyneth still has a few tricks up her elite, $5000 cashmere-and-unicorn sleeve: she's trying to fight back and "destroy" VF.
With a scathing Vanity Fair take-down piece in the works on Gwyneth Paltrow, the two are going head to head in a war that has turned nuclear! RadarOnline.com has exclusively learned the Iron Man 3 actress wants to "destroy" the coveted magazine's reputation before they can publish the expose on her.

The forthcoming article — which some had thought might have been scratched when it failed to materialize in the latest issue— is rumored to expose her possible infidelities with Miami hotelier Jeff Soffer (Paltrow has said it's "one big lie") among many other salacious items about the star.

"It's still going to run and it could possibly break online in the next two-three weeks," an insider told Radar. "Too many resources have been plowed into it and too many bridges have been brined for it to be killed."

When the article failed to make it into the magazine's latest issue, Paltrow's efforts "notably stepped up," the source said.

They said: "She wants the magazine's reputation destroyed before they can even publish anything on her."

As Radar previously reported, a mass email Paltrow sent to her friends begging them not to participate in the magazine's expose was revealed stating: "If you are asked for quotes or comments, please decline. Also, I recommend you all never do this magazine again."

Paltrow, 41, has supposedly convinced George Clooney to withdraw from appearing on the magazine's Hollywood Issue cover, but had trouble with Julia Roberts who is apparently close to the magazine's editor-in-chief, Graydon Carter.

"[Julia] is ignoring Gwyneth, has no problem with Graydon and is happily still committed to appear on the cover of that issue," the source revealed, noting that the refusal to bend to Paltrow's wishes "has probably ended any chance of a friendship between the two of them."
HOLY CRAP. Now I really want to see a girl-fight between Julia Roberts (*goose honk*) and Gwyneth Paltrow (*simper*). And I think it's hilarious that Gwyneth has spent DECADES cultivating and culling her elite list of strictly A-list friends, and how very few of those friends have her back in a Goop Emergency. First Jay-Z appeared on the cover – JUDAS! And now Julia Roberts won't back down? Hahahaha. Oh, and George Clooney probably just pushed his VF cover back a few months since The Monuments Men isn't going to be released in time for the awards season anyway.
Once again, I just have to say – Gwyneth really has no idea how to behave when every single person around her isn't kissing her ass. This is only one of the first cracks in Goop's armor. Maybe she needs to hire Liberty Ross's crisis manager or something?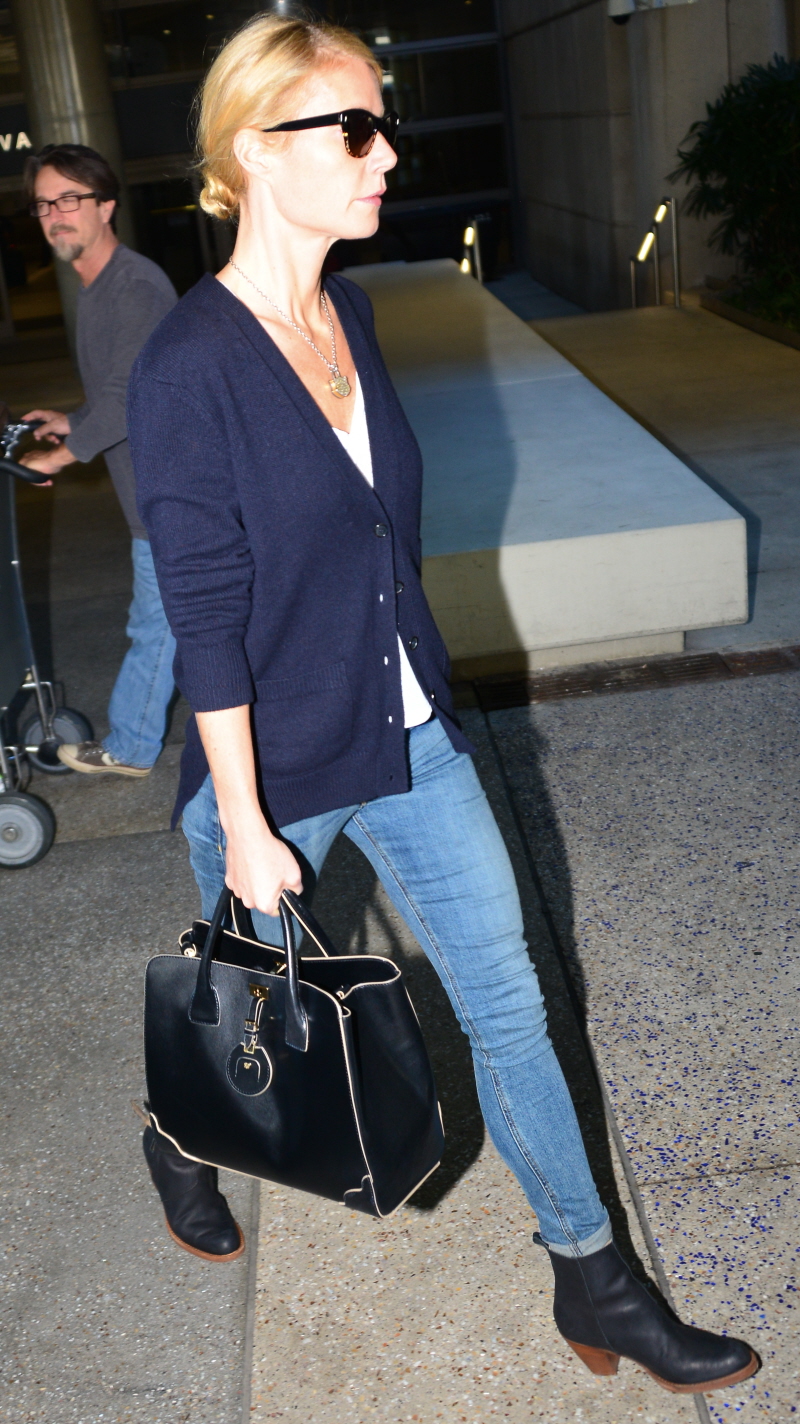 Photos courtesy of WENN.