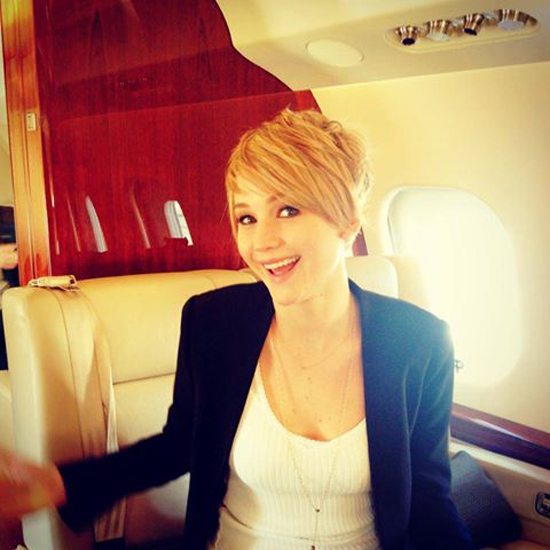 Almost immediately after I posted some underwhelming Jennifer Lawrence photos yesterday, news broke that JLaw was hiding something under that weird ass beanie. She got a drastic new haircut! This news isn't quite as exciting as Jennifer Aniston being forced out of her own comfort hair zone due to a Brazilian chemical disaster, but it's still quite unexpected. JLaw is the "it girl" who gets all the roles now, and producers probably wanted her to keep that versatile long hair as long as possible.
Well JLaw thought, "Talk to the Oscar, bitches" and went in for a modified pixie cut. Jennifer has now posted pictures of her new 'do to her Facebook page. I'm not quite sure what to think of this hair. It's going to be absolute murder to grow out, right? The above photo isn't the greatest example because I'm being thrown off by the weird "Kris Jenner smile." I really can't stand Kris' openmouthed grin, and I don't like associating Jennifer Lawrence with (as Kaiser calls her) Lucifer's homegirl. Let's forget about that, shall we?
I figure JLaw may have cut her hair because she's gone from blonde to brunette and back again so many times over the past few years. Her hair is probably all dry and jacked. I can identify — right now my hair is toast because I got highlights on top of highlights for a few years. A few months ago, I stopped cold turkey and went back to natural color, but my hair is still fried. Will a very short cut happen for me? I'm not that brave. A JLaw source tells Us Weekly that the cut is "kind of a punk pixie cut that has a few longer pieces on one side but is shorter everywhere else." Here is a better photo that shows off more angles.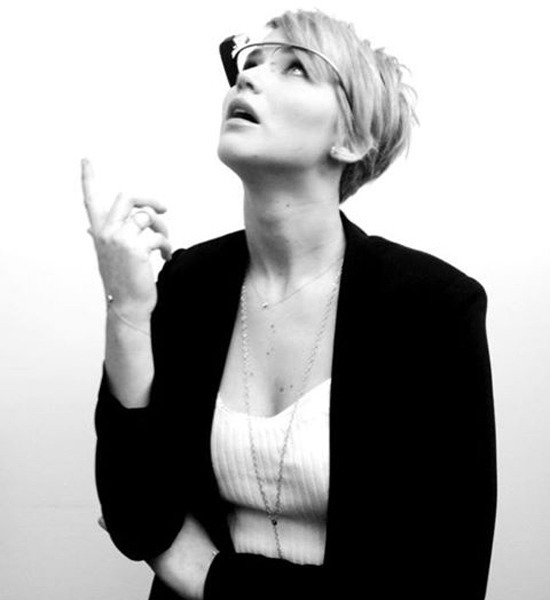 Here is JLaw's hair yesterday during a Catching Fire Google hangout.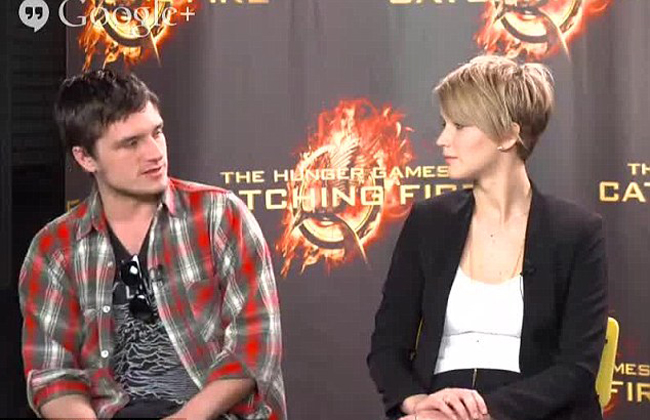 This is the very last trailer for Catching Fire. Save the date – November 22!
Photos courtesy of Facebook & Lionsgate