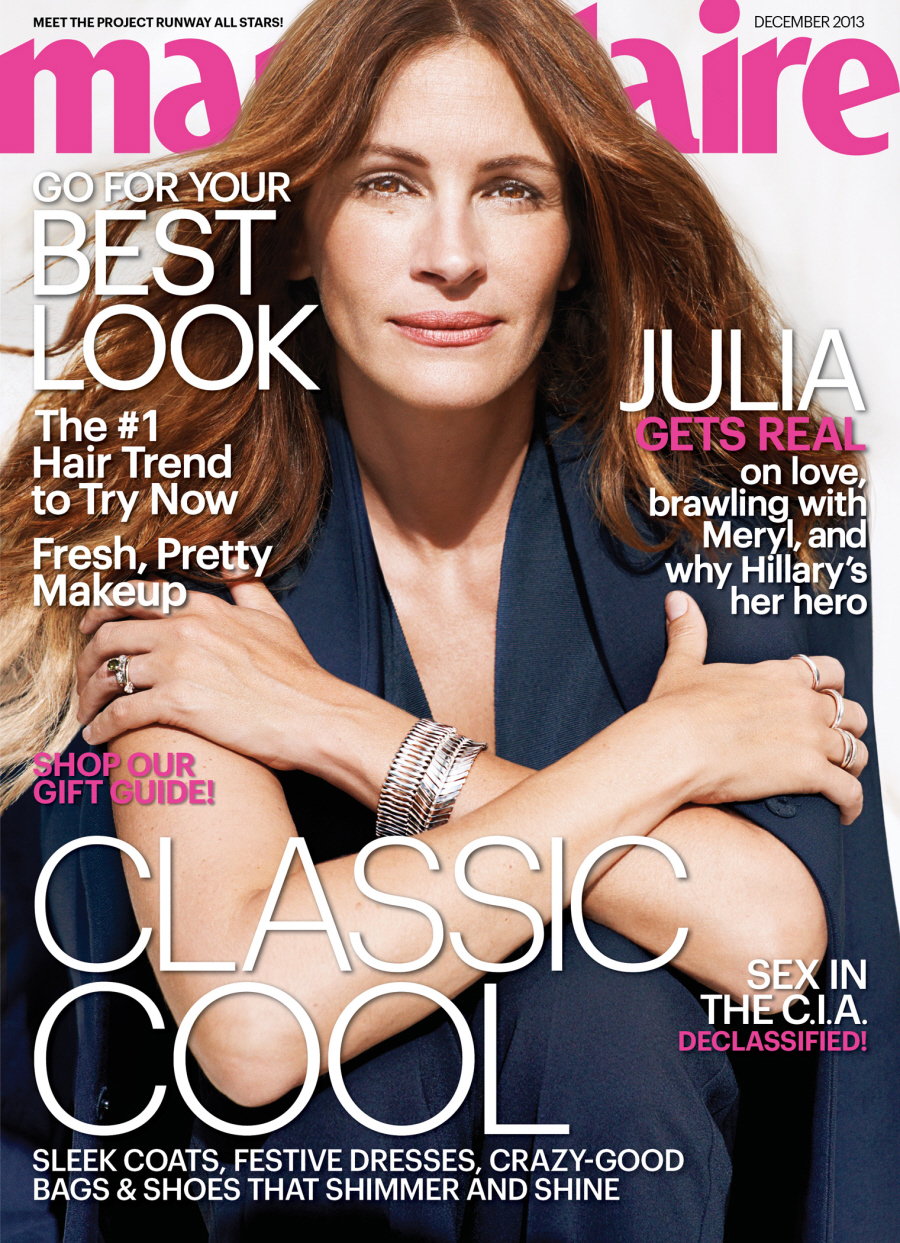 I can't even tell you how excited I am about Julia Roberts' Oscar campaign this awards season. You guys, it's going to be good. Julia is always good for press/gossip, but we have the added bonus of it being Julia versus Meryl Streep. So far, Meryl has not been playing. Meryl avoided Toronto like the plague (Meryl was allegedly "sick") and Julia has been doing early appearances where she's been the biggest thing ever, a legend in her own mind. But that sh-t is going to come to a grinding halt when Harvey Weinstein doubles-down on his strategy to put Meryl up for Best Actress and Julia up for Supporting. We'll see, Julia. We'll see.
But for now, Julia is basking in the attention. She covers the new issue of Marie Claire to promote August: Osage County, and there are some very "interesting" moments. You can read the full piece here and here are some highlights:
Having a physical, on-screen fight with Meryl Streep: "I tell you, Meryl's strong! And I could not get the pills out of her hand. I'm just thankful I didn't hurt her." (The two later sent a photo of the scene to their mutual friend, director Mike Nichols, "for his birthday, with me choking her, like fighting over him. And of course," Roberts hoots with laughter, "Meryl found her light.")

On Meryl: "I had many imaginary conversations with Meryl about working together. One night we did a play together at Lincoln Center for Paul Newman's Hole in the Wall Gang Camp fundraiser. When a person goes from being on a pedestal in your mind to even cooler, better, and more fabulous up close, you get to understand them a little more intimately." But how did the two end up doing a film together? "We have the same agent, Kevin Huvane, and it was his dream. As my career is slowing down, he thought, I've got to figure this out before she brings it all to a screeching halt in favor of car pools."

She still thinks she'll have more Great Roles: "I think the reason why I've been able to enjoy my career is that I always knew, for some reason—even when it was about getting a job to pay your bills and stuff—I always knew that it will surface, it will come. The things that are correct for me will come to me at the time that I am interested in them and have the capacity, the understanding, to do them. When I miss out on a part, I can be bummed I didn't get it, but then I see who got it, and I think, Oh, well."

Her advice to young actresses: "Good luck, darling." And she laughs again.

On social media: "It's not the same business. It's really different. And the Internet has so much to do with that." No surprise she's not on social media—"It's kind of like cotton candy: It looks so appealing and you just can't resist getting in there, and then you just end up with sticky fingers and it lasted an instant"—or that she never Googles herself: "I have too much potential for collapse." She elaborates: "There's an anonymity that makes people feel safe to participate in hatefulness. I like a good old-fashioned fistfight if people are pissed off at each other. I just feel like if you're really mad and want to have a fight, then put your dukes up."

Hillary Clinton is a hero: "I had interviewed Hillary Clinton [for OWN], who has become a personal hero to me—who she is and her convictions as a woman and mother and a humanitarian. She let me sit in on a meeting as a fly on the wall, but I'm a person who can't not say anything for too long. It's about women taking care of their families and what an incredible challenge it is for a myriad of reasons, and how fixable it can be. I saw a picture of a woman with a baby on her back, just like I would be with one of my babes on my hip, cooking at the stove. Her hut is full of toxic smoke, and that child is in tremendous peril. It's my privilege and honor to cook three meals a day for my family, and it's a luxury on a level that I didn't even realize, because it can be relentless for me on some days. You have pride in how you take care of your family."

On her Oscar chances: "Listen, every actor wants to win an Oscar, full stop. It doesn't mean you try to design things around how to accomplish that because that's impossible. Now that I'm a grown-up person and have things of such greater value to pin my idea of joy and fullness on, if something like that were to happen again, my feeling of thrill would be defined in a completely different way."

On her skill in delivering dialogue: "I used to be better at it. I have to work twice as hard to remember half as much."
Compare this to George Clooney's Esquire interview – Clooney comes off as a candid sh-t-talker who is happy to entertain. Julia Roberts comes across as someone who would happily sh-t talk but she's too busy talking about herself. Clooney is a storyteller – Julia is a rampant narcissist. That's how I see the difference. You guys… this awards season is going to be GOOD.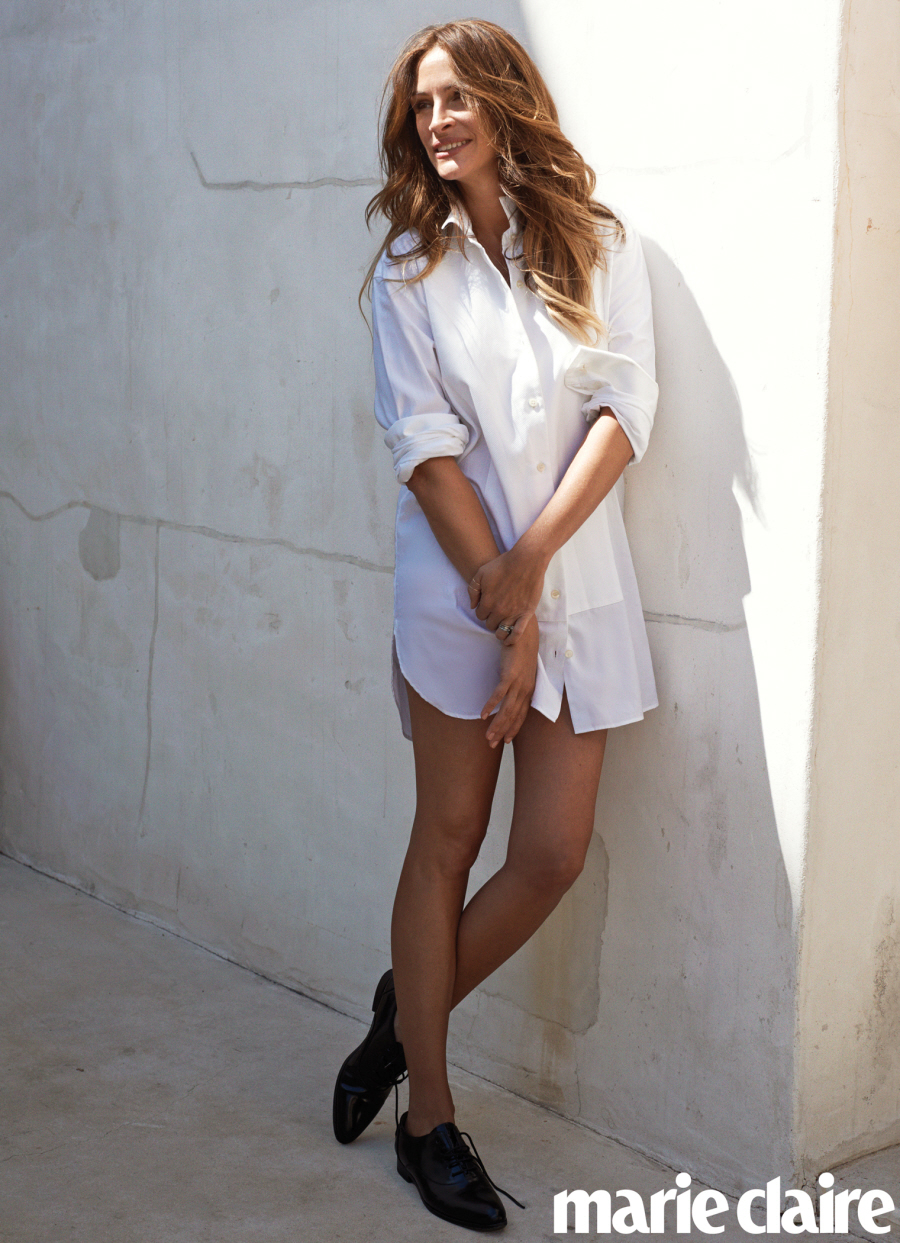 Photos courtesy of Cedric Buchet/Marie Claire.