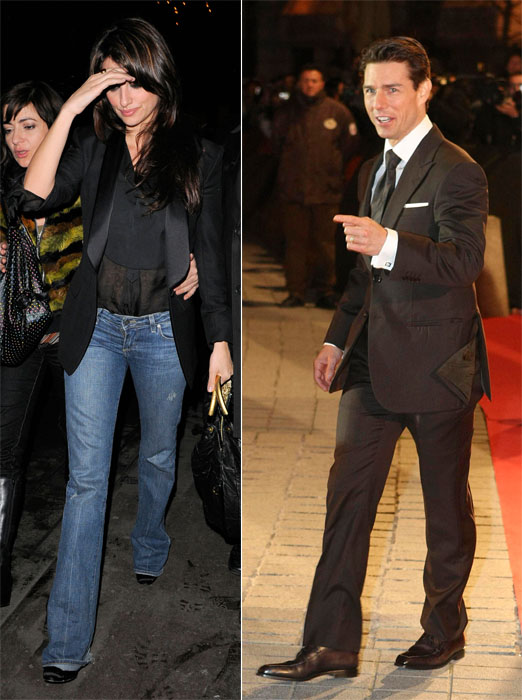 Depending on your perspective on Tom Cruise's popularity, his endorsement could go either way. But that hasn't stopped Tom from declaring his support for Penelope Cruz for Best Supporting Actress at the Oscars. Penelope is a in a pretty tight race with Viola Davis and Amy Adams for Catholic-drama Doubt, Taraji Henson (The Curious Case of Benjamin Button) and Marisa Tomei (The Wrestler). This category is actually up in the air – no one has a really great shot at it, and will most likely be one of the big surprises come Oscar night.
So is it a polite, sweet gesture that Tom Cruise is publicly supporting his ex-girlfriend Penelope Cruz? I can't tell. He was in Spain when he made the comments, and he's still promoting the hell out of Valkyrie. One thing I'll give Cruise – he really fulfills his publicity requirements to the fullest.
US star Tom Cruise said Tuesday he hopes Spanish actress Penelope Cruz, a former girlfriend, will win the Oscar for her role in Woody Allen's "Vicky Cristina Barcelona".

"It's fantastic. I am very excited by her second nomination. I hope she wins," he told reporters in Madrid, where he is promoting his new film "Valkyrie," when asked about Cruz's best supporting actress nomination.

Cruz's family attended the Spanish premiere of the movie, about a plot to kill Adolf Hitler, at Madrid's Teatro Real on Tuesday, Spanish media reported.

Cruise, 46 and Cruz, 34, met on the set of the 2001 film "Vanilla Sky".

The couple, who spent long periods apart while filming, broke up at the end of January 2004, Cruise's sister and publicist, Lee Anne DeVette, said at the time.

In an interview published Saturday in Spanish newspaper El Pais, Cruz said she wants to leave Los Angeles and divide her time between New York and Madrid.

"After a number of years in Los Angeles, I no longer want to live here, It will be better if I share my time between New York and Madrid, where my family is," she said.

Cruz was nominated for best actress in 2007 for "Volver," by Spanish director and longtime career mentor Pedro Almodovar.

The 81st annual Academy Awards will be held on February 22 at Hollywood's Kodak Theater.
I have to give Penelope some credit too – she's never really discussed in detail what happened between her and Cruise. The rumor at the time was that they were having difficulties with the long-distance thing, and she went off with Matthew McConaughey while they were filming Sahara.
Call me an old romantic, and accuse me of buying into Tom Cruise's career resurgence a little, but I think Tom was really genuine in publicly stating his support for Penelope. And it is sweet, in my book. Praise Xenu!
Tom Cruise is shown at the Spanish premiere of Valkyrie on 1/27/09. Penelope Cruz is shown out with Harvey Weinstein in London on 1/28/09. Credit: WENN