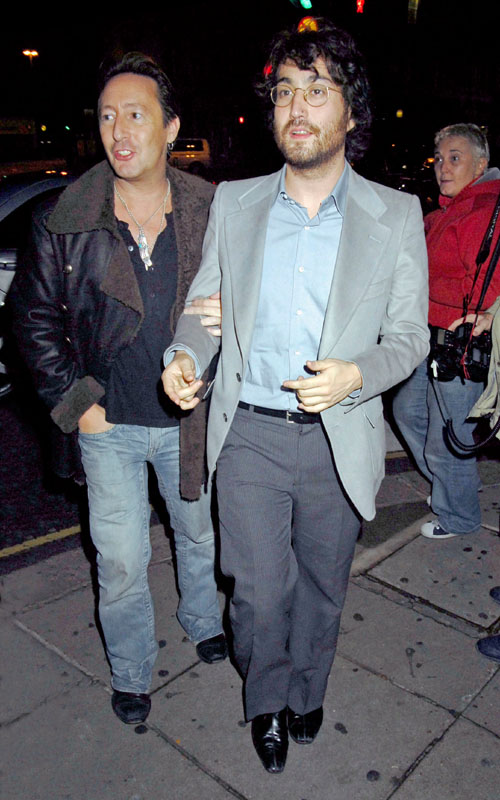 It could be a landmark moment: the two sons of late Beatle John Lennon, both of whom are musicians, are reportedly performing together next month in a United Nations concert. The performance marks the first time that Sean and Julian Lennon have collaborated. Over the years since their father's murder, the two half-brothers have had little contact with one another. Many of John's friends have hinted that John's widow, Yoko Ono, was the reason the boys were kept apart. John's mistress, May Pang, said in her book that John had renewed his relationship with older son Julian while he and Ono were separated, but when he went back to Yoko, that closeness fell apart. But it appears that two two sons are trying to bridge that gap, with or without the blessing of Yoko.
Julian Lennon and Sean Lennon, the sons of John Lennon, are finally going to perform together in public.

Sources tell me that the Lennon boys have agreed to appear at a United Nations event here in New York on February 26th called the UN-Millenium Goal Awards. Other artists tentatively scheduled to appear include Jon Bon Jovi and Richie Sambora, as well as possibly Akon and Macy Gray.

The show is the brainchild of Rhodesian Sacha Stone, founder in 1999 of the Humanitad Foundation. Stone, who lives in the UK now, is said to have relationships with all involved and convinced the Lennons to come aboard. This would mean putting aside differences between the two former Lennon households.

When John Lennon was murdered in 1980, a rift grew because Sean's mom, Yoko Ono, wouldn't give Julian what he and his mom, Cynthia Lennon, considered a fair share of the estate. Julian Lennon wound up engaging lawyers, and a long legal situation followed. In May 2007 Julian told Howard Stern that he still hadn't gotten any money from Yoko Ono. Unbelievable.

Over the years, there's been plenty of animosity, mostly fueled by Ono. At a 2001 tribute to Lennon at Radio City Music Hall, she all but wiped out any reference to the Beatle's first family. When Cirque du Soleil's "Love" show opened in Las Vegas a few years ago, the severe Ono kept her distance from the amiable Cynthia and Julian. Sean was a no-show.

More recently, though, the two brothers have found more common ground, with Julian surprising Sean in Prague at a 2007 gig. Ironically, the brothers could not be more alike: soft spoken, friendly, and talented. Julian, of course, had success in his 20s with hits like "Valotte" and "Too Late for Goodbyes" in 1984-85. Sean has released a couple of indie albums and one on his dad's old label, Capitol.
I would definitely be interested in hearing what kind of music the Lennon sons would make together. From what I've read, all of the Beatles' offspring have some kind of musical talent – Paul McCartney's son is also a musician, and Ringo Star's son is a talented drummer as well. Maybe they could all get together and form the next generation of the Beatles? Ok, maybe not. But it's nice to see that the adult sons of John Lennon are getting together after being apart for so long.
Here's John Lennon's "forgotten first family," Cynthia and Julian Lennon, at the premiere of Cirque du Soleil's "Love," featuring remastered music by The Beatles, in Las Vegas. Photo credits: WENN.