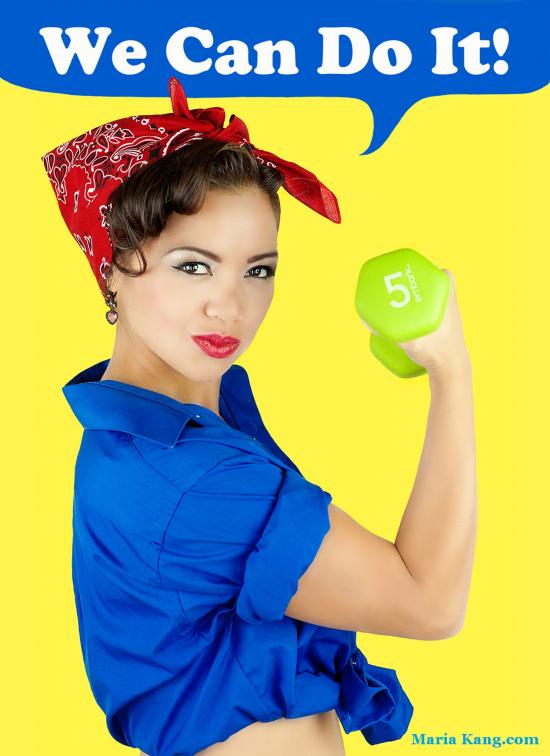 Fit Mom Maria Kang sent us an email over the weekend. This image is from her website, and it's kind of perfect, isn't it? She's repurposed the classic 1943 wartime propaganda poster to promote her own fitness-based empire (or nonprofit, whatever). Don't kid me and say she's not gunning for an empire.
We first spoke of Maria's big "What's Your Excuse?" scandal. Last week we talked about how she went on CNN to discuss how she knows "fat people are unhealthy". That not-so-graceful announcement followed a war of internet words between Maria and a lingerie company that dared to feature photos of all types of body types on its Facebook page. What bothered me most about Maria's position was how she seems to readily assumes all skinny people are the picture of health — when we all know some people who are naturally thin and do not exercise. Maria also seems to believe all overweight people eat McDonald's fried pies all day long and never work out. I tried to make the point that anyone who runs races will notice that a lot "heavier" people are both fit and fast, but I guess Maria overlooked that part.
I'm including a copy of Maria's email. She's upset at how we didn't show all of the lingerie images that she was criticizing in the rant that got her banned from Facebook. I explained in this post how we couldn't post those images because they were NSFW. We did link to the images, and your conclusions in the comments showed that most of you did view the photos. Maria insists that if people saw these images, they would definitely agree with her. Maria also says something about weighing over 100 lbs being unhealthy, but CB and I think that must be a typo, right? You never know with Fit Mom:
I recently saw your article regarding my controversy and I want to set the record straight.

- you most certainly can tell someone is unhealthy when they are obese and weigh over 100lbs. The images I saw are not represented accurately on your site. You can view the actual images Chrystal promoted here.

- I discussed the obesity crisis in America (and the normalization of it) in the deleted post. If you can take the time to read that, it was posted here.

I hope that you correct these mistakes because poor judgement [sic] is being casted on [sic] me without fully viewing the images of the obese (not just 30-40lbs overweight) that I saw. I, in no way, said they didn't deserve to feel beautiful and sexy, I said based on my experiences (of being vilified for being a healthy every day mom) that we are normalizing a crisis, struggle with contradictions in our society and should encourage real, average people to be role models.

Thanks for considering my view point.
[Email from Maria Kang]
Hmm. I'm not sure what Maria really expects me to say. She's polite in her letter but still clueless. I am not correcting our "mistakes" because I said nothing wrong. I guess she wanted me to link to the article on her website (which is a copy of what Facebook deleted), so okay. It's linked. Maria seems to think if we all stare at those lingerie pictures long enough, we'll agree with her. Maria thinks we're judging her too harshly because we don't understand what she's saying. I'll leave that open for interpretation.
Maria describes herself as a "healthy every day mom," and I'm not saying that isn't true. I do think she's mistaken in describing herself as "average." Sure she's "real," because all women and all body types are real. Most people do not have the time or the desire to work out for several hours per day. I don't know how much Maria works out, but she admits in several places on her website she has suffered from eating disorders. I would hope that her experience with ED would make her more sensitive to influencing young girls towards a life of disordered eating and exercise. Starving to death is just as deadly as obesity-related medical conditions. I don't think Maria sees it that way though.
On a related note, we had a reader (who is Kinesiology degreed and a certified personal trainer) request that we mention a few other trainers who offer up more healthful approaches to fitness. Namely Harley Pasternak at People and Hailey at LaineyGossip. Great suggestion.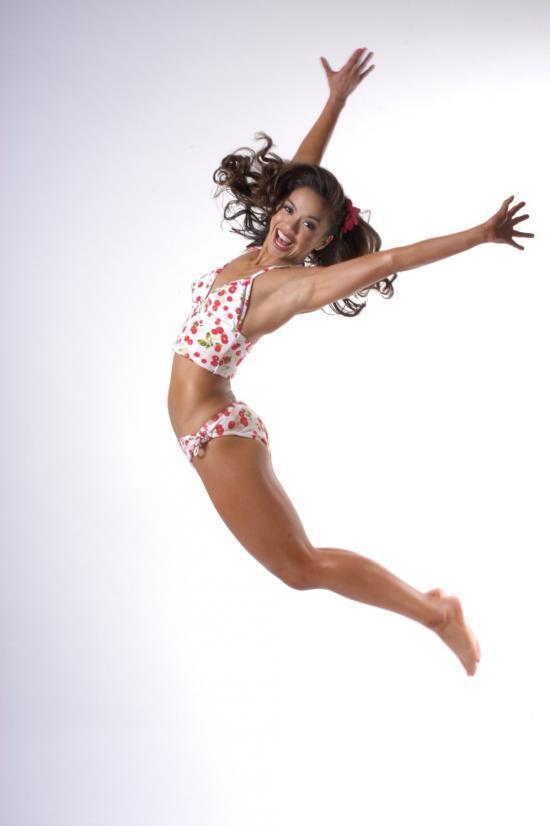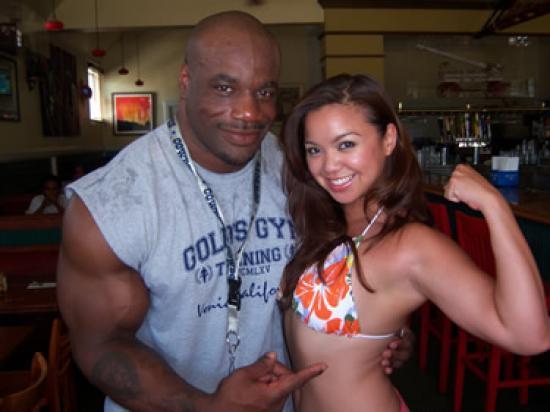 Photos courtesy of MariaKang.com