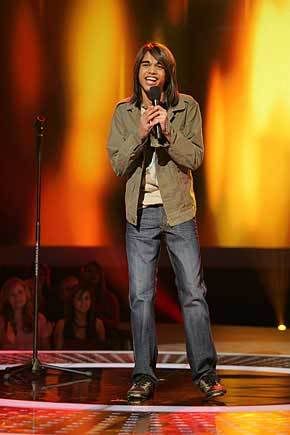 My mom called me all excited about wondered if I knew why Sanjaya is still on Idol and didn't even get into the bottom three this week. She also told the story of the mysterious crying girl in the audience, saying that the judges didn't rip Sanjaya to threads like he deserved and that Simon referred to the girl and said she summed up his thoughts on his terrible performance.
My mom is pissed and says that it's a shame that Howard Stern is telling people to vote for Sanjaya and that good singers like Stephanie are getting gipped of their chance in the spotlight. I told her about "Vote for the Worst" and about the buzz that Sanjaya and his many hairstyles are getting online.
Unfortunately I can't watch the show as I live overseas now, but it sounds like a big old scandal and maybe Idol will rethink their scoring model after this season. It seems like they should use some sort of balanced score like on "Dancing with the Stars" where the judges votes still count for something.
Contributors at Oh No They Didn't found an article that exposes the identity of the crying girl. Ashley Ferl is a 13 year-old who won tickets to a taping of "Smarter than a fifth grader" that also included a chance to sit in on Idol rehearsals. I guess she was spotted and given tickets to the show.
Let me know what you guys think of this because I'm stuck here reading secondhand accounts and watching clips on YouTube.
Here's Sanjaya singing "Girl You Really Got Me." He's so bad, but there is something about the kid that makes you want to root for him.
And here's a woman that's going on a hunger strike until Sanjaya is voted off. She might end up losing a lot of weight.