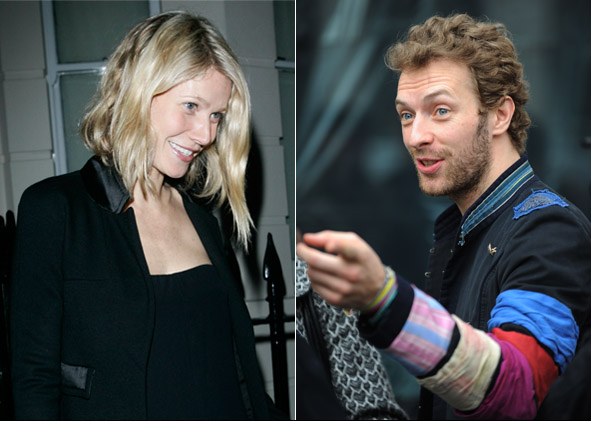 Last year, Gwyneth Paltrow and Chris Martin couldn't stop the rumors that their marriage was on the rocks. There were often apart in very public ways – Chris doing concerts without his biggest, GOOPiest groupie, Gwenyth spending some quality time with her "best friend" Madonna and random billionaires in Miami. Then, the final blow. Word came out that Chris Martin couldn't stand Gwyneth's GOOP. Her website, that is.
It looks like Gwyneth, ever press-savvy, knows that she still has a lot of work to do to convince us that her glamorous life is indeed way better than our little lives. Gwyneth is doing the unthinkable. She is going to walk the red carpet with Chris Martin at the Grammys. She's sworn up and down in the past that she would never, ever walk a red carpet with her husband, claiming that she didn't want to invite the publicity. Oh, well. The Daily Mail has more.
They made a pact never to be pictured together but now Gwyneth Paltrow is planning to walk the same red carpet as husband Chris Martin – to scotch rumours that their marriage is in trouble.

Gwyneth, 36, has agreed to present an award at the US Grammys next week, where Chris, 31, will be performing with Coldplay.

'If Gwyneth has her way, she will appear hand-in-hand with Chris,' says a source. 'She wants it to be a two-fingered salute to rumours about their marriage. She would happily speak out but Chris has forbidden her to ever discuss their marriage.'

It comes after the 31-year-old singer met up with former Mis-Teeq singer Alesha Dixon at the NRJ music awards in Cannes earlier this month.

One mole remarked: 'We didn't know Chris and Alesha were friends but they were getting along famously, so much so that Chris offered her a ride home on his private jet.'

The 30-year-old Strictly Come Dancing winner – recently voted the woman with the best legs in Britain – quickly accepted the offer.
From The Daily Mail
Oh-la-la, his "private jet". I wonder if that was a euphemism. Both Gwyneth and Chris seem like really difficult people to live with, so I'm amazed that in all of these five years they've been married, one of them (or both) hasn't stabbed the other with a dull knife. Yet. And why does Chris not want Gwyneth to talk about their marriage? Is he that disgusted by the GOOP? Is he really that insecure? Probably. But part of me really wants this red carpet to happen!