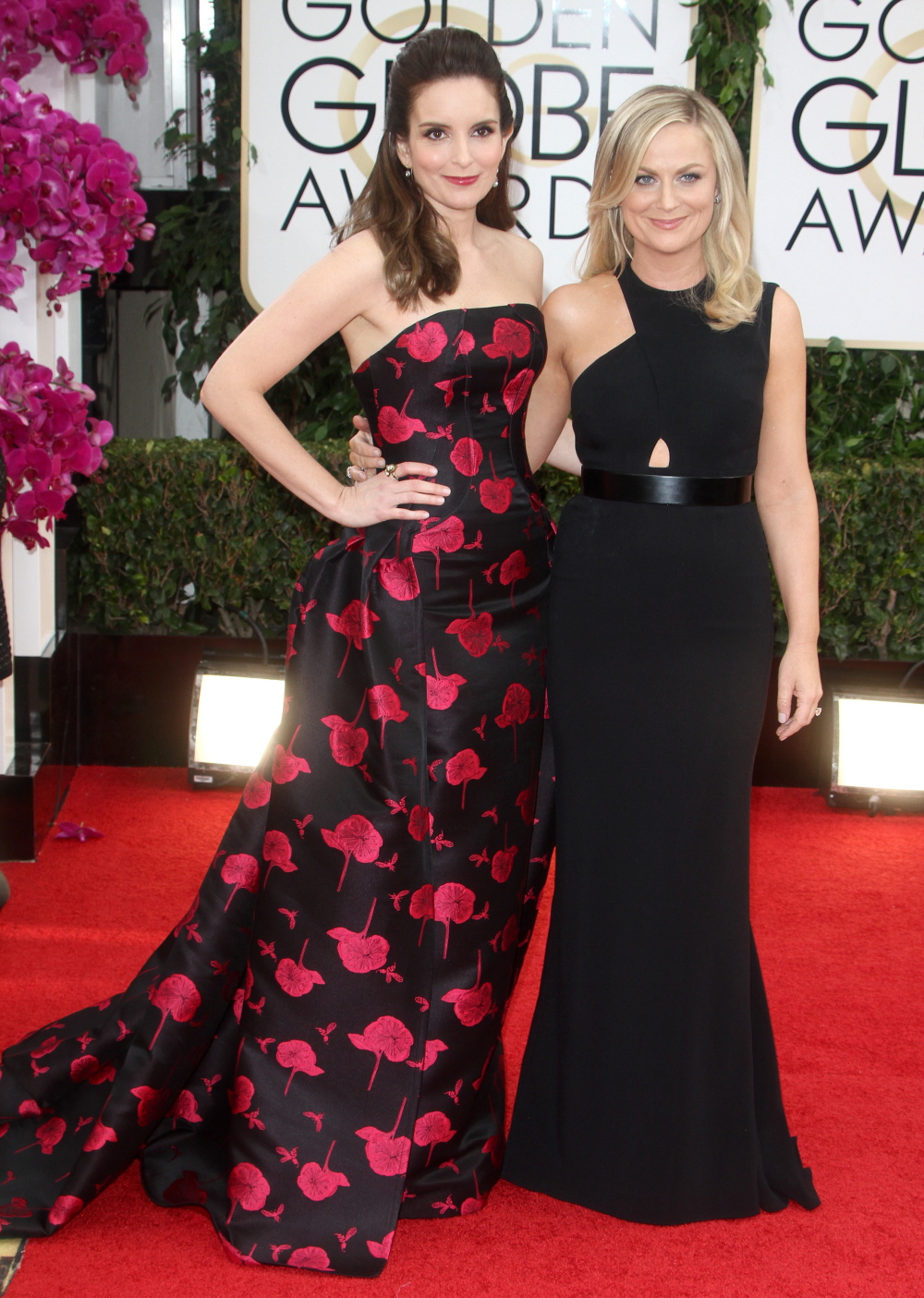 After a few awards seasons where it felt like a who's who of who's that, it does feel like this year's awards season is a return to old-school movie stars and BIG movies and big moments in TV. The Globes had some fits and starts, sometimes moving so quickly, I didn't realize that 40 minutes had passed, and sometimes it was like, "Ugh, this 20 second speech is going on FOREVER!" Biggest disappointment: that 12 Years a Slave was shut out in all of the acting categories. Biggest excitement: 12 Years winning Best Picture, and I was also very pleased that Amy Adams finally won something. Anyway, here are some highlights from the 2014 Golden Globes:
*Honestly, I got super-excited before the show even began. It was a good year to be a fashion-watcher, both for good and bad style. Some great red carpet moments! Also: this year's red carpet trend was AWFUL HAIR.
*Amy Poehler & Tina had so many amazing one-liners, it's impossible to list them all. I think the biggest one was the Clooney one: "Gravity is nominated for best film. It's the story of how George Clooney would rather float away into space and die than spend one more minute with a woman his own age." I also loved: "Matthew McConaughey is here. For his role in Dallas Buyers Club, he lost 45 pounds, or what actresses call 'being in a movie'."
*Amy Poehler finally won something too! I love Amy and Tina's long-standing bit with Julia Louis-Dreyfus, and I love Amy's yearly bits for her Parks & Rec nominations – this year's bit included a back rub from Bono and it worked! The best part? After Amy won, Tina told her there was still a special place in hell for her, which is THE BEST Taylor Swift shade ever.
*Amy & Tina's Leonardo DiCaprio joke was so good, it messed up the telecast! The joke: "And now, like a supermodel's vagina, let's all give a warm welcome to Leonardo DiCaprio."
*What was with all of the s-bombs? Jacqueline Bisset is a bit of a whackadoodle, so I'll forgive her, but Elisabeth Moss knows better. Speaking of, I was thrilled Elisabeth won. I think she's so incredibly talented.
*Jennifer Lawrence won again (Best Supporting). I hope there isn't a backlash against her, because right now it seems like everybody is putting her on a pedestal.
*Very happy for Bryan Cranston & Breaking Bad's respective wins. Don't say goodbye just yet – I'm sure the show and Cranston will also win big at the Emmys in September. Not to mention at the SAGs next Saturday.
*Bono's kind of a tool but I would bang The Edge. That man is aging like a fine wine.
*I was beyond happy whenever the camera rested on Idris Elba, Don Cheadle, Emma Thompson or Meryl Streep. I could have watched all of them the whole show.
*The Globes were haunted by the presence of Angelina Jolie: Angelina's father Jon Voight won, as did Angelina's godmother Jacqueline Bisset. And Brad Pitt was the last person thanked on stage. Haunting.
*I was happy that Amy Adams finally won SOMETHING. She's like the Susan Lucci of all awards shows – always nominated, never a winner.
*Jared Leto won Best Supporting Actor, proving once again that Michael Fassbender is an idiot for not waging a proper campaign. I have to give it to Leto, though – his campaign is extraordinarily effective. As for his geisha hair… um, NO. Meanwhile, Fassbender definitely won Best Ginger (joint with Amy Adams).
*WHO WAS THE RECIPIENT OF ROBERT DOWNEY JR.'S WINK?
*Emma Thompson is amazing everywhere. She is amazing in the audience, she's amazing as a presenter, she's amazing as a person. Everyone was like "Emma was so drunk" when she presented with a cocktail & her Louboutins in her hand, but I'm pretty sure she was just doing a bit.
*Michael Douglas used the word "mince" as a pejorative when he accepted his award for Beyond the Candelabra. Is this offensive?
*I like that Woody Allen didn't give a sh-t enough to show up to accept his Cecil B. DeMille Award. He never comes out for these awards shows (when he's nominated, or receiving a lifetime achievement, but he did go to the Oscars to present a tribute to NYC after 9/11) and I'm glad he didn't start this year. But OMG, Diane Keaton accepting the award on his behalf was insane. SHE SANG.
*Leonardo DiCaprio won Best Comedy Actor for Wolf of Wall Street. I guess he's getting an Oscar nomination. Ugh.
*YAY for Cate Blanchett! She looked gorgeous and I think she's probably the frontrunner for the Best Actress Oscar. Plus, I liked her speech!
*Matthew McConaughey won for Dallas Buyers Club? I mean… I get it, he really, really wanted it but NOOO. No.
*ALL OF THE BEARDS. So many wonderful beards, so little time.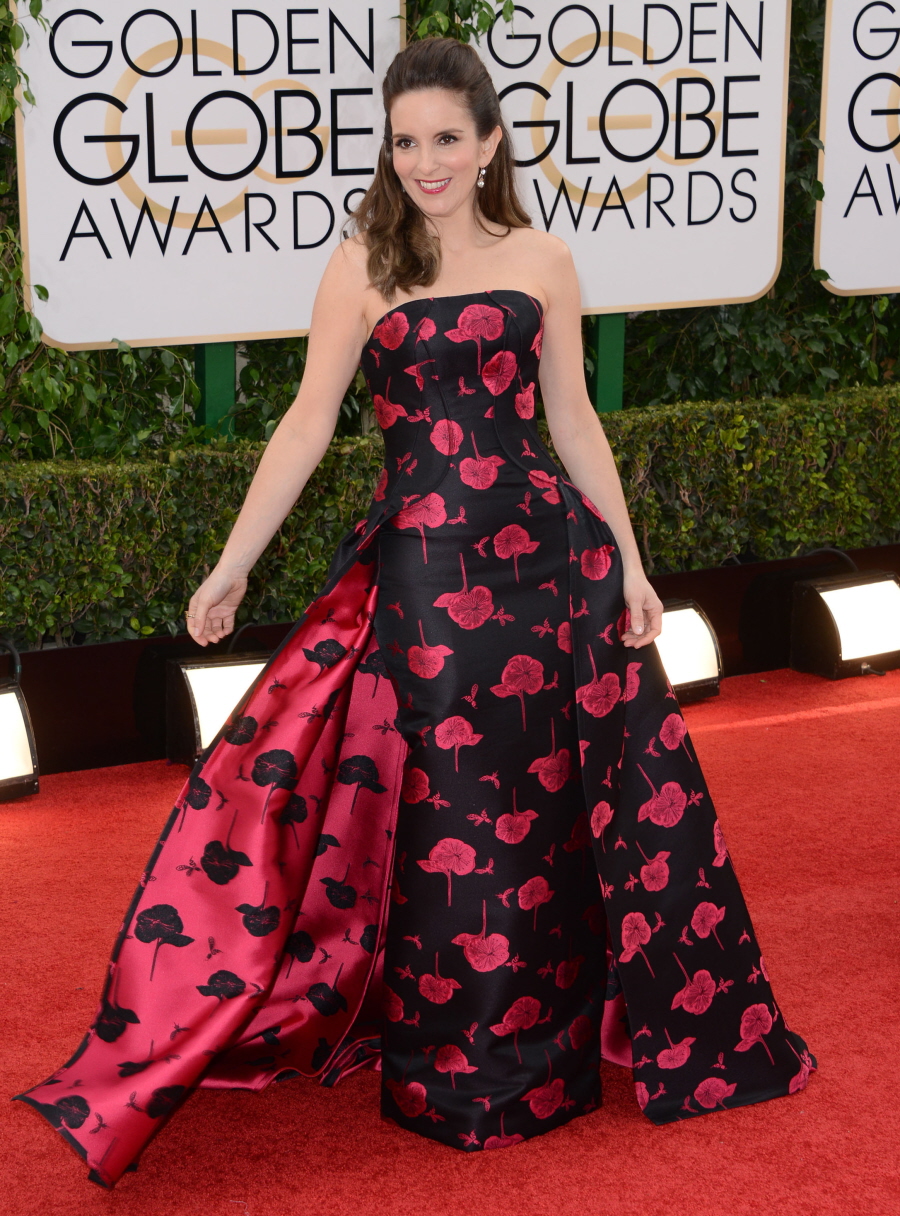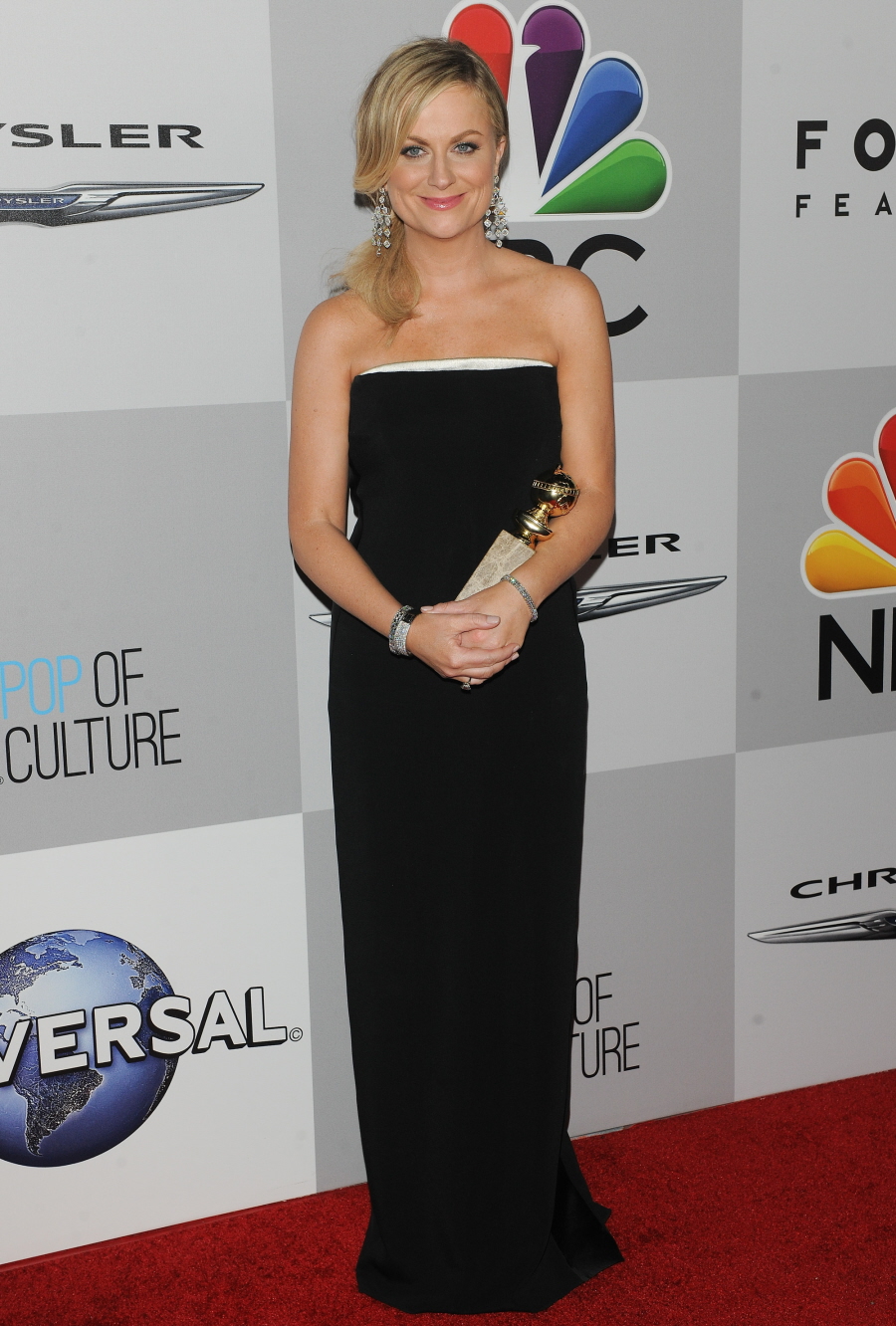 Photos courtesy of Fame/Flynet and WENN.