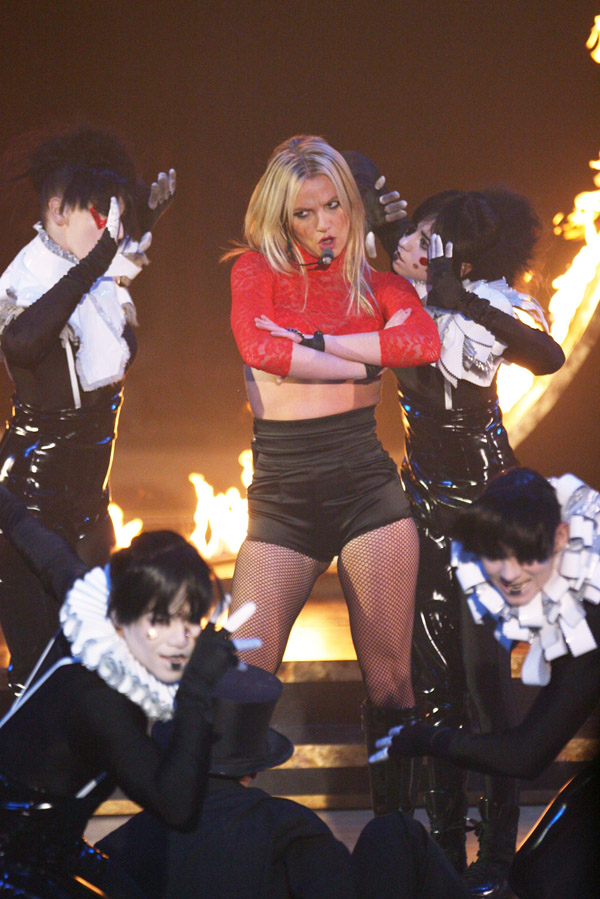 Yesterday we heard that Britney Spears was threatening to cancel her much anticipated Circus tour if her two sons, Sean Preston, 3, and Jayden James, 2, couldn't come along with her. Britney had worked out a tentative agreement with ex husband Kevin Federline, who has primary custody, to bring the boys along with him and travel with her in exchange for increased child support. Britney's father agreed on the arrangement and everything was thought to be settled – except for the fact that Federline's lawyers didn't agree with the temporary custody agreement. It seemed to us like they were just upset that they got cut out of the deal. If Britney and Kevin are working together without using their high powered legal teams as intermediaries, the lawyers can't charge their exorbitant fees.
It seems like either the lawyers have backed down or Kevin stood up to them, because now there's word that Britney's boys will come with her and the tour will go on as scheduled. There's a ton of money at stake and it was in everyone's best interest to make sure the public knew that Britney's tour was not in jeopardy. Britney's people have issued an announcement through her official website that the boys will be with her:
Britney is so excited to kick off her tour. She has been enjoying every moment of rehearsals and is looking forward to performing in front of a live audience again. Both Sean Preston and Jayden James will, in fact, be joining Britney throughout the duration of her tour. The Circus kicks off in New Orleans on March 3rd.
[From BritneySpears.com via OK!]
There's been a lot of speculation that Britney is not ready for the tour, with even her former music manager publicly expressing doubt that she will be able to endure the grueling schedule. The tour includes 44 performances in 33 cities over 14 weeks. That's an immense commitment for even the most prepared performer, and it seems like Britney just got back on track a few months ago. Whether she'll be able to pull through with it or not we'll have to see, but at least she'll be able to see her sons while she's touring.
Britney Spears is shown performing on 12/2/08. Credit: WENN