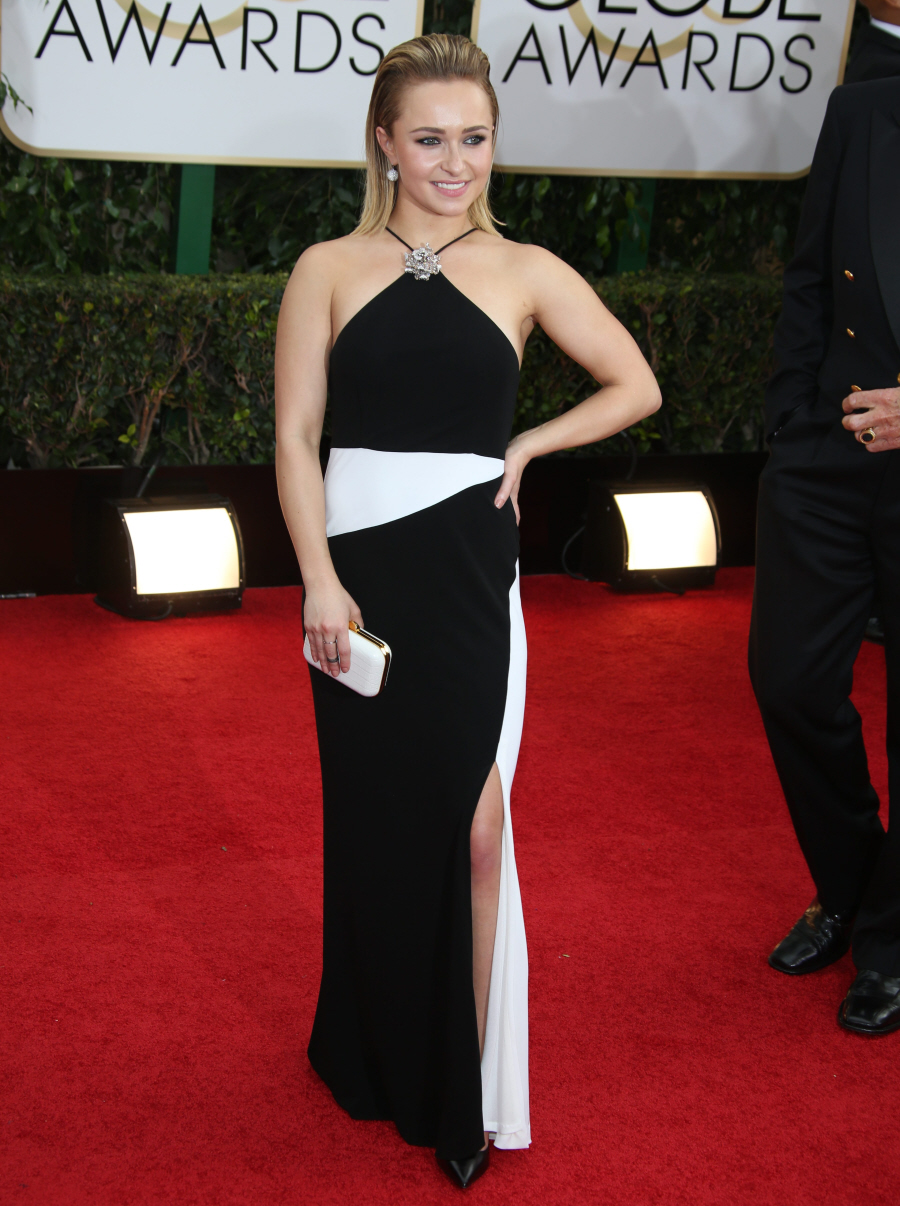 CB hated Hayden Panettiere's Golden Globes gown, but I sort of liked it. I agreed with CB that the styling kind of sucked, but I liked that Hayden went for such a simple, minimalist Tom Ford gown in black-and-white. When she proudly declared on E! that she was wearing Tom Ford, I was surprised too – Tom Ford usually doesn't dress TV stars. He dresses MOVIE stars. Well, as it turns out, Tom Ford did NOT send Hayden this gown, nor did anyone affiliated with Tom Ford. Hayden went out and bought it off the rack.
Hayden Panettiere made a big fashion statement at Sunday's Golden Globe Awards — not so much because of what she was wearing but because of how she got it. Celebs typically borrow red carpet gowns from the designers themselves, but Panettiere, 24, reportedly bought her black-and-white Tom Ford number off-the-rack, which many consider a fashion faux pas.

Ford is known for dressing just one woman per awards show, and on Sunday, Jan. 12, that woman was Naomi Watts, who donned a silver, beaded column dress by the designer. Panettiere is such a fan, however, that she apparently went out and purchased one of Ford's gowns for herself.

Asked by Giuliana Rancic what she was wearing on the red carpet at the Beverly Hilton Hotel, the Nashville actress replied, "Tom Ford. It's the first time I've ever worn him, because I've been begging…I feel sexy in it, I feel comfortable in it, and I'm in Tom Ford. I would wear a plastic bag if it was designed by him."

Not long after, journalist Jim Shi tweeted, "Tom Ford confirms to me he ONLY dressed #NaomiWatts tonight. Hayden Panettiere BOUGHT her Tom Ford dress at RETAIL. Tsk, tsk."

In any case, the Golden Globe nominee wore Ford's gown well. And he seems to agree. On Tuesday, Jan. 14, Panettiere revealed on Twitter that she had received a bouquet of flowers from the designer, along with a sweet message thanking her for what she said on the red carpet.

"Such an honor to wear one of this man's masterpieces! Thank you for my beautiful flowers!" the recently engaged star tweeted, along with a photo of what looks to be a couple dozen white roses. The card read, "Dear Hayden, You looked beautiful last night. Thank you for your kind words. Much love, Tom."
I'm including Hayden's Twitter photo of the flowers below – that was very classy of Tom Ford, wasn't it? And you know what? I admire Hayden's pluck at buying a Tom Ford dress off the rack and wearing it proudly to the Golden Globes. Think of it this way – she obviously loved the dress and now she'll have it forever. She doesn't have to send it back, and she'll probably repeat it for some private occasions too. And it's smart to do it with a Tom Ford piece – the gown will retain its value, like Tom Ford for Gucci has, like Chanel or Valentino or vintage Givenchy. And people get too fussy about "a designer should only dress ONE woman per event" and "a celebrity should never buy a gown off the rack." If she loved it, I'm glad she bought it, and Tom Ford doesn't mind.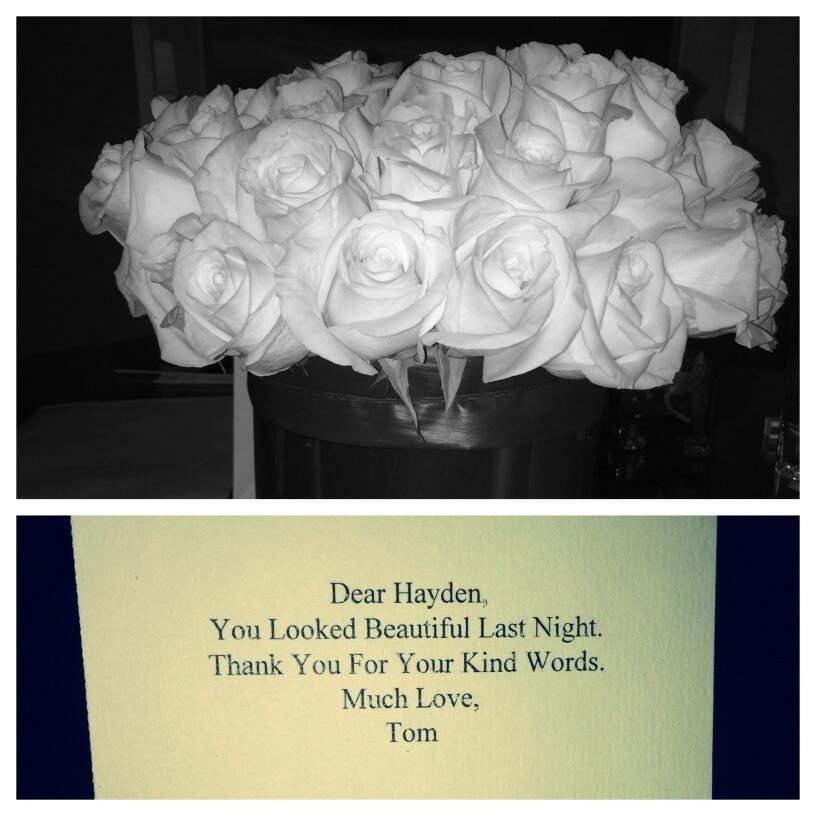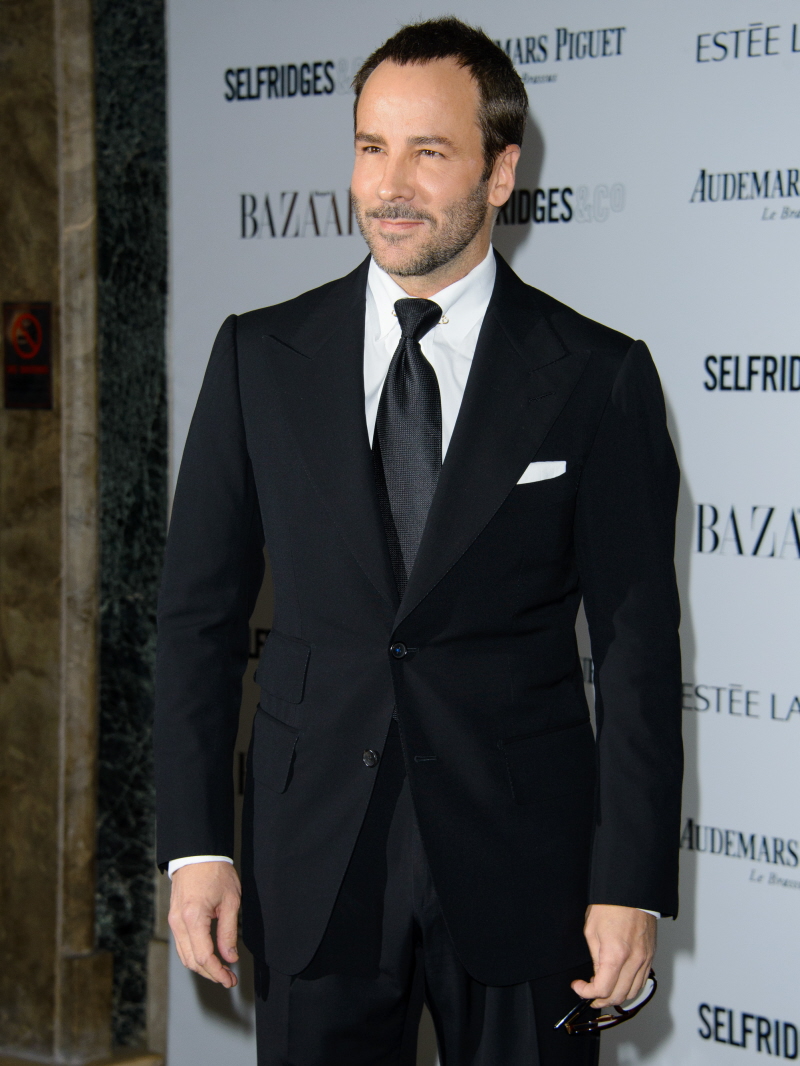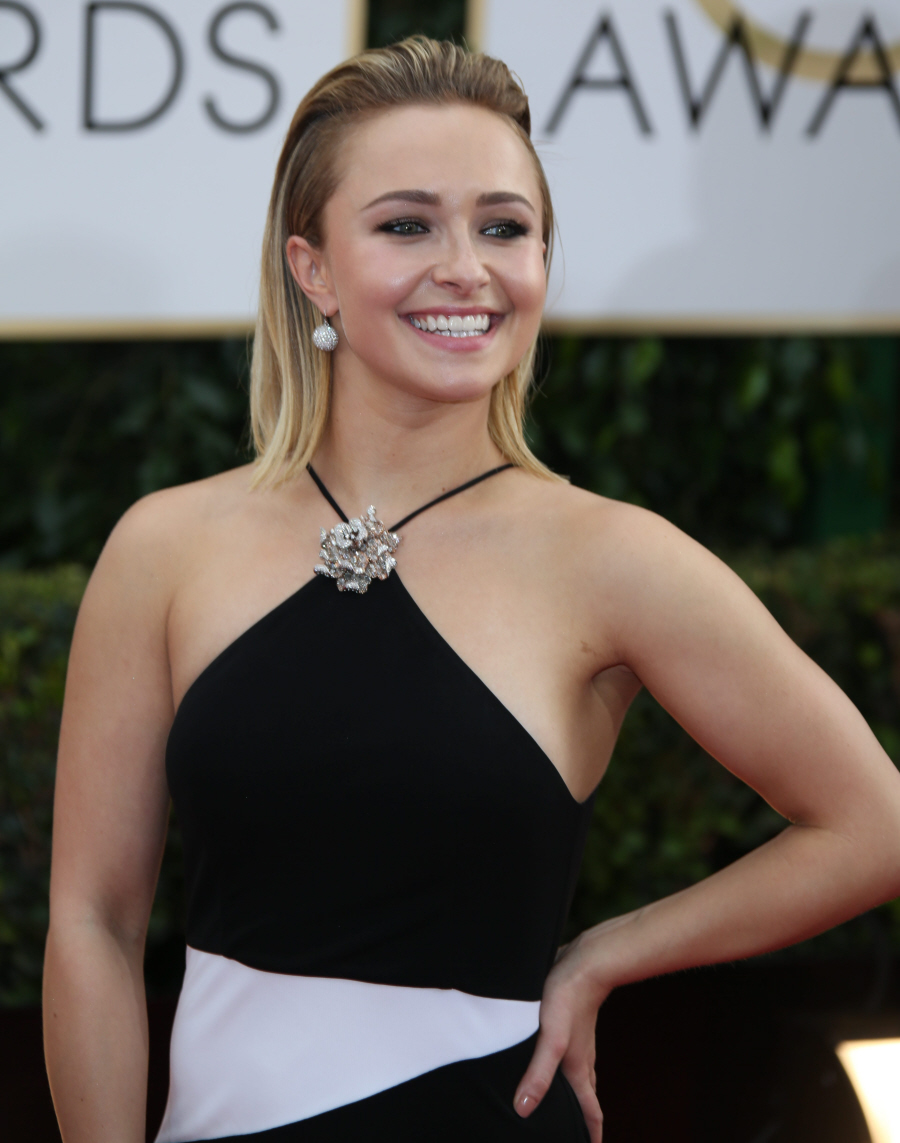 Photos courtesy of WENN, Hayden's Twitter.