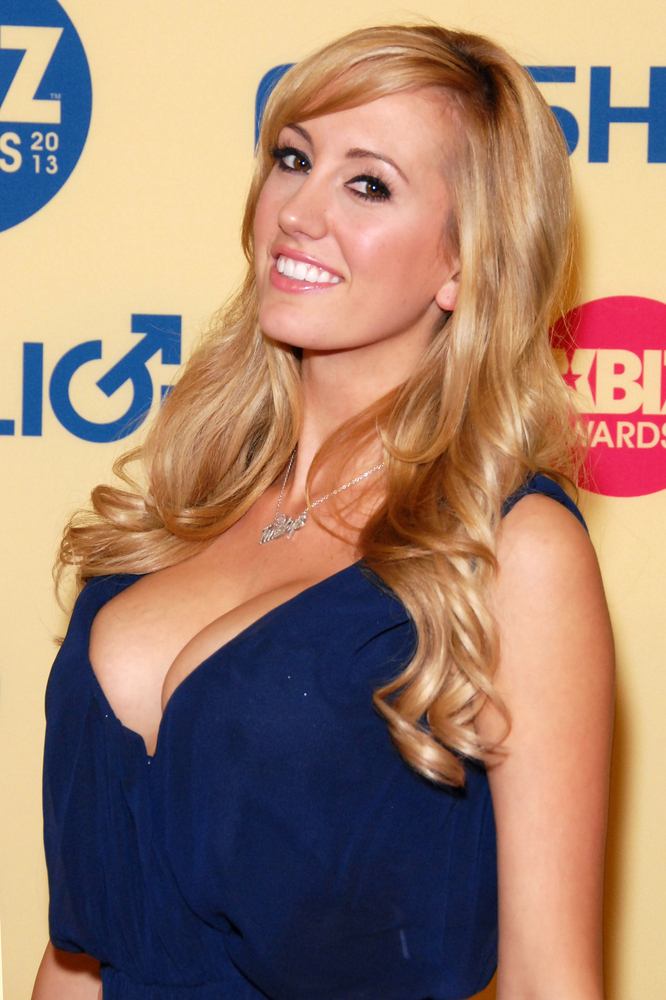 Yesterday we heard that Charlie Sheen's new girlfriend, Brett Rossi, a 24 year-old adult film star whom Charlie has been seeing just a handful of weeks, was insisting that Charlie kick his first ex-wife, Denise Richards, out of the gated community where they live. This was despite the fact that Denise has bent over backwards for Charlie for years, making sure that he has time with their 9 and 8 year-old daughters, and even taking in his twin boys from his second failed marriage. (Denise's adopted daughter, Eloise, 2, is also rumored to be Charlie's from another woman, but we don't have confirmation on that.)
Some people noted that Charlie is responsible for his own erratic, abusive behavior and that we shouldn't blame his latest piece for his actions. That's fair enough, although Radar has been running with the angle that Brett is influencing Sheen, first to drop his management team and then to push Denise out of his life. In that respect I do think she's trying to take over the situation and call the shots, although it's just a matter of time before Charlie freaks out and rebels against her.
Denise has pushed back somewhat and seems to be trying to keep Brett away from her daughters. Charlie railed against Denise over the holidays, claiming she wasn't letting him go on vacation with her and the girls. Denise told TMZ that wasn't the case, that Charlie was invited. It seems like she's just trying to keep her daughters away from Brett. That's very fair, many divorced couples have a rule that their ex can't bring dates around the kids until it's serious. Only now Brett is tweeting Denise, saying that she would like Denise to meet with her and Charlie's lawyer (she refers to him as MG) to discuss "how I can help the children have a happy & loving relationship with BOTH sides." Brett wrote a whole diatribe about why Denise isn't playing fair with Charlie and how Denise is not acting in the best interests of the children. This is truly ridiculous.
I can no longer hold my tongue so here is my statement to the world. Take it as you will:

I AM a child of divorce. I AM an advocate for children having a loving, healthy relationship with BOTH parents and always will be. I have NO problem helping make this happen, however such as life there should always be boundaries.

Often when parents have disagreements, the children & their best interests get lost. People forget to shield their children & share too much with them forgetting that they are just children & their minds can't fully comprehend 'adult' disagreements. Thus, resulting in the children becoming hurt & confused. It is the parent's job to protect and keep them shielded from the unnecessary.

I would like to see evidence providing that my statement above is FALSE. Until then, these stories will and ALWAYS will be irrelevant and fabricated. As well as not in the best interest for ANY child. I will no longer take the abuse from the press as I have nothing to do with other people's actions or disagreements. This is ancient history; google it.

Lastly, if YOU would like to meet up with MG and discuss how I can help the children have a happy & loving relationship with BOTH sides, I am more than willing to do so. I am only here to enhance things such as the note that was so delicately, respectfully & beautifully written to you. I don't care about the 'adult' side of things, that is on you such as I have never cared to invest energy into things that are a waste of energy. Think about the babies & not ones own frustration or disagreements. It should always be about THEM. You protest privacy yet running to the press doesn't make you exactly a saint. If you want something from someone, I was raised to display the respect before it is earned. I ask, respectfully, to please keep my name out of your mouth such as I respectfully have ALWAYS done for you without any hesitation.
Yes, Brett has "always" done that for Denise, for the whole month she's been dating Charlie Sheen. What I glean from this long, self-important tweet is that Brett thinks that Denise is the one leaking stories to Radar about her. That's probably the case. I mean Charlie is trying to kick Denise out of her house, right after he hooked up with this woman. Somehow Brett thinks it's her place to broker a truce between Charlie and Denise, and that Denise is being the unreasonable one. She's been with Charlie a month and she expects to play happy family with him and his daughters. This convinces me that Radar's angle is probably Denise's take on this whole mess, which makes sense.
I'm always team Denise. You can't pin this whole situation on Brett by any means, Charlie is an abusive a-hole, but from Denise's perspective Brett is the problem this time. I'm sure she knows all about Charlie, but she's been trying to play nice with him and it's worked for a while.
Radar has a follow-up story explaining why Denise left her former home to move closer to Charlie. She couldn't get her daughters enrolled in any local schools after Charlie went on a Twitter rant about Sam being bullied at school. He told people to send dog poop to the school. Denise's applications to other nearby private schools were all rejected after that. So Denise was faced with having to drive her daughters an hour away to go to school or moving. That story confirms for me that Denise has Radar on speed dial. What is she supposed to do, welcome Charlie's flavor of the month to start co-parenting her daughters? That seems to be what Brett and Charlie expect. After all, he had two of the "goddesses" caring for the twins during his breakdown and many other p0rn star "girlfriends" have come and gone since, often in multiples at a time.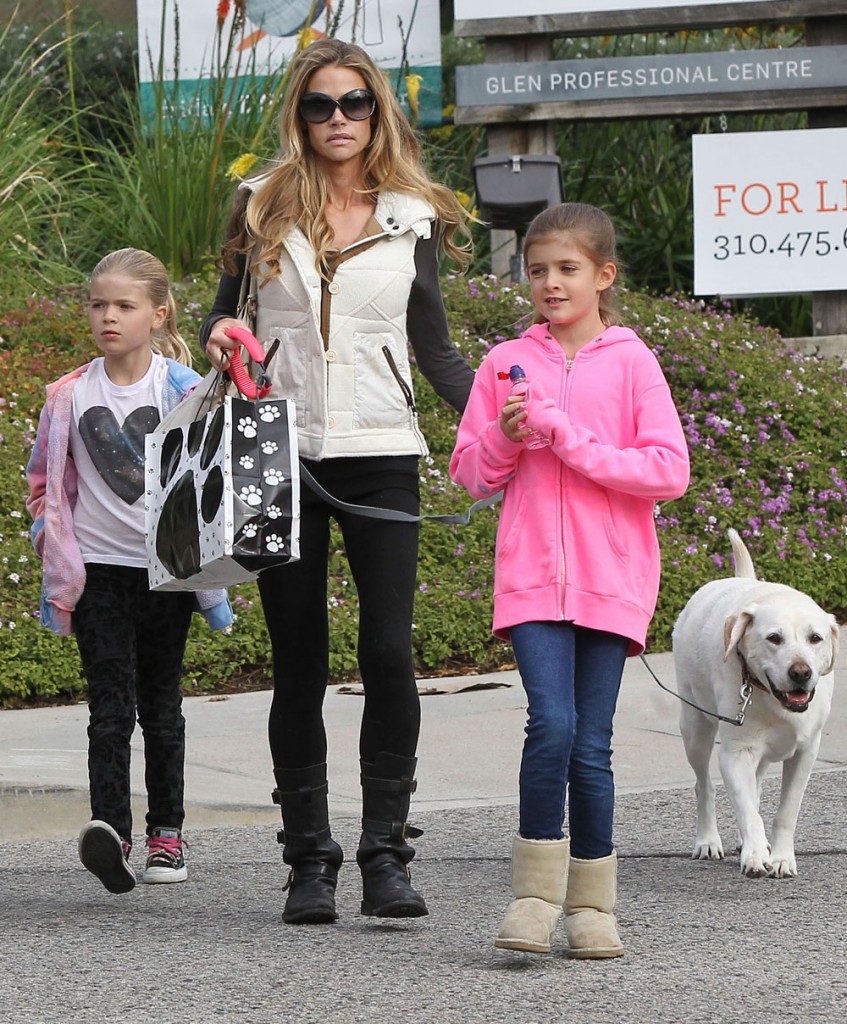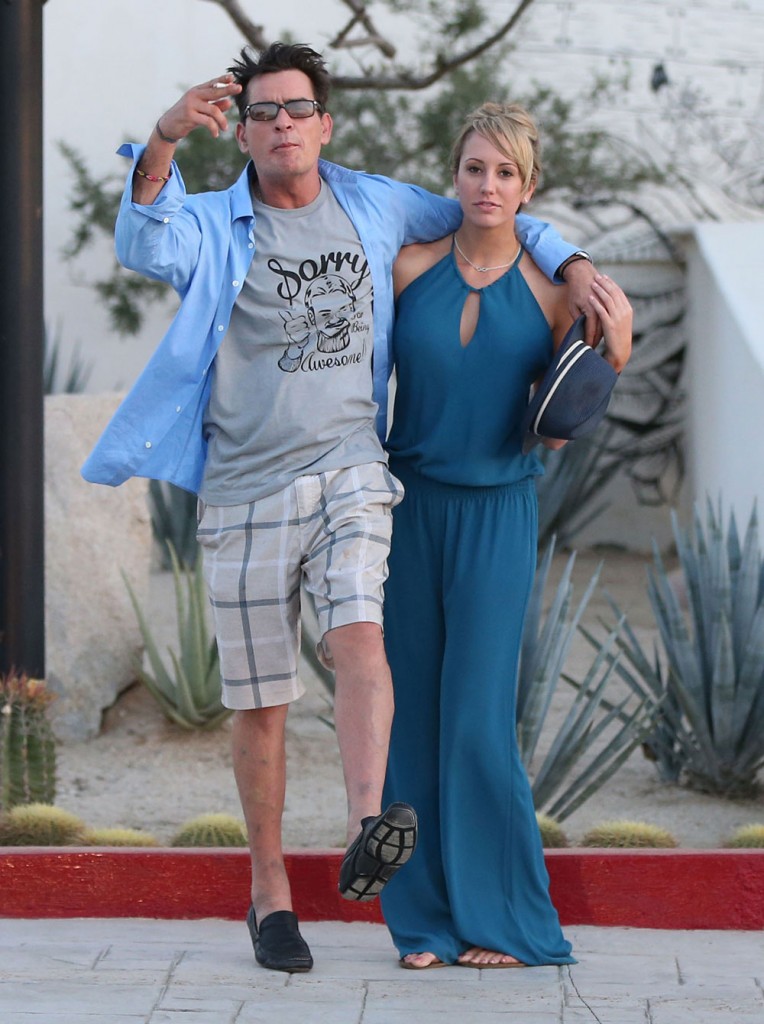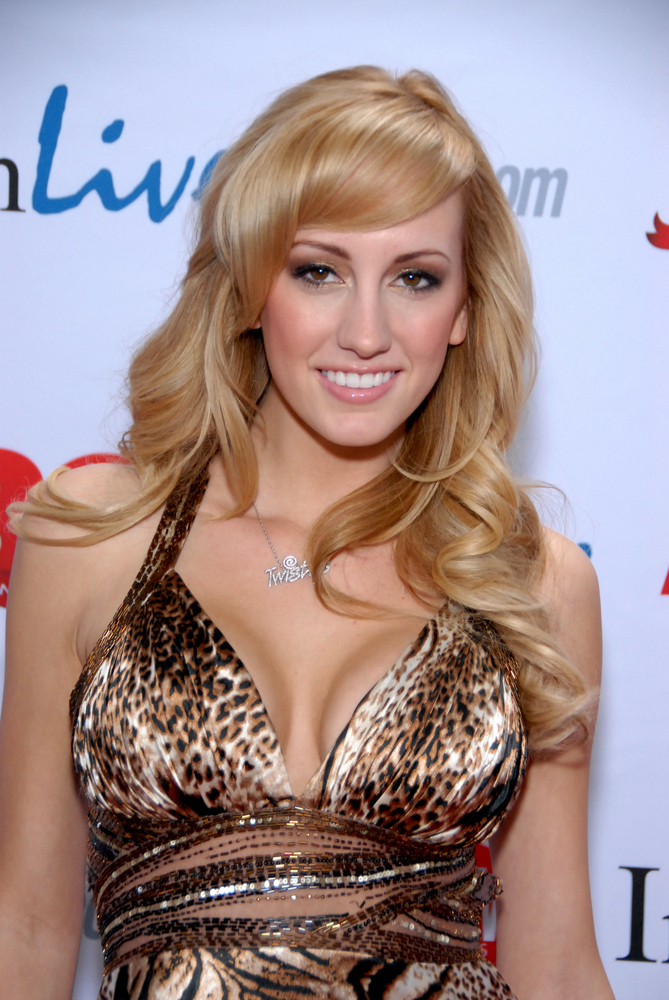 Brett Rossi is shown at the XBiz and AVN Awards in 2013. Other photos are from November and December, 2013. Credit: PRPhotos and FameFlynet