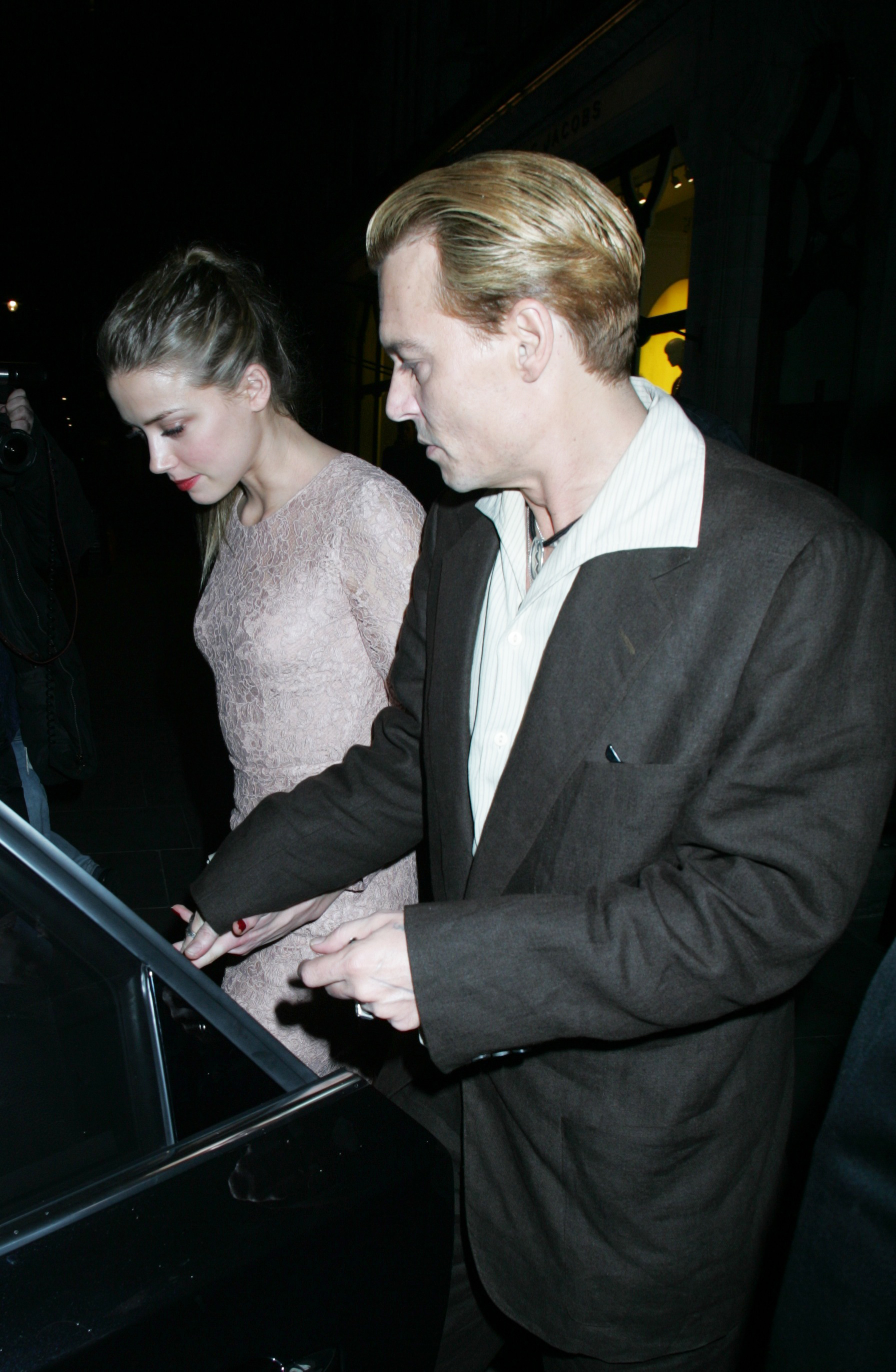 Johnny Depp may have gone the commercial route with his career, but he's always been very hush-hush about his private life. Well other than when he threw furniture out hotel room windows during a cocaine bender with Kate Moss. Plus that Wino Forever tattoo. Yet he's always maintained an aura of mystery through all of his relationships, which is why it came as a surprise that his engagement to Amber Heard was a late-breaking Friday story. That's a classic PR move that says, "We're trying to look like we don't want be noticed, but really, we know you'll talk about it all weekend."
As CB mentioned, People updated the story with an official confirmation and quotes about how Amber has bonded so well with Johnny's children because she and Lily Rose have gone shopping together. She and Johnny are so "excited to share the rest of their lives together." People has a new and slightly awkward update that starts out by making mention of Johnny and Amber's last relationships. The implication is that the happy couple was quick to toss out their former ways to be with each other. Check it:
He's a 50-year-old superstar who spent 14 years (mostly) happily unwed to his longtime love. She's a 27-year-old actress on the rise whose last relationship was with a woman.

Now Johnny Depp and Amber Heard — who only recently started stepping out together publicly — are engaged.

What made Depp get so serious so fast? "She's a great match for him and his individuality," says a source who knows Depp. "She's a free spirit."

Raised in Texas, Heard has proclaimed her love for shooting guns, driving fast cars (she tools around in a 1968 Mustang) and collecting books, a particular passion of Depp's.

After roles on the CW's Hidden Palms and the movie Pineapple Express, Heard was cast as Depp's love interest in 2011′s The Rum Diary — and their chemistry was undeniable. "You can't help but adore his talent, his passion, his magnetic force that pulls you into all his brilliance," she said at the time.

Of course, at the time Depp was still coupled with French singer and actress Vanessa Paradis, 41, the mother of his children Lily Rose, 14, and Jack, 11. They split in 2012. And Heard was dating Tasya Van Ree, a photographer.

Heard has said she's bisexual: "In the past I've had successful relationships with men, and now I'm in this successful relationship with a woman. When it comes to love I am totally open," she told Playboy in 2011.

By last year, Depp and Heard were an official item, with Heard accompanying Depp and his children on the international press tour for The Lone Ranger.

Recently, according to sources close to the couple, Depp popped the question. Says one: "They couldn't be happier."
[From People]
Honestly, I think it's easy to jump on Amber for bagging herself an A-lister and riding his scarfy coattails. She seems like a hot young actress that came out of nowhere, but the truth is that she has been kicking around Hollywood for a decade. As for Johnny? I still think he looks like the fool here. Classic midlife crisis. I hope he gets a good prenup.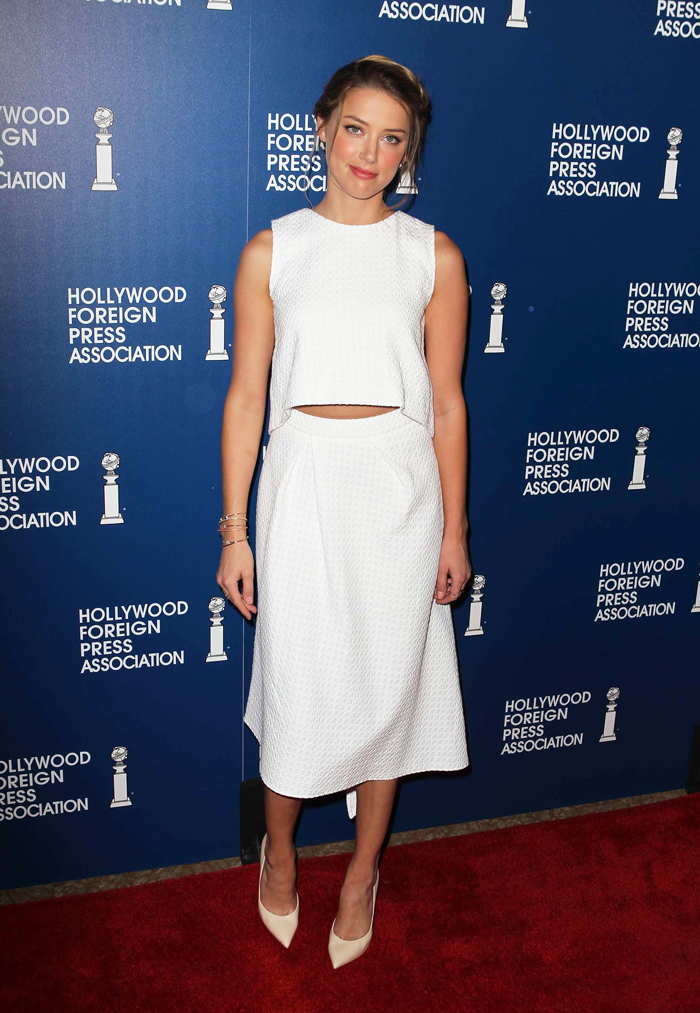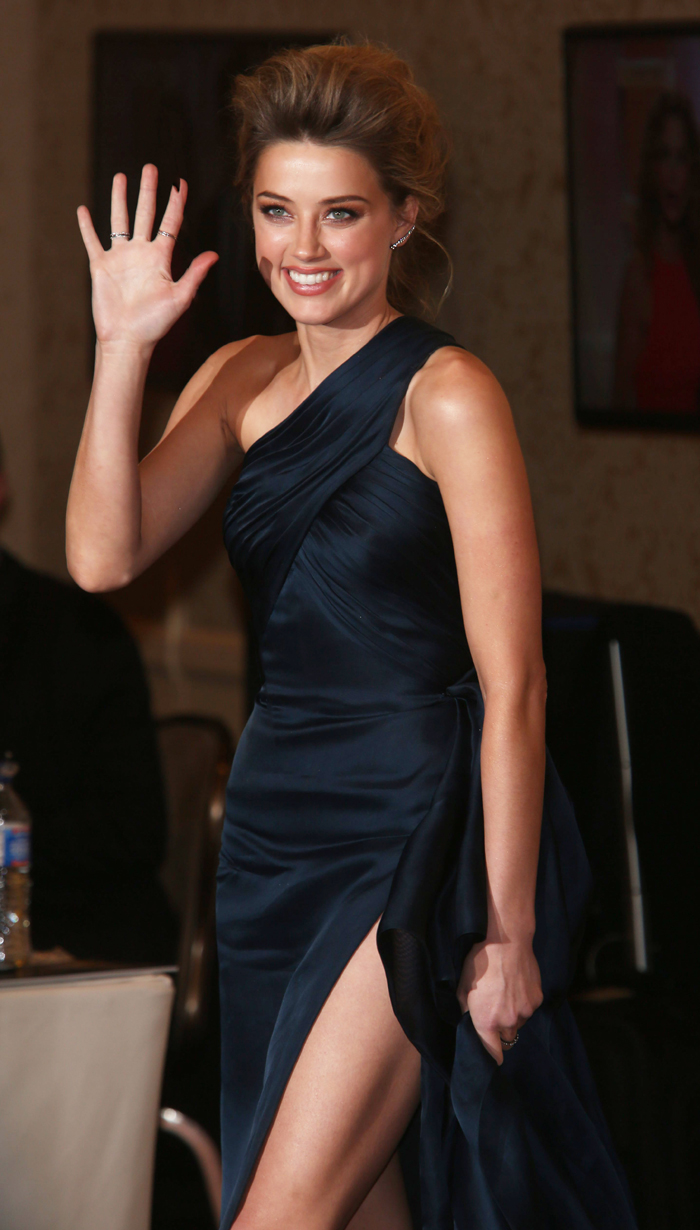 Photos courtesy of WENN