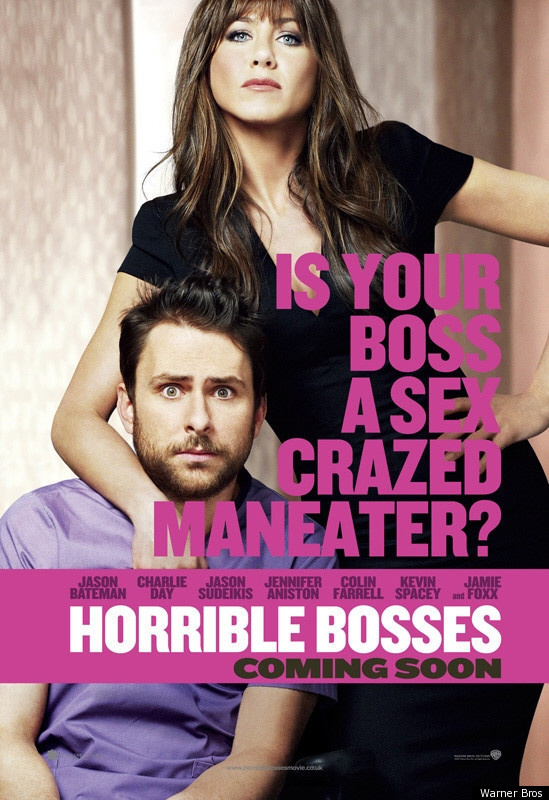 Jennifer Aniston had a supporting part in Horrible Bosses, a raunchy R-rated comedy in 2011. I never saw the film, but I'm assuming she had about the same amount of screen time as Kevin Spacey and Colin Farrell, the other two "horrible bosses" in the film. Aniston played the predatory sexpot psycho boss to Charlie Day's character. Anyway, the film was a financial success so of course they're making another one. Christoph Waltz and Chris Pine have been added to the cast (as more "horrible bosses" I believe) and Aniston and Spacey are reprising their roles as well. The Daily Mail just got their hands on the script and they're trying to get all the clicks by using phrasing like "Jennifer Aniston… bisexual… addiction…schlong." I guess I should throw up a SPOILERS here. SPOILERS for Horrible Bosses 2:
As Jennifer Aniston gets older, she just seems to get better… and more risque. Hot off her daring turn as a stripper in We're The Millers, the 44-year-old will be heating up screens again for Horrible Bosses 2 by playing a sex addict who goes on a wild binge.

Her character, randy dentist Julia Harris, seduces not just two men, but also a woman, MailOnline has learned exclusively after obtaining a copy of the script. The sequel starts with Jennifer's character Julia meeting up with Jason Bateman's character Nick Hendricks during a sex addiction meeting held at her dental office.

He calls goes by the name 'Blanston' so that she won't figure out he is the friend of her assistant Dale Arbus, played by Charlie Day. Jason's Nick acts like he is an addict too so that he can fit in with the group. Things get weird when she asks him what his trigger is and he uncomfortably says, 'Ladies, bosoms, and their back sides. Tight sweaters and undergarments.'

When Aniston's Julia looks bored with that comment, he tells a story about how he felt up a pantiless flight attendant in attempt to gain her attention. She seems bored again so he mentions a guy being there too. She suddenly perks up, saying 'Meeting adjourned,' then kicks everyone out of her office. She then 'pushes Nick into a chair, kisses him and grinds on him,' per the script. Julia tells him, 'God that story was hot. I've got a little story for you Blanston. Don't move.'

The fetching dentist then says from another room, 'In preparation for landing I need your shlong in a locked and upright position' then steps out in a very skimpy flight attendant costume, the kind girls wear at Playboy mansion Halloween parties. She starts kissing him, taking off his clothes, then jumps on him. The script strongly hints the two sleep together.

That's quite a sexy scene for Jennifer and Jason, who in real life are such good friends they double date with her fiancé Jason Sudekis and his wife Amanda Anka. In the next scene, when Nick meets up with his friends, it's clear he has slept with Aniston's Julia as script notes say he has a 'beaming glee.' He tells his friend Dale, who Jennifer's Julia sexually harassed in the first Horrible Bosses, 'You're crazy for not treating yourself to at least one helping of that.'

Toward the end of the movie, Julia then tries to seduce Dale again but this time she's successful. When he asks her why she's always after him, she tells him his 'c–k is like a trophy' and she wants it for her mantle. The beauty seals the deal when she blackmails him and he hesitantly caves in. Dale, who is happily married, feels awful about the affair and is worried his wife will leave him if she finds out. But in Jennifer's last scene in the film, she is seen with his wife and it's made clear she has seduced her as well as the two touch each other lovingly and have pleased smiles on their faces.

In Jennifer's four scenes in the film, she manages to bed three people, which must be a record for her career. This is quite a role for the former Friends actress who has built her empire on playing sweet girls-next-door like Jenny in Marley & Me and Katherine in Just Go With It.

Wearing sexy outfits isn't anything new for the Emmy winner, however. She donned a naughty French maid get-up for Friends With Money and a fetching Princess Leia bikini costume from Star Wars for Friends. Horrible Bosses 2 was shot in Los Angeles in November and December. Her We're The Millers co-star Jason Sudekis and Kevin Spacey are also in the movie.
She only has 4 scenes in the film? Well, it is an ensemble comedy and Jason Sudeikis, Charlie Day and Jason Bateman are the leads. I have no doubt that Bateman will be funny in this and anything he does, but Aniston as the raunchy seductress? Eh. Can I still get some eye-rolls, hair flips and waved hands please? What am I saying? Those are already in her actress's bag of tricks. Anyway, I'm sure Aniston picked up a nice paycheck for only four scenes. It's probably more money than I'll ever see, so the joke's on me.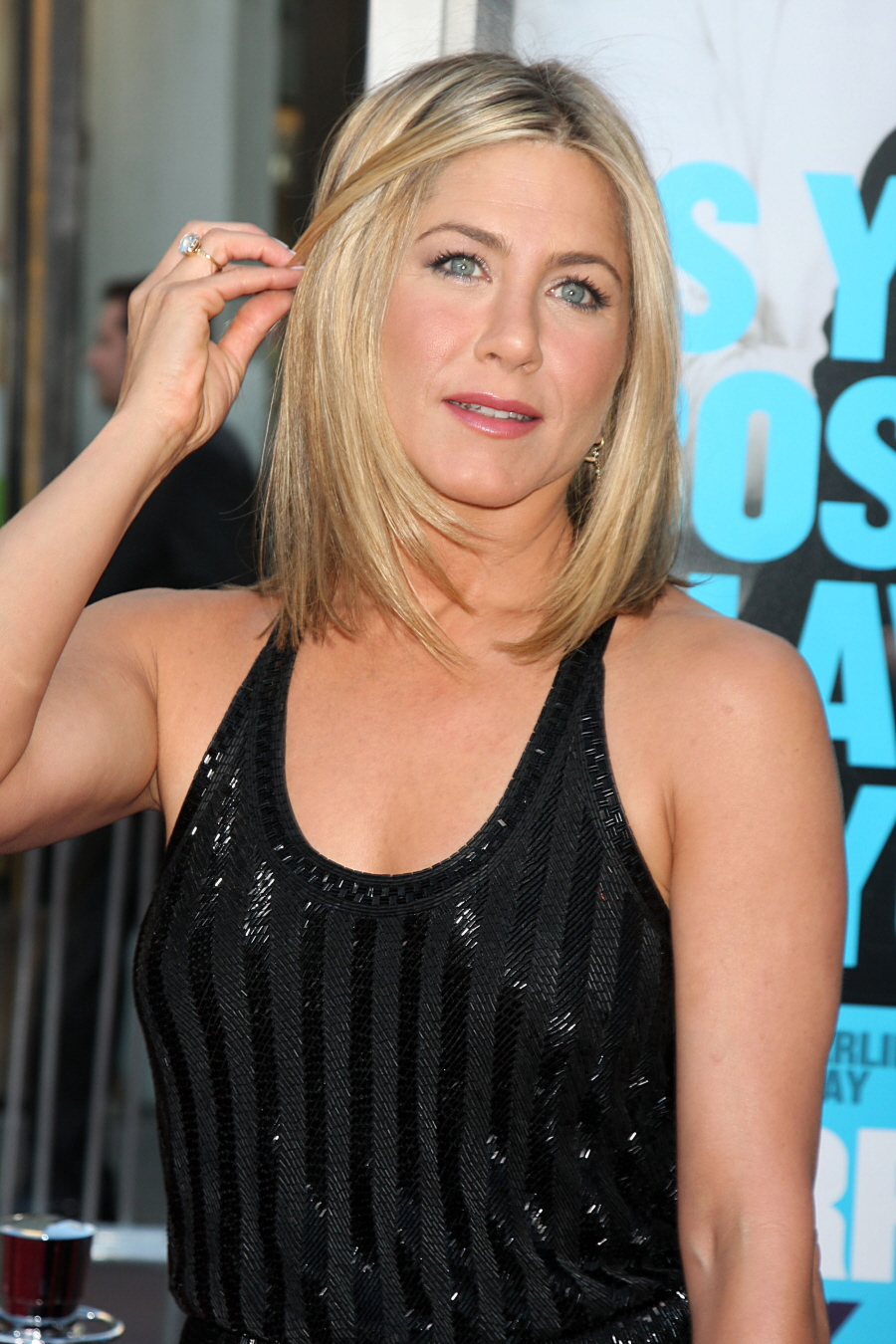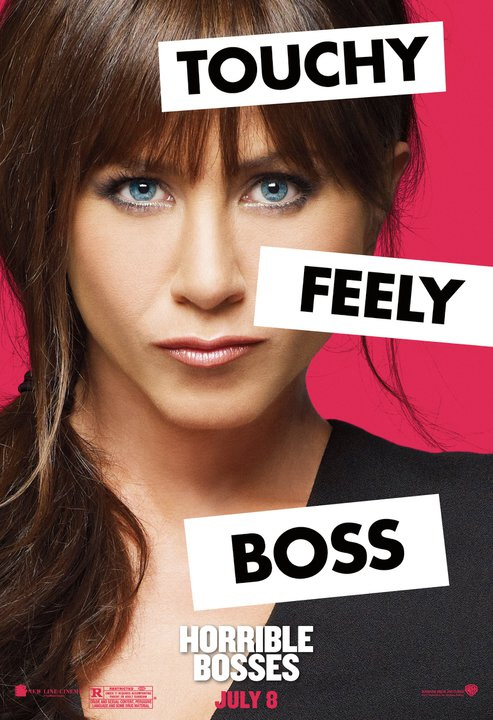 Photos courtesy of WENN.