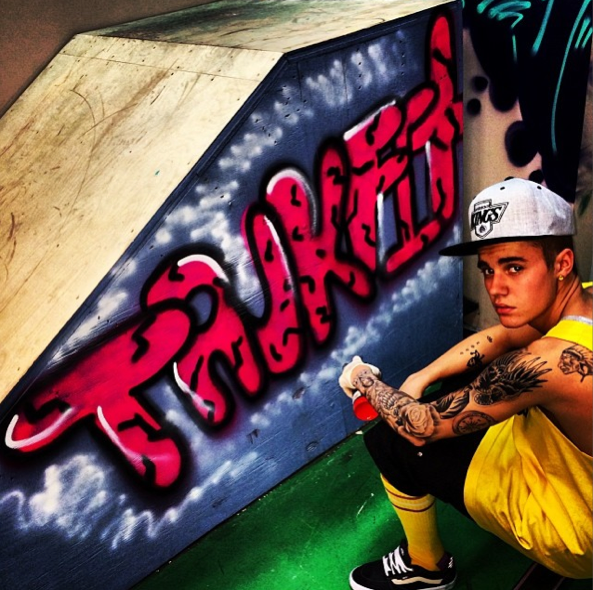 I keep telling you guys that no matter what Justin Bieber does — short of dealing drugs or killing someone — he will never be deported back to his native Canada. It's not that I don't want Bieber to face real consequences, but c'mon. Celebrity justice is nearly non existent. Bieber's very existence is a ticking time bomb, but I don't expect him to do any time or lose his green card. Sure it's a pain in the ass for the swaggy one to deal with Egggate in California and his DUI and drag racing drama in Florida. Now he's facing legal drama in Canada too. Baby Biebs turned himself yesterday in at a Toronto police station concerning a late December incident. He was charged with assault:
Justin Bieber's bad year continues to get worse. Less than a week after his DUI arrest in Miami, the 19-year-old "Heartbreaker" singer has been charged with assault in connection with an alleged incident involving a limo driver in Toronto last December.

The Canadian superstar turned himself in on Wednesday, Jan. 29. After spending about an hour and a half at the police station, he was released and left through a back exit, the Associated Press reports. He is now scheduled to appear back in court on Monday, March 10.

"The Toronto Police Service requested that Justin Bieber appear in Toronto today to face an allegation of assault relating to an incident on December 29, 2013," Bieber's rep said in a statement to Us Weekly. "We anticipate that this matter will be treated as a summary offense, the equivalent of a misdemeanor in the United States."

"Our position is that Mr. Bieber is innocent," the statement continued. "As the matter is now before the Court, it would be inappropriate to address the specifics of either the allegation or of our defense at this time."

Per Toronto Police, Bieber and a group of about five others were picked up by a limousine outside a nightclub at approximately 2:50 a.m. on Dec. 30. It is alleged that, during the ride, an altercation occurred between one of the passengers and the driver, in the course of which the man allegedly struck the driver on the back of the head several times before leaving the scene.

News of the investigation broke just hours after the singer's attorney entered a not-guilty plea on his behalf to DUI, resisting arrest, and expired license charges stemming from his bust in Miami last Thursday, Jan. 23. He is set to be arraigned on Valentine's Day, Feb. 14.
[From Us Weekly]
When the Toronto-based attack happened, everyone assumed one of Bieber's bodyguards was to blame, but now Biebs is the one with assault charges. We can speculate upon how much damage a tossed binkie can do to a limo driver, but then there's the looming roid rage theory. It's amazing how much of a ruckus Bieber is causing in so many places at once. Of course his team's position is that he is innocent of everything. Swag.
* An update on the egg-tossing incident: As of yesterday morning, it looked like Egggate would go nowhere. Now CNN reports that prosecutors want to go for felony vandalism, and detectives are "tightening up the case." The LA district attorney is expected to decide next week what (if any) charges will be filed against the swaggy one.
* Now for the most entertaining part of this post: The petition asking the White House to "deport Justin Bieber and revoke his greencard" has made some amusing progress. The White House is required to respond to all petitions that gather 100,000 or more signatures. As of 10:30 EST on Wednesday evening, the number of signatures has passed 160,000 (screenshot below). No way will Bieber get deported for his current cases, but the White House WILL have to issue an official response. LOL.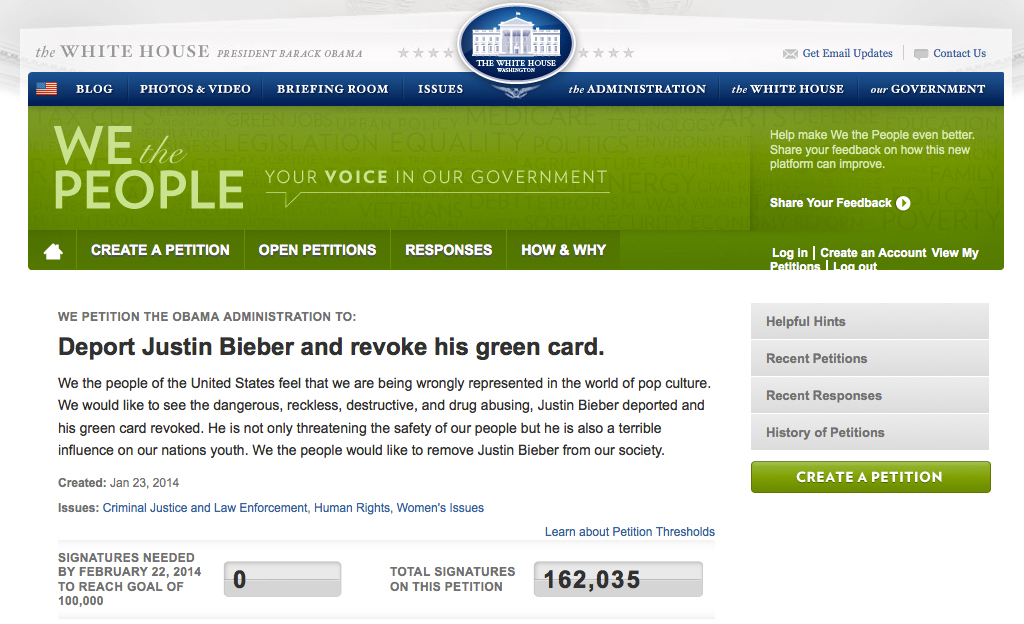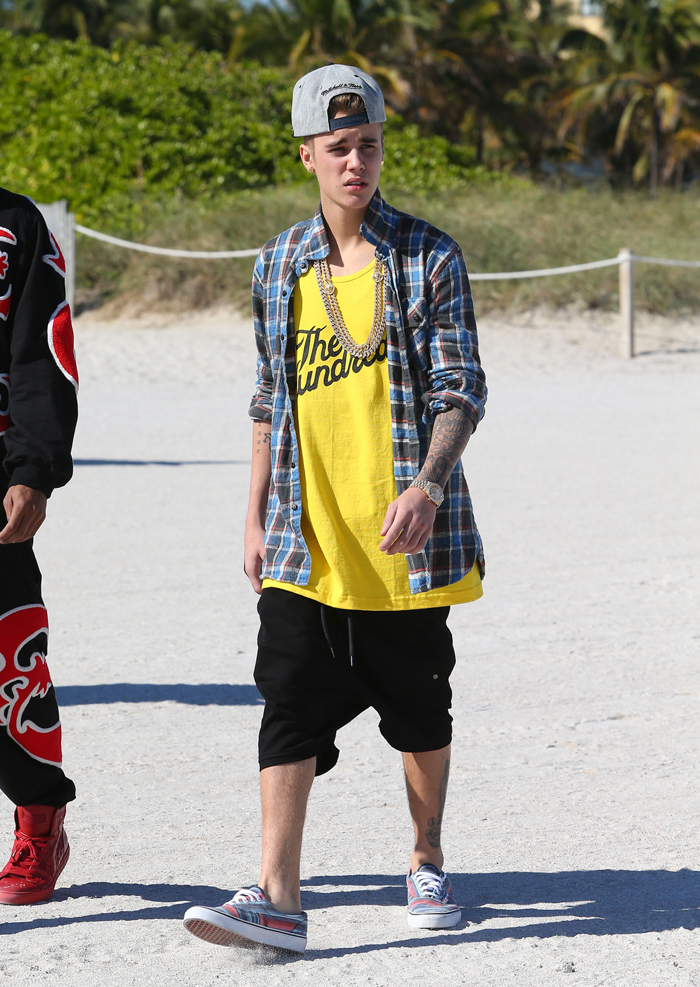 Screencap courtesy of WhiteHouse.gov; photos courtesy of Fame/Flynet & Justin Bieber on Instagram