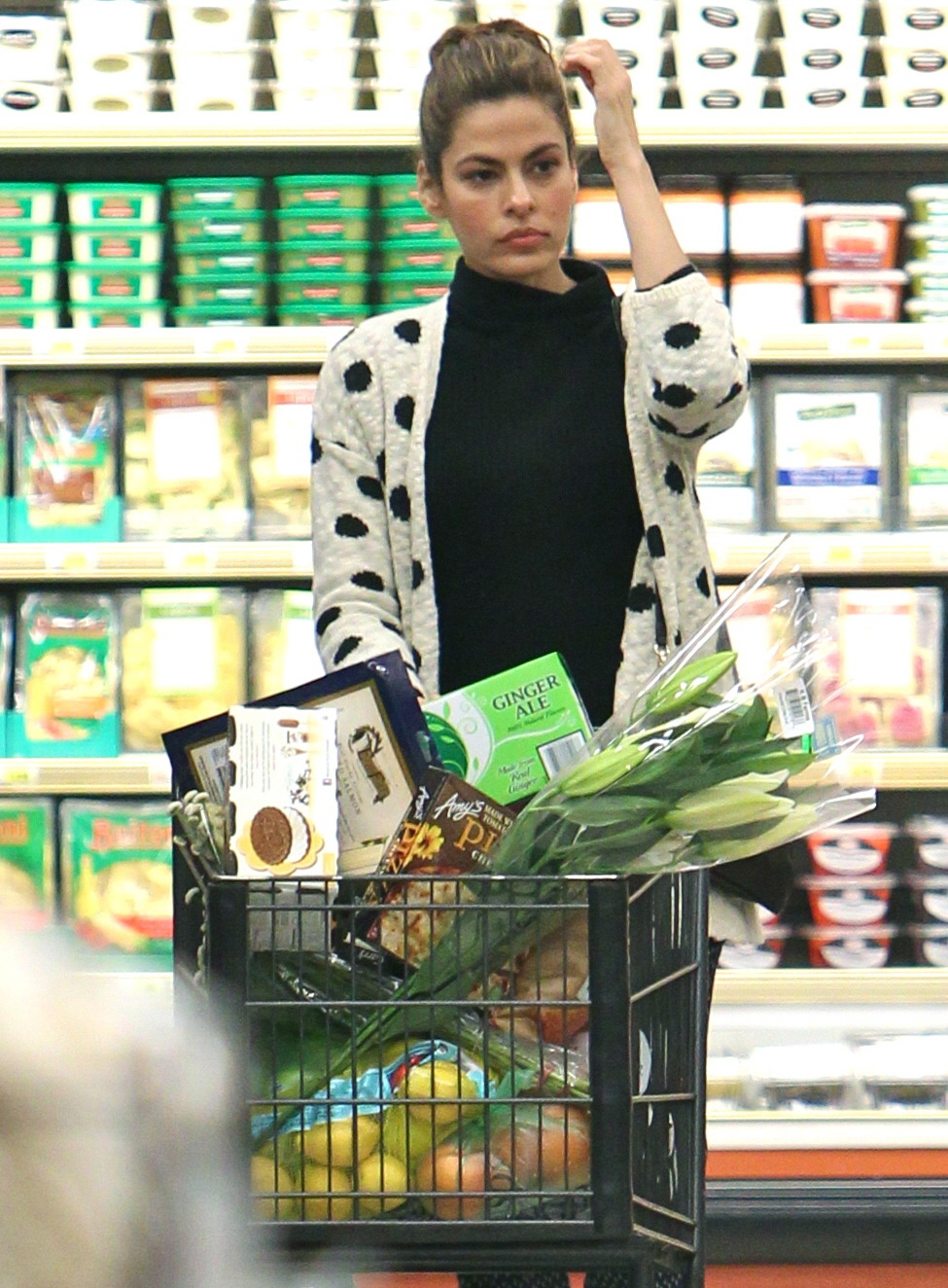 Eva Mendes has been MIA for a while, at least gossip-wise. These photos of Eva grocery shopping, they're from last week. But otherwise, we haven't had any new photos of her doing a pap-stroll since October. No photos of her out walking Ryan Gosling's dog, no photos of her daily fashion shows for the paparazzi, no shots of her walking arm-in-arm with Ryan Gosling. Of course, last fall, there were lots of rumors flying around that Ryan and Eva were on the verge of breaking up, that he was either over it or that he wanted to marry her and she was saying no. I tended to believe that they were having problems, but I don't know exactly what those problems were.
So, there were some suspicions, some tabloid stories, and Eva largely disappeared for several months. What was going on? Well… what if she's pregnant? That's what The Daily Mail seems to think:
Eva Mendes has sparked rumours that she may be pregnant with her first child. The 39-year-old actress, who is recently believed to have split from her long-term actor boyfriend Ryan Gosling, caused a stir when she arrived at Los Angeles' LAX Airport on Saturday.

Arriving at the Transportation Security Administration point for a routine pre-flight security check, the Place Beyond The Pines star reportedly told officers she would not be able to pass through the body scanner 'because she's pregnant'.

The screen beauty was jetting from Los Angeles to New York City, and seemed to be in a rush as she arrived at the airport prior to allegedly making her declaration.

MailOnline has contacted a representative for Eva Mendes about the pregnancy rumours.

But in spite of the latest reports, Eva hasn't made a public appearance with long-term beau Ryan Gosling, 33, in months. The couple started dating back in September 2011 after meeting on the set of gritty drama The Place Beyond The Pines, but their relationship was claimed to have hit the rocks in December 2013.

A source close to the pair told Perez Hilton: 'There was a realization before Thanksgiving that they took things way too fast and were rushing toward a marriage that neither of them particularly needed. They've decided to take a break to re-evaluate their romance. At the end of the day they are both so uncertain about their future.'

An insider added to US Weekly: 'He can be moody and she's insecure. She sees a text from a mystery number and assumes he's talking to girls.'
Is there a Gosbaby baking away? Eh. Could be. It would be one explanation for the weirdness around Eva and Ryan these days, and by "weirdness" I mean "they haven't been seen together in months and no one even knows if they're still together." The mean, judgy part of me says that Eva got pregnant in a hurry to save her relationship with Ryan and he's going along with it but they disagree about how to announce their future plans together. The more generous part of me says that Eva is a girl who can't be tied down and that even if she's pregnant, she still doesn't want to marry him. Huh. I have no major theory about what's happening. Your guess is as good as mine.
PS… She bought Ginger Ale! Settling her queasy stomach/morning sickness?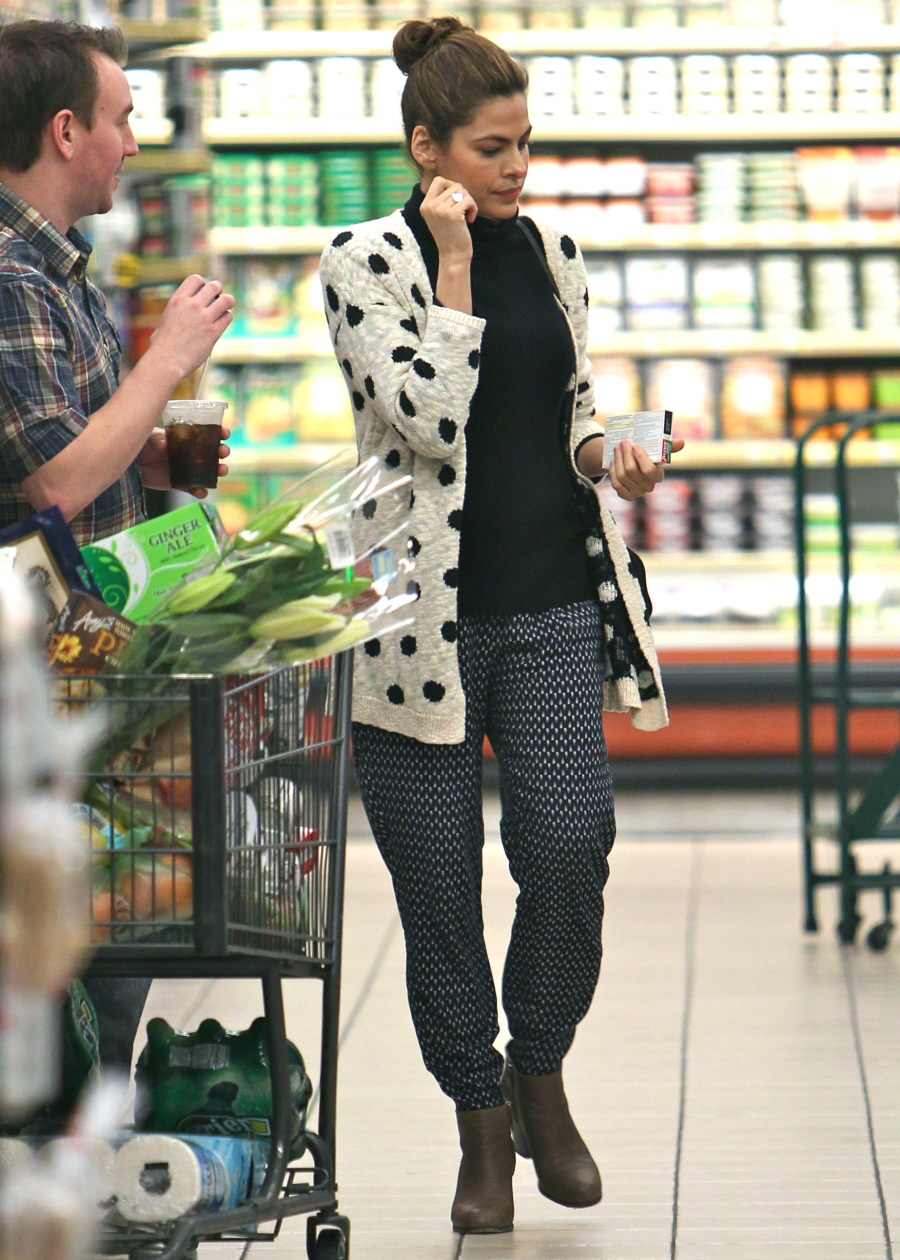 Photos courtesy of WENN, Fame/Flynet.