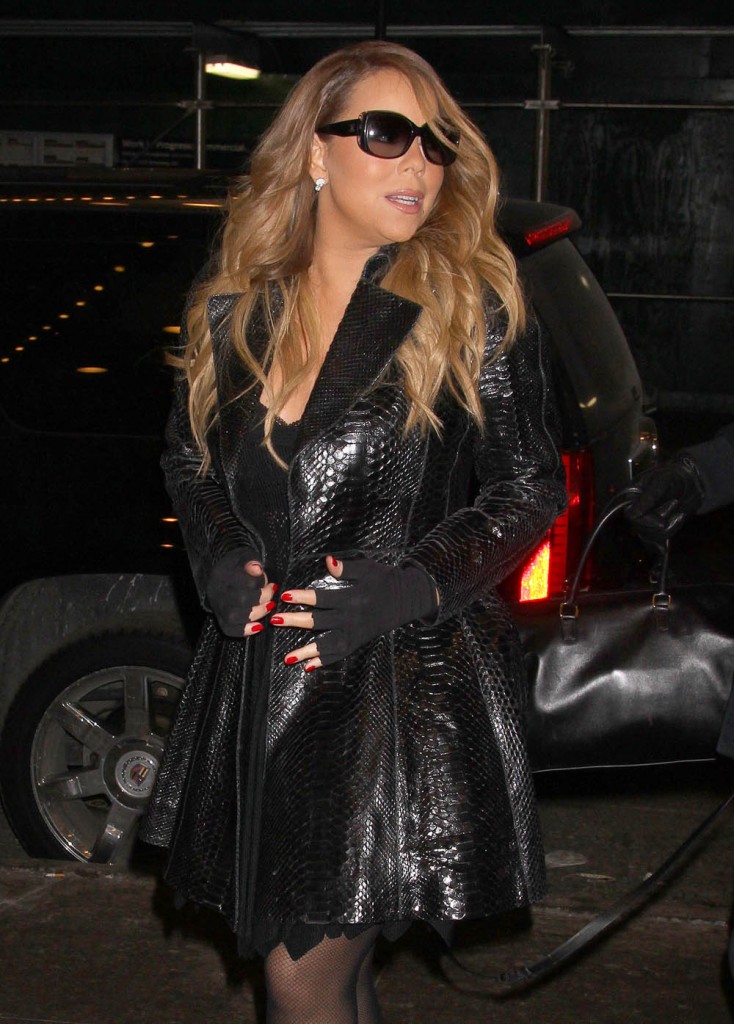 Mariah Carey did an interview with NY Radio station Power 105′s Breakfast Club show. She was promoting her new single, "You're Mine (Eternal)." The video is here, and it's a mishmash of breathy vocals and flattering digitally altered shots of Mariah posing next to water and covered in body glitter. Basically it's like every other Mariah video we've seen. Here's a screenshot: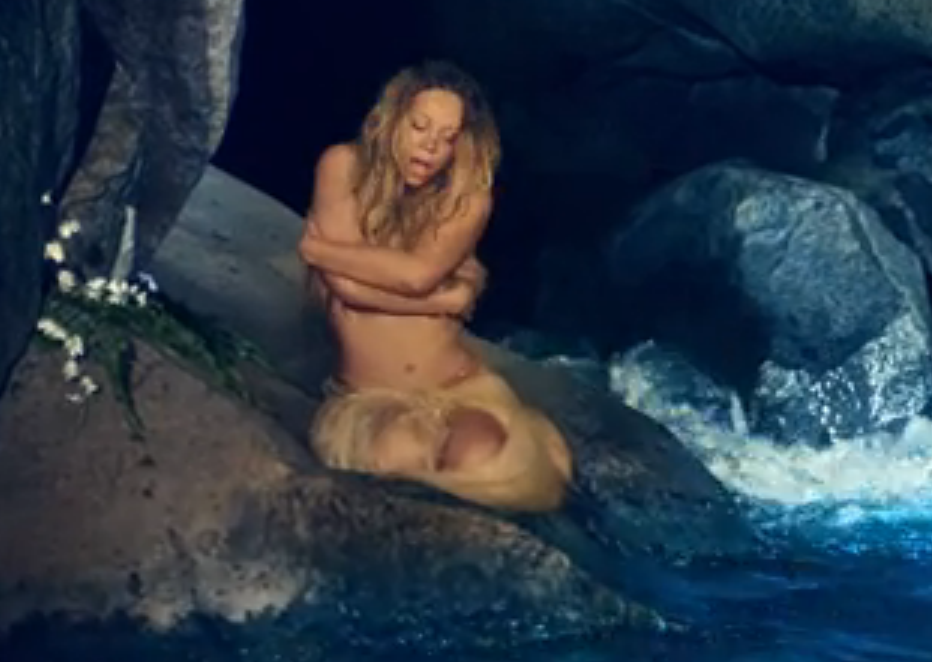 As for her Power 105 interview, you can watch the interview in full on YouTube if you're interested. TMZ has a two minute highlights video in case you can only take so much Mariah. (Honestly I got through 20 minutes of the video and had to shut it off.)
They start off by discussing the lighting in the radio station. Mariah brought her own lighting team and a hair person. To a radio show. Then they move on to the fact that Mariah was late for the interview, and that she's routinely late for everything, although she claims to be doing better lately. Mariah spends most of the interview smoothing her hair, talking about Mariah and acting like she's the most important person ever, as usual. The hot DJ, Charlamagne, mildly calls her on her sh*t, which is amusing. He even asks her if she wears Spanx, but she dodges the question.
Mariah reveals that she really doesn't know what her husband, Nick Cannon, is up to, and that she goes through nannies like water. Of course she does. She also says that she wouldn't have done Idol for just 12 million dollars. She got more than that.
On doing Idol
That was a moment in my life that I want to press 'delete.' I was hoping to be more of a mentor for the contestants… they chose to go another direction which was 'reality tv.'

On how much she made for Idol
I got more [than 12 million]. I wouldn't have done it for 12 [million].

On what Nick is doing for her for Valentine's Day
He's not even going to be home from what I hear now. The schedule dahling.

On if Nick is a hands-on dad
Nick, he has fun with dem babies when they're fun. And then when it's like they're interfering with other things, they go to the crib, and that's fine.

On Nick saying they have lots of sex
I can't comment on Nick's commentary. He should slow down and stop talking. I hope Nick's listening. I would prefer to have a certain degree of decorum vs. just saying things for laughs.

On if she's divorcing Nick
Yes we're going to divorce court after we leave dahling. Dominican Republic here we come.

On having twins
Can anyone congratulate me for having twins? Imagine carrying two twins.

On if she has nannies
Unfortunately I have to have nannies but I'm very hands on. I go through nannies like this [snaps fingers] and I hate to do that but I have to, because if they try to make themselves more important in the baby's mind than me… [makes cutting motion over throat]. I just brought a girl back home with me from Puerto Rico and she's here.
[From videos on YouTube and TMZ]
I know a lot of people love Mariah and find her amusing, but I can only take so much of her. She's not playing up this diva act for laughs. This is how she really is. When her nearly three year-old twins start to bond with a nanny, Mariah fires that person so there's no consistent caregiver in their lives except Mariah. It's not about her kids at all, it's all about Mariah. Nick is off doing his own thing, and Mariah makes it clear that she doesn't agree with that because she doesn't have control of what he says. I don't think they're going to divorce or split anytime soon. Nick has dealt with Mariah for years and she's always been this way.
Oh and did you see Mariah Carey's crazy BET Honors gown? (Those photos are here) She was falling out of it. She sort-of talked about it during the interview, saying that the idea was for her to be "luxuriating" in the dress, but she didn't make much sense.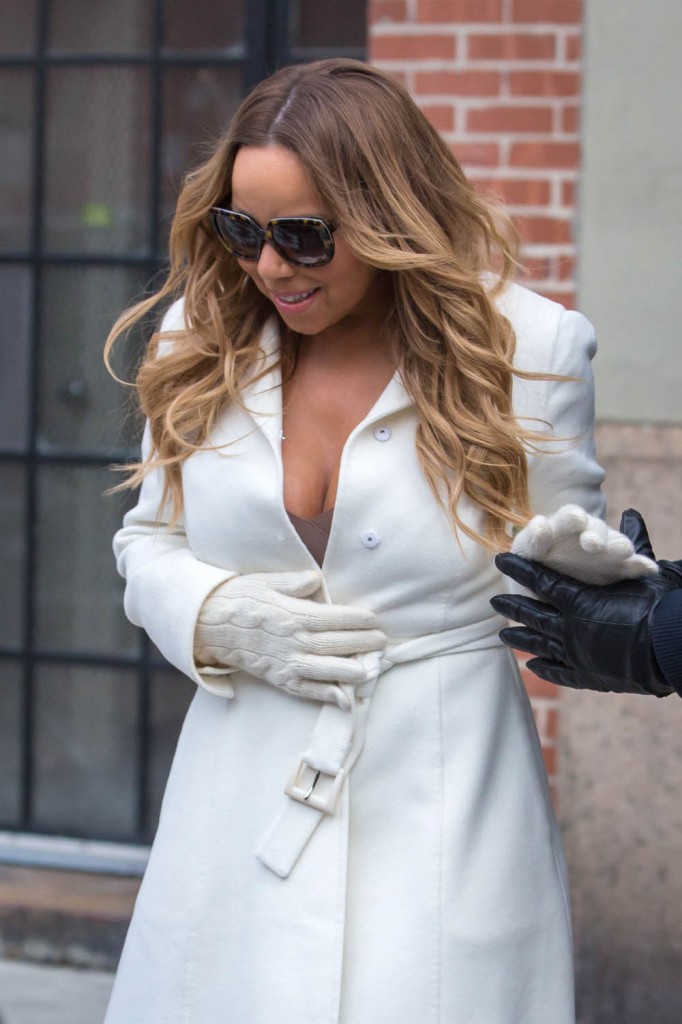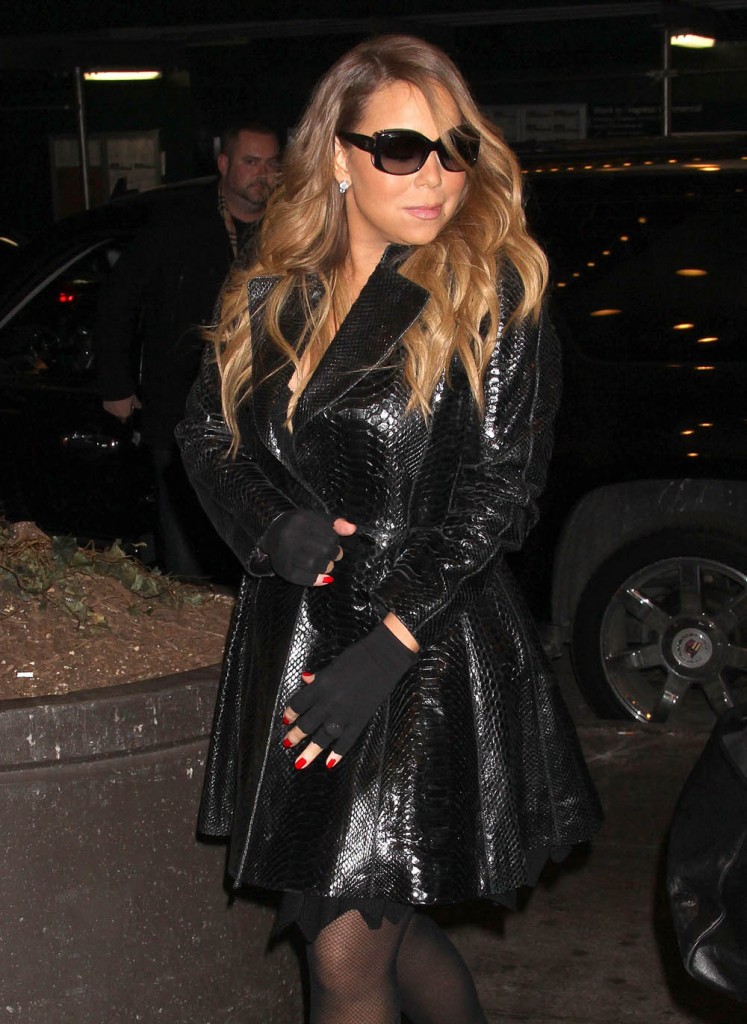 Mariah Carey is shown on 2-12 and 2-13. Credit: WENN.com and FameFlynet.