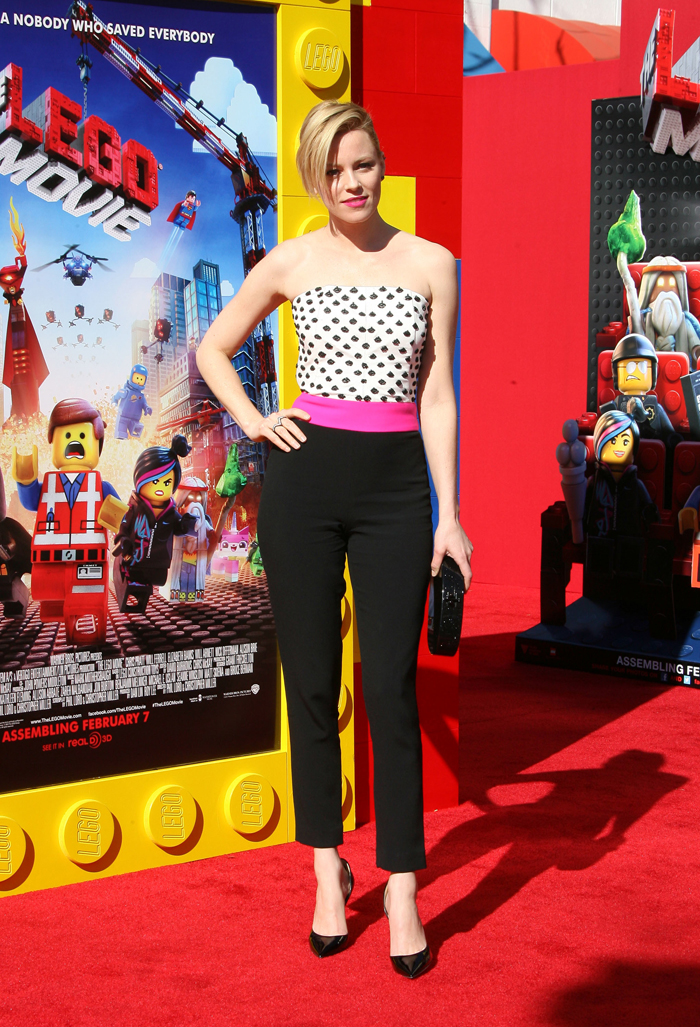 Here are some photos of Elizabeth Banks looking adorable at the premiere of The Lego Movie a few weeks ago. Her outfit is retro with a contemporary twist. I rarely see Liz make a misstep on the red carpet, and she knew just what to wear to the premiere of a kids' movie. Nobody dislikes Elizabeth Banks, right? That's an impossible feat.
Elizabeth did a little interview with Cosmo, and she discussed some of her upcoming projects like Pitch Perfect 2 and Mockingjay. In the process, she talked about Jennifer Lawrence's love of food. Liz pretty much says JLaw demolished the on-set birthday cake for Elizabeth's birthday. As in Jennifer grabbed the first piece. Is that offensive? I don't think it's as bad as ruining one's costumes with Doritos dust. It's not like Elizabeth didn't get a piece of her own cake, and she wasn't complaining about JLaw. She just thought it was funny that JLaw was living up to her food-loving reputation. You be the judge:
On Pitch Perfect 2: "I was an on-set producer in the first film, and I was involved since inception and this time around I'll be taking on a lot more responsibility of getting behind the camera. I'm really excited to get back with the girls and put out a movie that has as much joyfulness and laughter and humor and great music as the first film!!"

On finishing up the Hunger Games movies: "Honestly, I can't say anything about Mockingjay! Ahhh!! We'll both end up hurt somewhere! I think the hardcore fans can expect exactly what both The Hunger Games and Catching Fire delivered, Mockingjay is going to be as faithful a rendition of Suzanne's Collins' world and books and characters as we can put out!"

Working with the cast: "Well, recently everyone surprised me on the set of Mockingjay with a birthday cake! That was really fun. And, of course, the first person to delve into my cake was Jennifer. I will say she's a girl who likes to eat and I love that about her."

On working with Philip Seymour Hoffman: "I'd really rather not discuss it. He was an incredible actor that I respected greatly and I will miss tremendously."

Beauty advice for travellers: "You know it's all about hydration, especially in the winter!!! I'm all about water water water water water. I really find that when I get on an airplane, I never drink anything but water and I drink a ton of it. I like to sit in the window, but I'm always climbing over people to go to the bathroom. I'm that seatmate. But ya gotta do it. All about the water."
[From Cosmo]
I don't know. Should Jennifer have let Elizabeth take a bite of her cake first? Probably. We don't know how this went down though. Maybe Liz was like, "Go ahead!" You never know. I'm sure Liam Hemsworth was the last one to take a piece. He seems so boring, like he doesn't get excited about cake.
I do like Elizabeth's "water water water" advice. I don't travel nearly as often as Elizabeth does (obvs), but I'm a water junkie too. I also like to add Nuun tablets to water for an electrolyte boost (without the sugar of Gatorade). Electrolytes are where it's at, man. Buy that crap in bulk.
Beyond talk of JLaw's food obsession, I definitely noticed her absence at the BAFTAs. Jennifer won Best Supporting Actress. David O. Russell accepted the award for her. I had a hunch JLaw wouldn't show up to this ceremony — she's really shying away from non-mandatory events. She skipped Critics Choice, Writers Guild, and Producers Guild awards. She uses Mockingjay as an official excuse, but I have a hard time believing how Lionsgate wouldn't let her fly to London for a day. With the time difference, she could have been back by Monday. Here's why JLaw didn't go to the BAFTAs: She knows that some people are sick of her. She is trying to be seen as little as possible. Girlfriend does NOT want to win the Oscar this year. She's no idiot. Look at what the internet did to Anne Hathaway.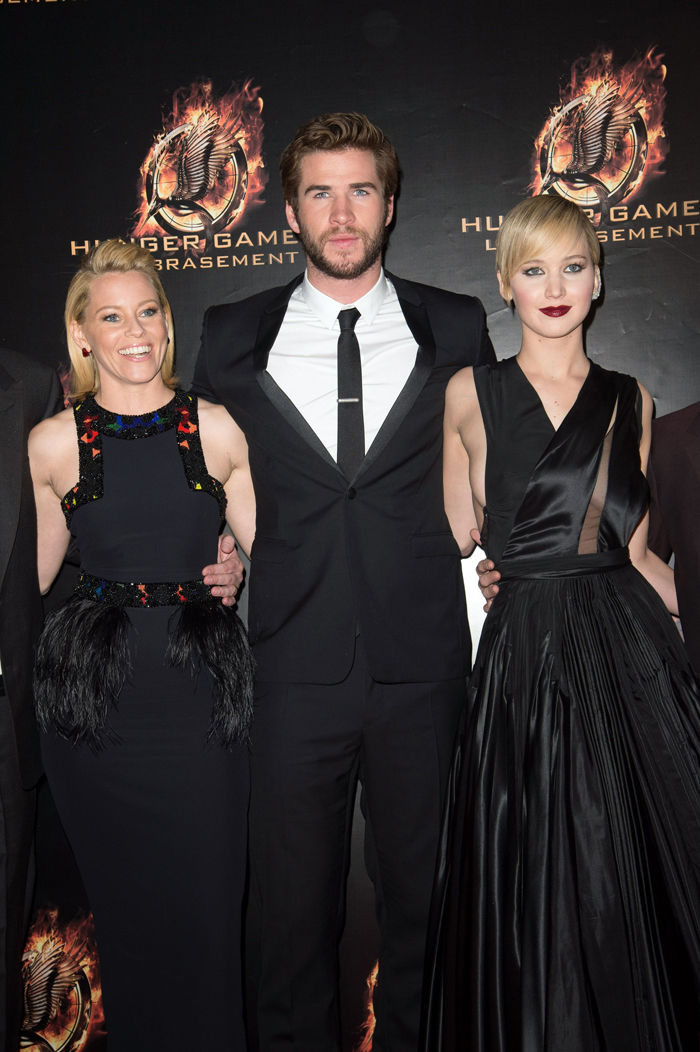 Photos courtesy of WENN