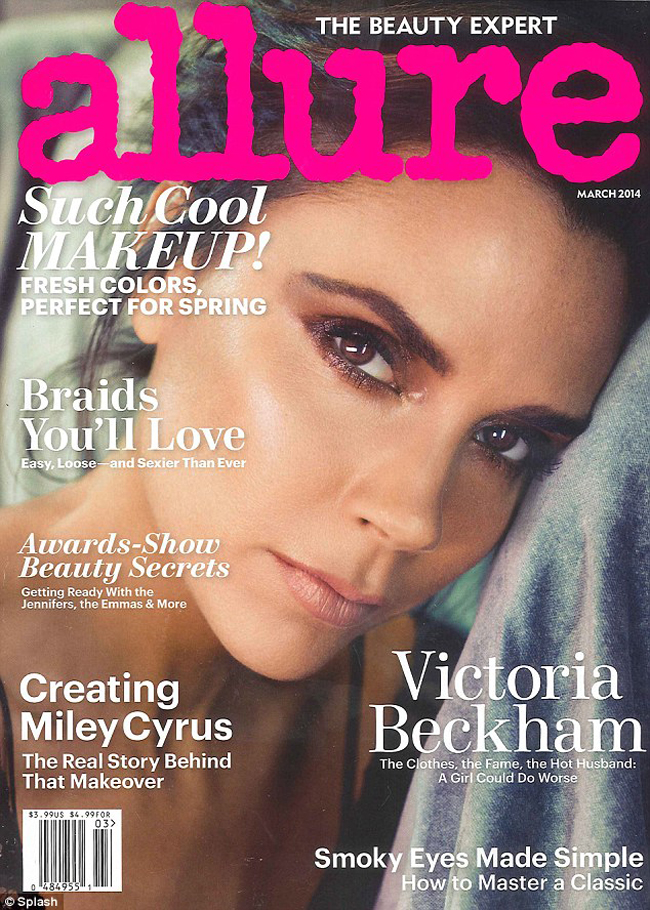 Victoria Beckham covers the March issue of Allure magazine. The cover is typical of Allure, which usually goes for a mega closeup with all sorts of intrusive text headlines. The formula works for them, and why change a successful thing? The rest of the shoot is better, but I'll get to that in a moment.
I've always had a soft spot for ol' Posh, who has often described herself as looking like a "miserable cow." She just doesn't like to smile. She does possess a wicked sense of humor, which I do appreciate. In this cover interview, she surprises me by claiming to be an avid fitness enthusiast. She's always been very disciplined with her diet, but Posh says she gets up at 6am every day to run four miles, which is interesting. I probably should leave that factoid as is because people tend to get judgy about runners. Let's talk about laser hair removal instead, shall we? It sounds both painful and expensive, but Victoria loves it:
She's lasered all of her leg hair away: "[It] is amazing. You can go back for little touch-ups if you do see little hairs appearing. But I've been very lucky that I haven't had to. That was one of the best tips that Eva Longoria ever gave me."

On fame: "The whole paparazzi thing — I feel very uncomfortable. And the older I get, I feel more and more uncomfortable. I like to take my kids to school, go to work. I don't want to be leading a public life. I accept that fame isn't a coat that you can put on and take off whenever you choose, so I would never complain about it. But myself and David like to go to restaurants that are somewhat private, where there's a little back door that we can easily get in and out of."

On her stint in the US:"Living in America for six years was the happiest I think I've ever been. It was much more accepting for a woman to have a career, as well as a man. And I loved it. I'm not saying I'm not happy now. I'm just as happy now!"

On success: "I got there in the end because I did believe that if you work hard enough, then you can achieve a lot. I think what gave me confidence in myself was meeting the other [Spice Girls]. We always said we were all like rejects in our own way. We had to work hard, and they helped me accept me for who I was."

Mr. Goldenballs is the best: "[David Beckham] is the most wonderful man I have ever met. He's a fantastic father. He's incredibly talented, a wonderful husband. I supported him for many years, and he's proud of me. He supports me. We're very equal at home."
[From Allure]
I find it incredibly endearing that David supports Victoria's designing career and shows up for all of her major fashion shows. She spent years and years playing the perfect WAG to support his soccer career, and he seems perfectly comfy turning the tables. They definitely endured a rocky period in their marriage (Rebecca Loos, anyone?), but I think Team Beckham is a solid one now.
Victoria looks smashing in this shoot. Very broody and mysterious. I won't ask her to smile.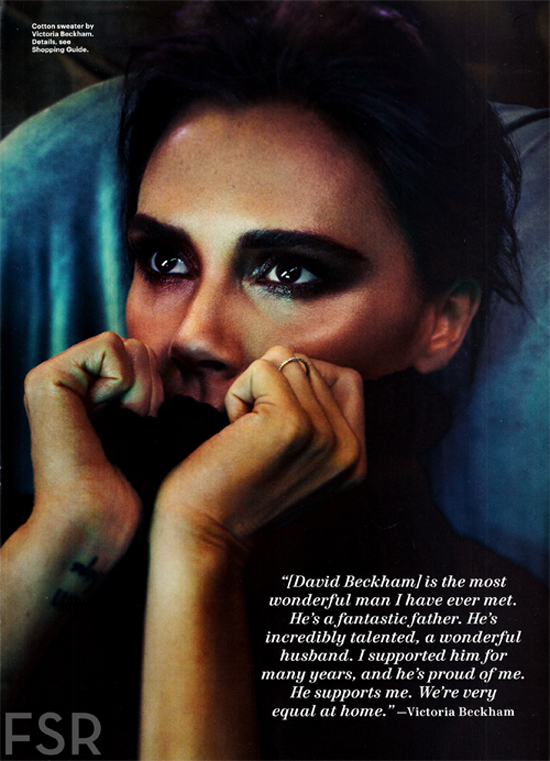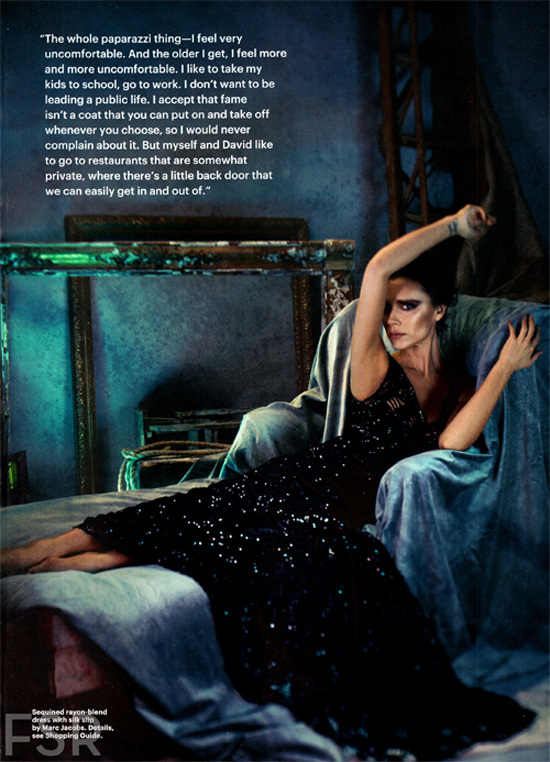 Photos courtesy of Allure