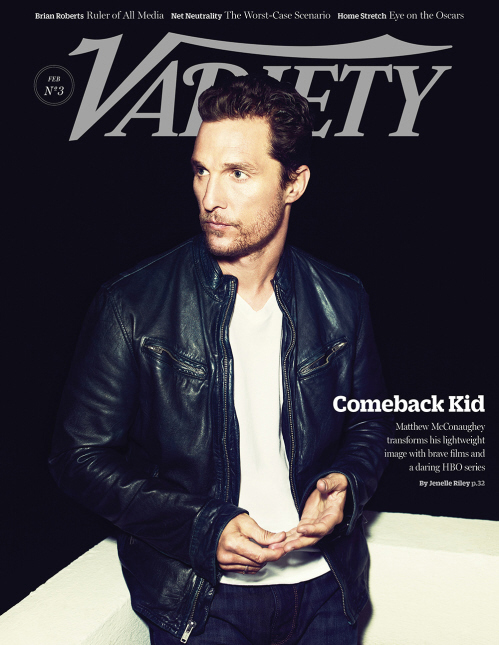 Last week, Leonardo DiCaprio covered the new issue of Variety. This week it's Matthew McConaughey. Leo gave a wonderfully personal, extensive interview about his craft, about his years in Hollywood, about what he's learned. The message was pretty much "this is my time, give me that Oscar." Matthew's Variety interview is strikingly similar, although Matthew's career arc is different – Matthew was a "company man" doing rom-coms and big-budget nonsense for more than a decade. Then he took some time off, refocused and came back as an indie darling. As opposed to Leo, who has never sold out like Matthew, I suppose. It's an interesting side-by-side comparison. You can read Matthew's full cover story here, and here are some highlights:
Working in indie films: "For the first time in my career, I lost money! No joke!"

His affection for rom-coms: "It is a hard challenge to make it work, to tell a story you've seen time and time again that you know what the ending is going to be. You have to stay light, you have to keep it moving. You drop anchor in one of those movies, and the whole thing sinks."

Taking a break for a few years: "I went to my wife and my agent and said, 'I'm going to stop for a bit,' I'm going to sit back in the shadows. I'm getting into my 40s, a great time for a man. I've started a family. I want to take time to laugh and love and enjoy these adventures… We're a team. I know it's not easy on her, though she does it with aplomb."

Learning how to say no: "I just knew I was going to hold out for a while and things would dry out. I didn't know how long they would dry out for, and that was scary. I would get sent things and the paychecks were great, and I would say no. Then, they quit sending them altogether. And then … nothing. So the message got through."

But then the big dogs came to the yard: "All of a sudden, I became a good idea for people like William Friedkin and Steven Soderbergh — people who hadn't called before, who maybe wouldn't have seen me as a good idea three years before…It wasn't a conscious choice to go indie. It was just that my head was down, looking for great characters. And those are harder to find in the big movies. And when you have a role like that in a studio film, they aren't coming to me. They're talking to George Clooney."

Losing weight for DBC: "I ate well. Just very small amounts. Five ounces of fish, twice a day. Cup of vegetables, twice a day. The secret is, I gave myself four months." During that time, he also immersed himself in Woodroof's past, meeting with his family and studying his diaries, which were given to him by Woodroof's sister and daughter. "It was such an insight into this boyish mind, these small town wanderings," McConaughey reveals. "It was my secret weapon."

Matthew knows Marty Scorsese too: "I showed up [on the Wolf of Wall Street set] and had already lost like 25 pounds," he laughs. "Marty was like, 'Stop, I need you to stop!' "

Talking about himself in the third person: "I've got a saying: When faced with the inevitable, get relative. The inevitable was, I'm going to do this. I've got support from my family that insulates me. I surrounded myself with everything I needed to go on this adventure. And the focus was exciting. I said to myself, 'We're taking a trip, McConaughey. This is a story you want to tell. Those adventures you talk about — you're on one now.' "

Losing the weight made him hyper-aware: "I went from being cranky to hyper aware," he says. "That clarity is hard on other people, because my bullshit meter was zero. I was like, 'Speak up. No adjectives or adverbs. Just nouns and verbs. Speak!'"

He name-drops Christopher Nolan too: McConaughey had run into Nolan over the years, but it was at an event about two years ago he says the director first praised his work. "He came up to me and said, '"Mud." I love that movie,' " McConaughey recalls. He was later asked to fly to Los Angeles to meet with Nolan. "I sat down with him for about 2½ hours at his house," he recalls. "Not one word came up about "Interstellar." I walked out not sure what to think. I mean, he's not a guy who takes general meetings." Clearly Nolan liked what he saw; McConaughey was offered the role. "Interstellar" might break McConaughey's streak of independent films, but he does point out that Nolan, who began his career with small pics like "Following" and "Memento," still brings an indie sensibility to big-budget movies. "There's no f–king around on set," the actor notes. "He's a great problem solver. In that way, he's very indie. Here's a guy who could have whatever budget he wants — and we finished shooting early."

And in the end: "For the next two months, I'm playing the character of Matthew McConaughey, an actor proud of the films he's been in," he says, before again opting for the third person. "And if any of those films or his performances are in awards shows, he's going to go, heart high and head up, and look them all in the eye and say, 'Damn right this is a great time in my career.' That's the role I'm in now. I've got a lot to be thankful for."
The career stuff is what it is. I don't begrudge Matthew the awards he's received thus far (okay, I begrudge him the SAG Award a little), but I'm happy that Matthew has found his footing as a proper actor and I'm also happy that he's not disrespecting the years he spent in an endless parade of rom-coms. He finds a nice balance between respecting the work then and loving the new path he's on. But is it enough to get him an Oscar? I don't know. Truly. I think his bizarro, druggy SAG speech hurt him, quite honestly. In a perfect world, I'd like to see Leo and Matthew cancel each other out and the Oscar would go to Chiwetel. But that probably won't happen.
Also: I love that Matthew talks about his wife. That's one thing that he genuinely has on Leo that works in MM's favor: he has a loving, supporting wife (who isn't in her early 20s) and he's the father of three beautiful children. The Academy prefers that to Leo's modelizing.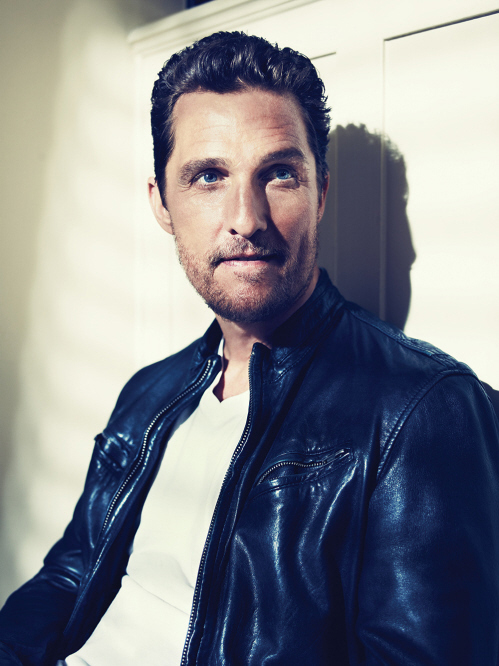 Photos courtesy of Variety.