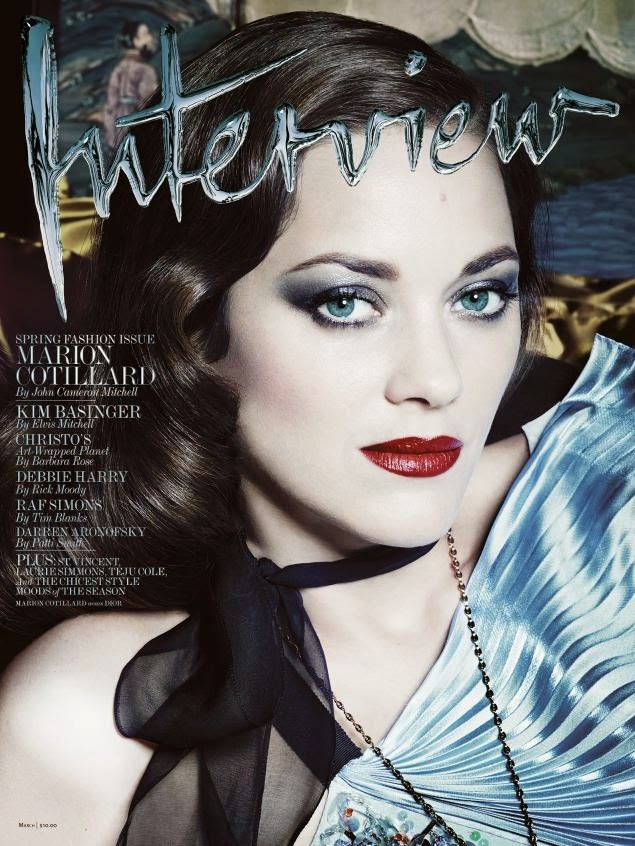 Marion Cotillard covers the March issue of Interview magazine. As usual, she's stunningly gorgeous. Most people don't get excited enough to talk about Marion in a gossip sense because she's not controversial at all. By all accounts, she shows up on movie sets and delivers nothing but professionalism. How boring, right? She needs to toss some sh-t around her trailer and act all vengeful like she did in Inception. Or not. Marion doesn't need a whiff of scandal to make it in Hollywood. She's already set.
This post is mostly about the gorgeous cover and shoot. The styling is old-school glamorous and the background scenery is so lush. I want to live inside these photos. The interview itself isn't too revealing. Marion touches upon her upcoming stint as Lady Macbeth and talks about playing three prostitute roles in the past year. Marion discusses parenting (she has a 2-year-old son with director Guillaume Canet) and gushes about Joaquin Phoenix. She exchanges many pleasantries with her interrogator, John Cameron Mitchell (who directed Cotillard in the Dior fashion films). Here are some highlights:
Working on Macbeth: "I'm preparing it. We haven't had the shooting yet. And, well, this is a lot of work. Because this is something where you cannot just learn your lines and show up on set. It would be a disaster. So, yeah, we're in the flesh. Not shooting yet, but we're in the flesh."

Why three prostitute roles in a row? "You don't turn away a great director. And I always wanted to work with James [Gray] without thinking it was possible. And then I met him and we became friends, and, weirdly enough, when you become friends with someone you wanted to work with, it's not that the desire disappears, but the perspective is … It's like, when he asked me if I wanted to be part of his next movie, I was very, very surprised."

Working with Joaquin on The Immigrant: "Working with Joaquin [Phoenix] was something very special. He is a special actor and a very special human being. His instinct is like the instinct of an animal. There's a pureness about him. We lost this animal instinct that we used to have. We use a very low percentage of our instinct. [H]e's an animal. That's how I describe him. To be in the same area with him, I took it as a privilege. A privilege to see someone who struggles with this instinct, who doesn't always want to trust it when it's always right. I remember when we started rehearsing, he was about to say something, his instinct wanted to say something, but most of the time he was like, 'No, no, no, this is sh-t.' And James would always go for what he said. I was impressed. So I started to do it as well. When he didn't want to say something, I was like, 'Please, Joaquin, say what you wanted to say.' I felt so lucky that I could work with him. And he's very funny, too. Oh, my god, he is totally brilliant in Her. Everything he does is — he takes what he does very seriously, of course, but he's very special when he thinks he's not. And he truly thinks he's not."

Getting used to parenting: "Ah, it's an amazing job, but my parents never told me anything about how hard the job would be. My parents were actors too. I don't even know if when I wanted to be an actress, they went, 'Oh, sh-t.' [laughs] I must ask them. I mean, an actor has a huge failure in him. And this is not a weakness–this can make you strong. But it's deep. Maybe failure is not the right word. Something deep inside which is broken. It might be missing. And most of the time I think if you don't have this, you're not a good actor. [laughs] So it's kind of a struggle. I mean, if my son wants to be an actor, it's fine."

The hardest part of fame: "Being interviewed, that's one of my problems. Talking about myself to someone I don't know, and knowing that most of the time they will interpret in a bad way what I'm saying, has turned me into a wild beast when it comes to press. I've noticed that it's creating something kind of out of focus about myself. But, in a way, I don't really care, even if sometimes I feel that the person being put out there is so far from who I am. As you said, being the same person everywhere, that's something that I would love to feel, to achieve. But the thing is, I have a responsibility in creating this person who is not someone that I like at all."
[From Interview magazine]
I guess Marion feels like she's been burned in some interviews. Maybe she's talking about how the "actors are fragile creatures" discussion that didn't go over 100% positively. If that's all she has to worry about from the media, Marion is very lucky. Most actresses get jumped all over for saying all sorts of things. Male actors have it a lot easier, of course. They are so easily forgiven by the powers that be. Women get punished like crazy for saying dumb stuff. Look at Katherine Heigl. Marion should be happy she never said anything (and never will) resembling a Heigl statement.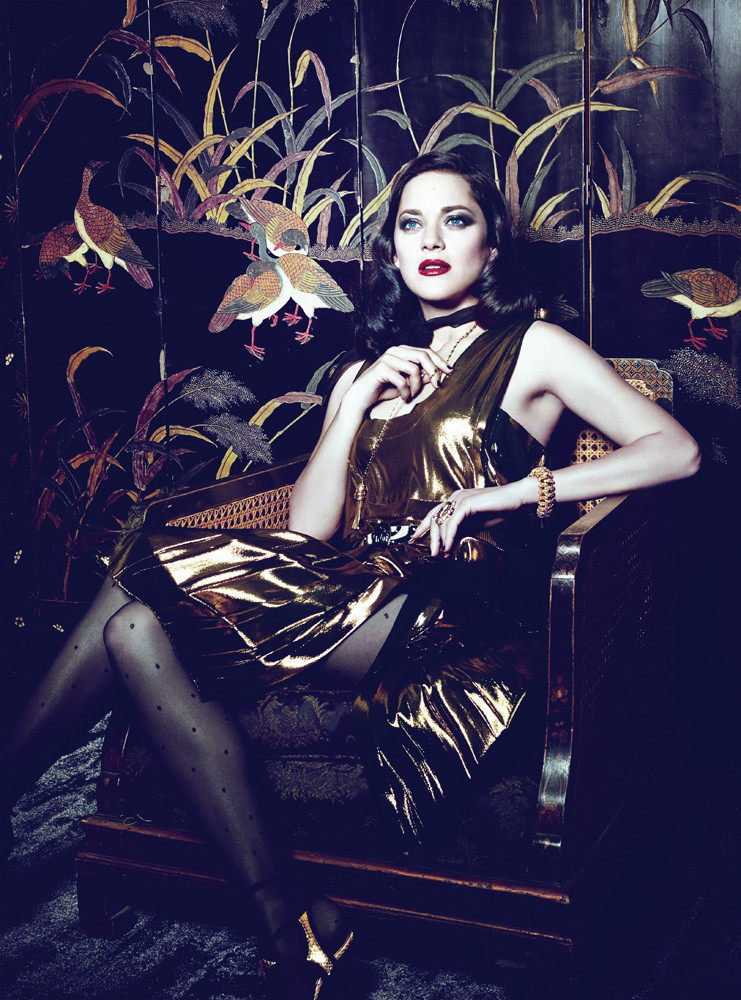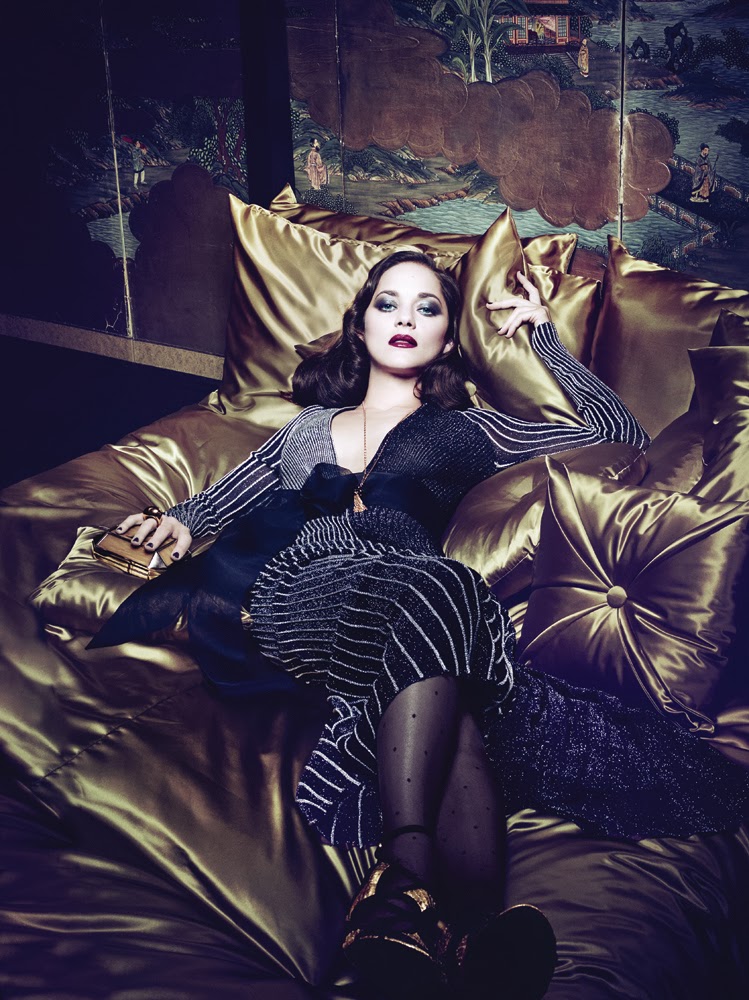 Photos courtesy of Interview magazine