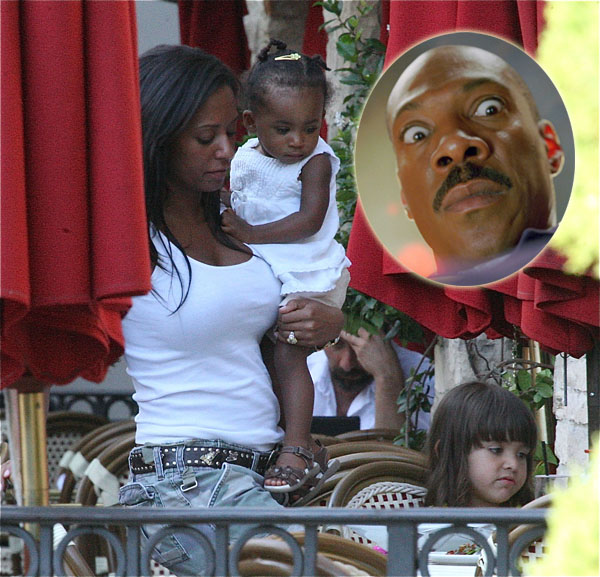 Eddie Murphy might have finally learned a valuable lesson: it pays to be a gentleman.
The settlement will see Murphy shell out £35,000 ($US51,000)A MONTH until daughter Iris Angel turns 18 — a total of around £7 ($US10)MILLION.

We can also reveal that Eddie has finally agreed to see his 20-month-old child.

Spice Girl Mel and the Hollywood actor have spent 15 months warring in Los Angeles courts. She has been determined to force him to play a part in his child's life.

Sources told News of the World that, under the terms of the deal, both have signed non- disclosure contracts preventing either from discussing the settlement in public.

But one of Scary Spice's pals told us: "Mel is delighted that the case is over as she just wanted what was right for her girl.

"It was never about money — it was Mel's way of asking Eddie to show consideration for Angel."
$51,000 a month is a lot of money, and Mel B, who is independently wealthy, probably wouldn't have pushed for that much. For a start, if Eddie had joint custody of his daughter, that would have reduced the amount of the payments. They probably would have come to a reasonable, amicable arrangement. For example, P.Diddy pays his baby momma $21,782 a month child support, which was a record amount in New York State history. Diddy also pays for other expenses such as schooling, which he says adds up to approximately $120,000 a year.
If Eddie Murphy had behaved more like a gentleman, his career might have fared better also. His only significant movie since splitting with Mel B was Meet Dave. While his personal behavior probably can't be directly linked with his box office performance, I think it does influence whether people want to work with you or watch you in a film. His award nominated role in Dream Girls should have launched a comeback for him.
Eddie famously tried to deny that baby Angel Iris was his daughter, demanding a paternity test on Dutch television.
Speaking of their split two years ago, Mel told OK! magazine: 'We had talked about having a family and getting married. I came to see my mum for a few days as I wanted to see her in person. Then I got a flight home, landed and there is a whole sea of photographers.

'There were people shouting about a DNA test. I was in complete shock. I tried to call Eddie and couldn't get through. Then I got through and he said he would call me back and that was it. He never called back.'
That makes a dumping by text message seem almost reasonable, doesn't it?
Mel B, Angel Iris, and Mel's husband, Stephen Belafonte, are shown out at the Grove on 7/1/08. Credit: WENN