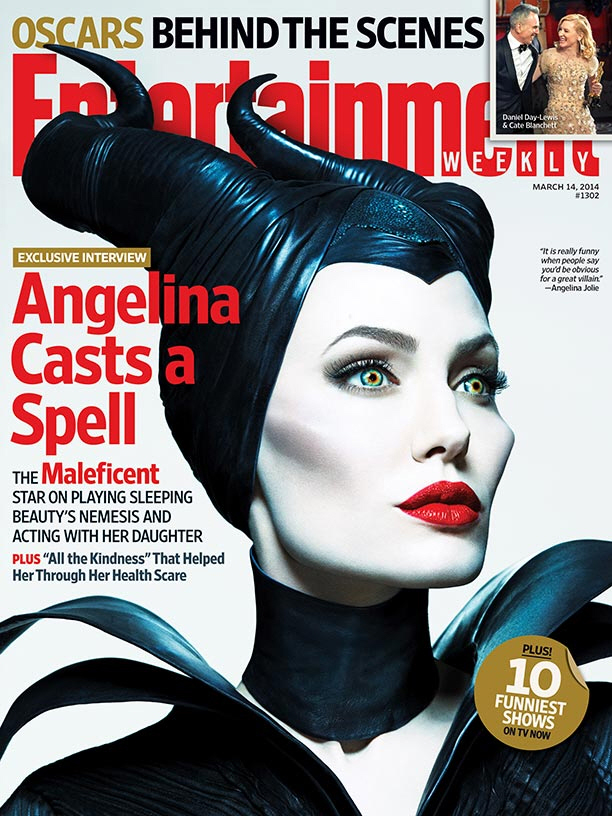 As we discussed yesterday, Entertainment Weekly put Angelina Jolie/Maleficent on this week's cover, and they got a lengthy, exclusive interview too. It's advanced promotion for both Maleficent and Unbroken, but it's also Angelina's first big interview in more than a year, so she has a lot to say about a variety of things. Anyway, we had some of the early quotes from the interview yesterday, but more quotes came out later and they are gold. Lots of stuff about the kids. Some highlights:
Angelina on putting the kids in her movies & Brad's movies: "We think it's fun for our kids to have cameos and join us on set, but not to be actors. That's not our goal for Brad [Pitt] and I at all. I think we would both prefer that they didn't become actors."

Casting Vivienne as a young Aurora: "She was 4 at the time, and other 3- and 4-year-old [actors] really wouldn't come near me. Big kids thought I was cool—but little kids really didn't like me. So in order to have a child that wants to play with [Maleficent]…it had to be a child that really liked me and wasn't afraid of my horns and my eyes and my claws. So it had to be Viv."

Loving Maleficent: "She was just my favorite as a little girl. I was terrified of her, but I was really drawn to her. I loved her. There were some discussions about it before I got the part, and I got a phone call from my brother, who said, 'You've got to get your name on the list for this.'"

The other kids were scared of her: "When Pax saw me for the first time, he ran away and got upset — and I thought he was kidding, so I was pretending to chase him until I actually found him crying. I had to take off pieces [of the makeup] in front of him to show him it was all fake and not freak out so much."

Angelina told her kids about Maleficent's backstory in effort to get them to sympathize with her: "I said, 'Let me tell you the real story but you can't tell anybody'. So this was my test too, like any parent. The next day, I heard Shiloh getting into a fight with another kid, defending Maleficent, saying, 'You don't understand her!' They got into a bit of an argument and I thought, that's the reason to do the film. When that character makes mistakes — which Maleficent does, and crosses many lines — you want them to be angry at her and concerned and confused and in the end, somehow understand something that they didn't know before."

Maleficent and injustice: "It's not just that there's more to people than meets the eye, but that there's injustice in the world and children get fired up about injustice. [They] want the character they believe in to get up and fight. And when that character makes mistakes—which Maleficent does—and crosses many lines, you want them to be angry at her and concerned and confused and, in the end, somehow understand something they didn't know before."

Pax & Zahara did cameos in the scene where Maleficent puts a curse on baby Aurora: "I had to walk by them being very mean. Of course, I wanted to stop and wink at them."

How she's doing after her double mastectomy: "I'm great! I'm very happy I made the decision. I was very fortunate to have great doctors and very, very fortunate to have a good recovery and have a project like Unbroken to have something to be really focused on, to be getting healthy for, and to be able to just get right back to work. The reason that I wrote it was to try to communicate and help and connect with other women and other families going through the same thing. I was very, very moved by all the support and kindness from so many people."

She's a ball of laughter at home: "Outside my home I can be somewhat serious," she admits. But with her family, "We laugh and we play, and I'm light again, and I'm a kid again, and I'm loving and soft again because they've brought that back in my life."
[From Us Weekly, E! News & People]
I like that she talks about the kids so much and that she's giving us hints about their personalities. Why was it that Vivienne wasn't bothered by her Maleficent makeup? And Shiloh getting into a fight, defending Maleficent's honor? Precious. Shiloh has a lot of fight in her, and it wouldn't surprise me at all if Angelina began guiding Shiloh into a path where that fighter spirit will work to her advantage. Also: YES! Zahara has a cameo in Maleficent!! I can't wait.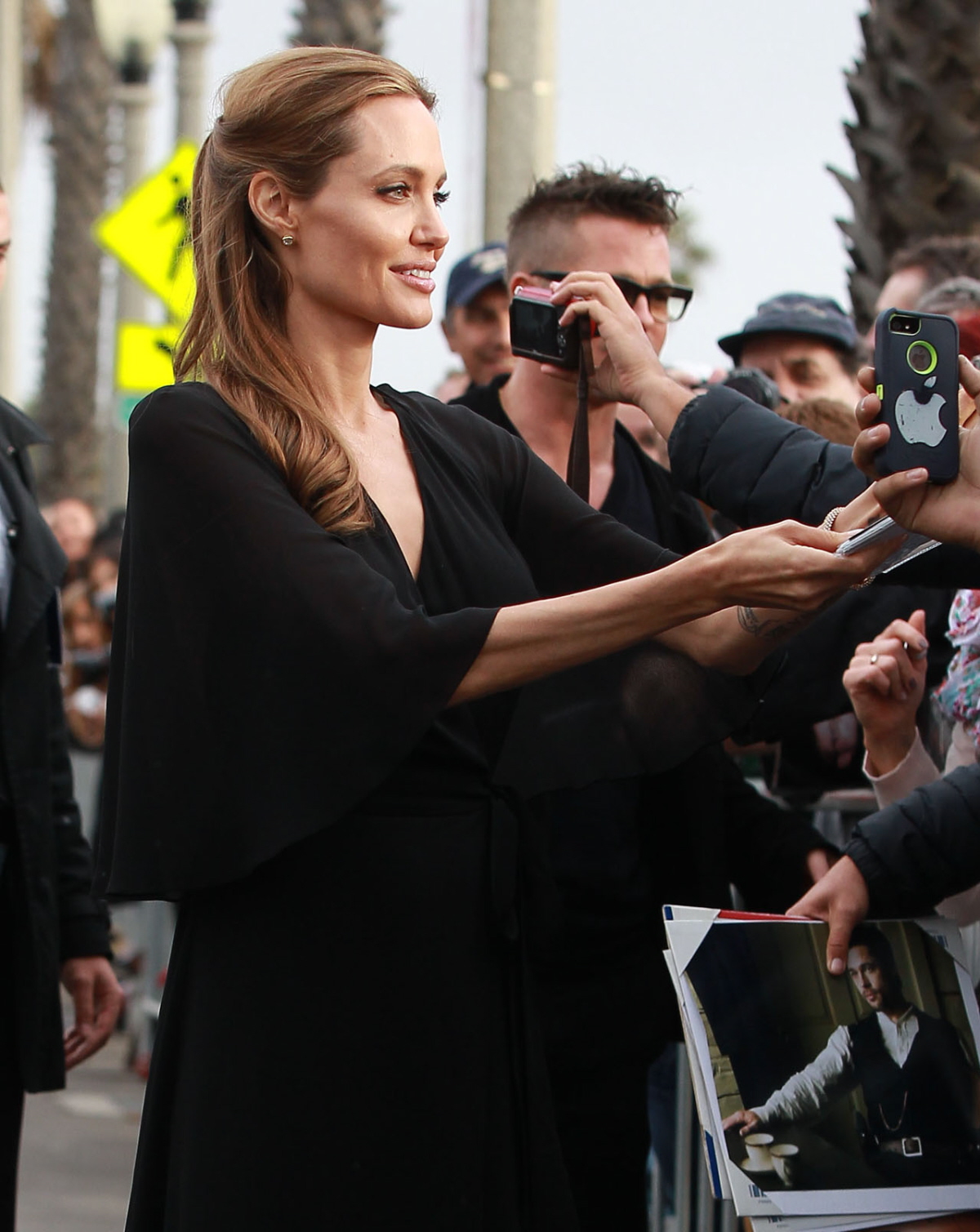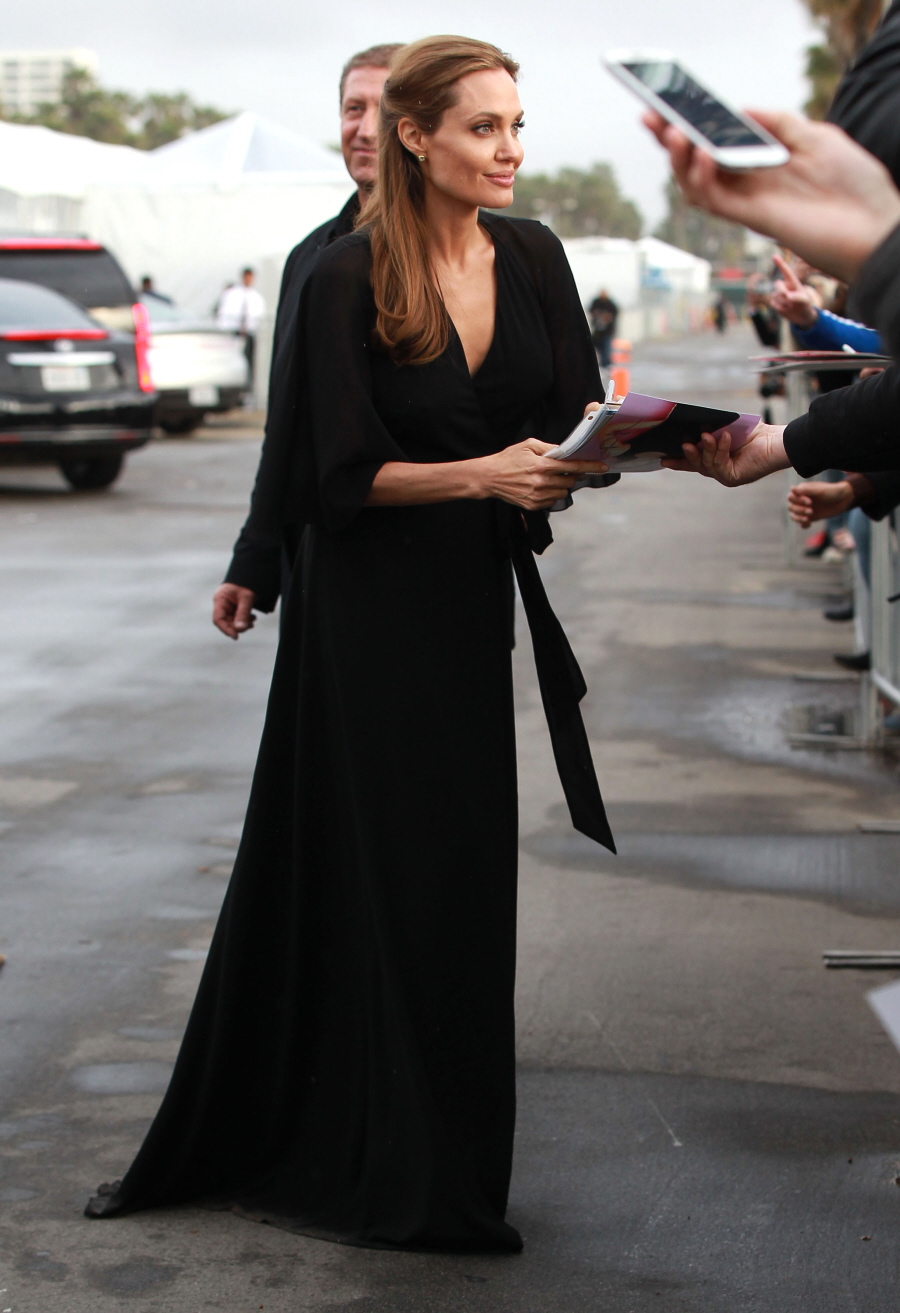 Photos courtesy of Fame/Flynet, EW.