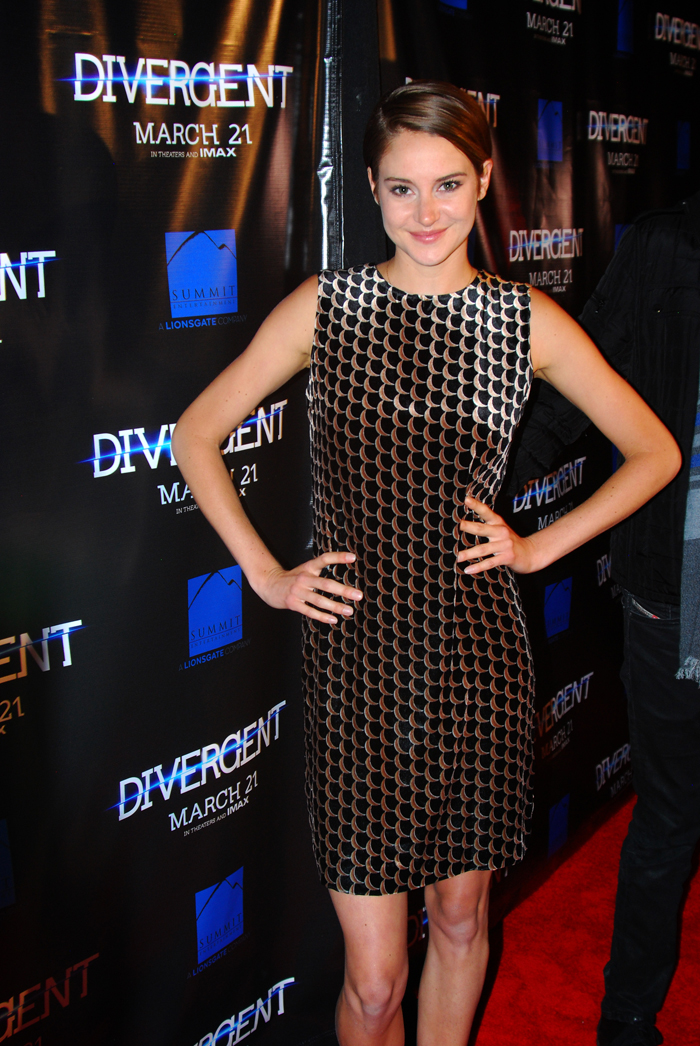 These are photos of Shailene Woodley and Theo James from last week's Divergent screening in Chicago. I puzzled over the location for a moment before remembering that the book takes place in a post-apocalyptic version of that city. Theo still feels like an odd choice for the Four character, but we'll see how he does. This isn't exactly a controversial casting choice (like Finnick in Hunger Games), so no use in getting worked up over it.
Shailene plays the role of Tris Prior, a member of the Abnegation faction who goes rogue Dauntless. This seems like a pretty hardcore, weapon-heavy role for a hardcore granola cruncher like Shailene. I do suspect that the movie is a little less violently graphic than the book. Shailene sat down with the Daily Beast to talk about how she actually crafts her own weapons — I guess when she's not busy acting or making her own cheese and medicines. Of course she does:
Divergent as a metaphor for life: "That's part of the reason why I did this movie. There's so much opportunity for conversation since the movie is so metaphorical to today's society. [W]e're getting to a point where all agriculture is going to depend on seeds that were created in a lab–which is so counterintuitive to the way Mother Nature meant it to be. There's the issue of a tyrant taking over and genocide–someone going in, choosing a particular class of people, and murdering them by brainwashing other people. And there's the issue of spying on other people and this whole drone situation going on now."

On fame and privacy: "As far as the hacking stuff goes, I don't really have to worry about that. I'm not a big technology person. I don't even have a smartphone. I don't even have a cellphone! And if I were to have one, it would be a flip-phone. There's a bigger lack of privacy than there's ever been, but there's also a bigger lack of camaraderie and community than there's ever been. I mean … just asking people for directions. Since I got rid of my phone, having to pull over and be like, 'Hey, buddy–do you know how to get here?' I'm talking to people more than I've ever talked to in my life because I no longer have that crutch. The more you get away from all the technological buzz, the more freedom you have."

On Divergent's empowered females: "Oftentimes in films, even if you do have a really strong woman, there's jealousy and envy among her sisters. So you'll have this really empowered leader, who's a chick, and then she has some sort of envious relationship with another woman in the movie. And in this movie, there's no envy and no jealousy–no ridiculous girl-fights. It's such an important message to send out there in this age of feminism because, yes, men need to respect women, and women need to be the leads of films, but at the same time, how do we expect men to respect women if women don't respect women? A big theme in my life is sisterhood, and I think that this movie is a really great representation of that–of being there and supporting one-another without the malicious attacks that so often come in movies and media. So many women feel so much anger towards other women."

Her survival skills scored the Tris role? "It's kind of crazy, actually. The way it happened was so quick and easy. I had a meeting with the producers and told them about my interests–which involve survival skills–and then I met with Neil, and he said, 'I think you're Tris.' The producers asked me what I liked to do in my spare time and I told them I used to study how to survive in the wild–how to make shelter, build fire, and create weapons out of the ecosystem–but I live in a city, so it also got me thinking about urban survival skills, because this was right after Superstorm Sandy and I had multiple friends who said, 'I didn't have water for a few days because I wasn't prepared,' so after they saw me studying urban survival skills my friends said, 'That's cool … you should read this book Divergent."

Her own fear landscape: "I'm one of those people that sort of gets off on fear–like heights and stuff. I enjoy things that make my adrenaline run. But mine would probably be being in a submarine submerged thousands of feet underwater, or being in space. Those two things are f—ed up. No way."

The fate of our planet: "I don't have any fears for the planet because I believe Mama Earth can take care of herself, and will be fine. It's good at regeneration. My biggest fear is that people aren't going to realize in time that we are nature, and that we need to think about that fact and respect that fact. People talk about global warming, the oceans, and the rainforest, and we need to be talking about it, but nothing's going to change unless we change ourselves. It goes back to the whole female thing–no one is going to respect females until females start respecting females–and nothing's going to change in nature until we start with our own bodies, mental health, and happiness. The human race isn't going to be so fine if we don't take some necessary steps pronto."
[From Daily Beast]
What she says about women supporting women is pretty spot on. I'd qualify it by adding that feminism doesn't mean women have to support all other women all the time, but Shailene has a better grasp on feminism's meaning than other starlets do.
The tree hugging stuff is typical Shailene. I worry a lot about how human beings have damaged the planet. There are moments when it really starts to stress, like when I think about that mythical trash island of plastic off the coast of Hawaii. Then I realize that we can only do so much on an individual basis and forget about it other than recycling every week. Like, I'm not going to go out and buy a Prius (like Leo DiCaprio) or harvest my own spring water (like Shailene) to try in vain to save the planet. Does that sound terrible or realistic?
Oh and here's something worth mentioning. Some of you enjoyed Shailene's hint at possible bisexuality from last week: "I fall in love with human beings based on who they are, not based on what they do or what sex they are." Well she was seen lunching with Ellen Page over the weekend. Relax … they're probably just friends.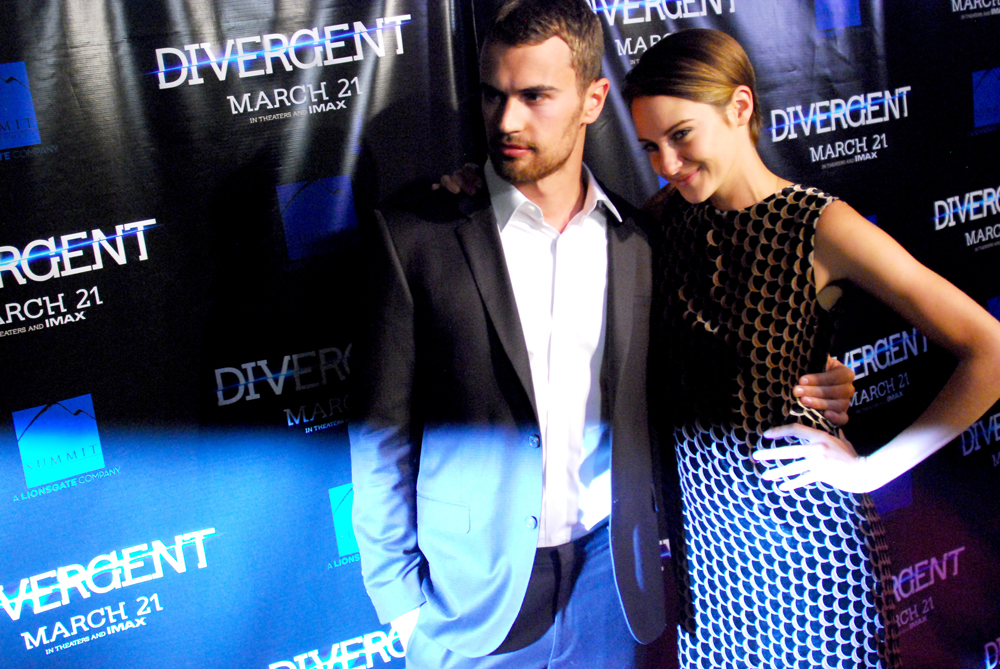 Photos courtesy of WENN