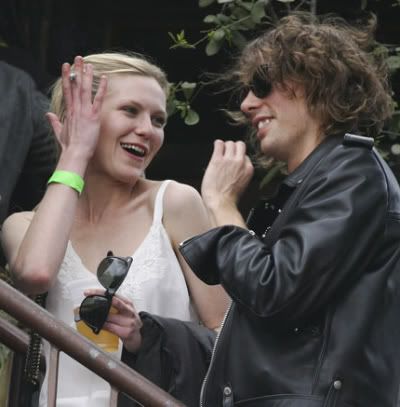 Kirsten Dunst was said to be dumped by her London lover after a whole few weeks together. Razorlight frontman Johnny Borrell has decided to kick Kiki to the curb and has gotten back with an ex-girlfriend. I guess moving into a guy's place and making yourself completely available to him right after you start a relationship isn't an effective dating strategy if you're looking for longevity:
The source told the [News of the World] newspaper: "Johnny and Kirsten had a very passionate romance—they were completely blown away by each other at first. They spent all their time together. Kirsten even made herself at home in Johnny's London pad."

"But now Johnny has realised she's not the one for him. He dumped her at the weekend and has gone back to his old girlfriend."

"Kirsten really liked Johnny. The news will come as a real blow."
[via DListed]
News of the World is not known for accuracy, but maybe someone saw Johnny-boy out with his ex, and it is true that Kirsten has returned to LA. Hopefully she is back to attending those much-lauded art classes. It seemed that she was quick to drop her newfound love of education when she met a grungy guy willing to give her the time of day.
Kirsten was seen making an Easter basket recently and didn't seem too happy to be photographed. Pictures [via]