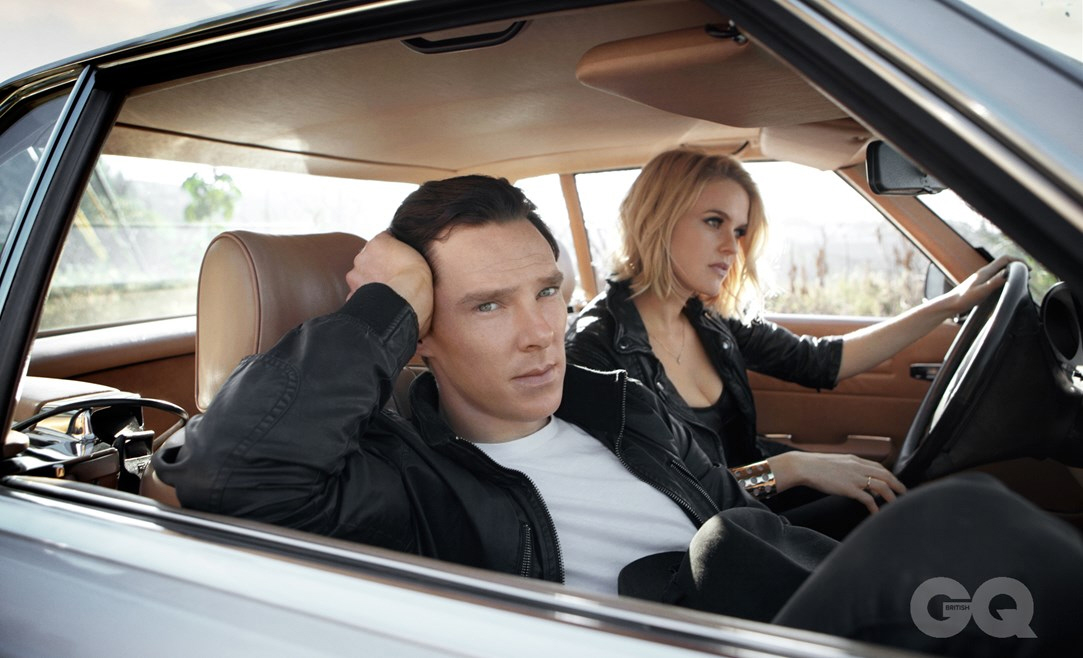 In the current issue of GQ Style, there is a photo feature with Benedict Cumberbatch and Alice Eve. The photos looked more than a year old, and they likely were older pics, repurposed for GQ Style. As it turns out, Benedict's friend Tertius Bune took the photos. Because Benedict Cumberbatch would naturally have a childhood friend named Tertius Bune. It's like finding out that Benedict had a childhood friend named Lord Higginbottom Fancypants. So, Benedict and Tertius are BFFs and Ben invited Terty to come stay with him in Venice Beach. Wait… Benedict was living in Venice Beach for a while?!?!?!
It's photographer Tertius Bune's longstanding friendship with British Actor, Benedict Cumberbatch that was the catalyst behind their seminal photoshoot for the latest issue of GQ Style. Shot on Los Angeles' iconic Mulholland Drive we see Cumberbatch and his Star Trek Into Darkness co-star Alice Eve transformed into a modern day Bonnie and Clyde.

His relationship with Cumberbatch is demonstrated through a truly unique and unfiltered way of representing his friend. "I do believe I can cast him in a light that shows him as he ultimately is," Bune says of the actor. "I'm talking about his versatility as a human being." In fact the shoot is testament to the spontaneity that comes from real friendship – an invitation to stay for a few days in LA provided all the inspiration Bune needed. "It was such an amazing time…but most importantly to witness this truly awesome moment in Benedict's career. Such a gift to be able to share that with him".

GQ Style: Tell us about your shoot with Benedict Cumberbatch. Where were you?
Tertius Bune: I had come to L.A. for a couple of shoots whilst Benedict was promoting a movie. Benedict invited me to stay with him at his house in Venice Beach. I met Alice the first night I arrived while at an Oscars party. The three of us just clicked. As we all hung out in the following weeks, I thought to myself; here they are after over ten years from first meeting and working together, both of their careers had really picked up steam in the prior few years. This is where the inspiration for the story came. Benedict and Alice both seemed to be grabbing or if you will, "stealing" all these roles in Hollywood. The story was shot on Mulholland Drive, a road in L.A. that has a certain outlaw quality and history to it.

We understand that you and Benedict are old friends – is there a particular trick to shooting someone you know so well?
Yes, Benedict and I have known each other since I was six and he eight years old. There is no particular trick to photographing someone you've known your whole life but I do believe I can cast him in a different light due to the fact that I know him as well as I do. This shoot in particular I wanted to show his edgier side. Which is not something I contrived, he has it. I see the media painting Benedict as the proper British boy (yes this is part of him), but he has a vast range. And I'm not just talking about acting or character range.

What was it like working with Alive Eve?
Alice was Amazing to work with. She came at me throwing idea after idea with lots of excitement. I love collaborating like this with subjects. It's what makes for something special.

How easily did Benedict make the transition from actor to model – did he have a 'blue steel' moment in his locker?
Benedict is a master in front of any lens. He just gets it.
I'm doing the math… Benedict would have been living in Venice Beach in early 2012. Bune mentions meeting Alice at an Oscar party – Benedict was in LA a lot during the 2012 awards season. So, these photos of Alice and Benedict are from February or March of 2012. Okay. Fine. But answer me this: were Alice and Benedict banging back then? Because I kind of wonder if they were.
As for all of the nice stuff Bune says about Benedict… yes, Cumby is a proper British dude and yeah, he probably has a little bit of an edge. I think of it more of his "inner bitch." I think Benedict's instincts veer more towards bitchiness and smack-talking, and he's had to learn how to be more professional, more of a gentleman over the past few years.
Photos courtesy of GQ Style, via Tumblr.