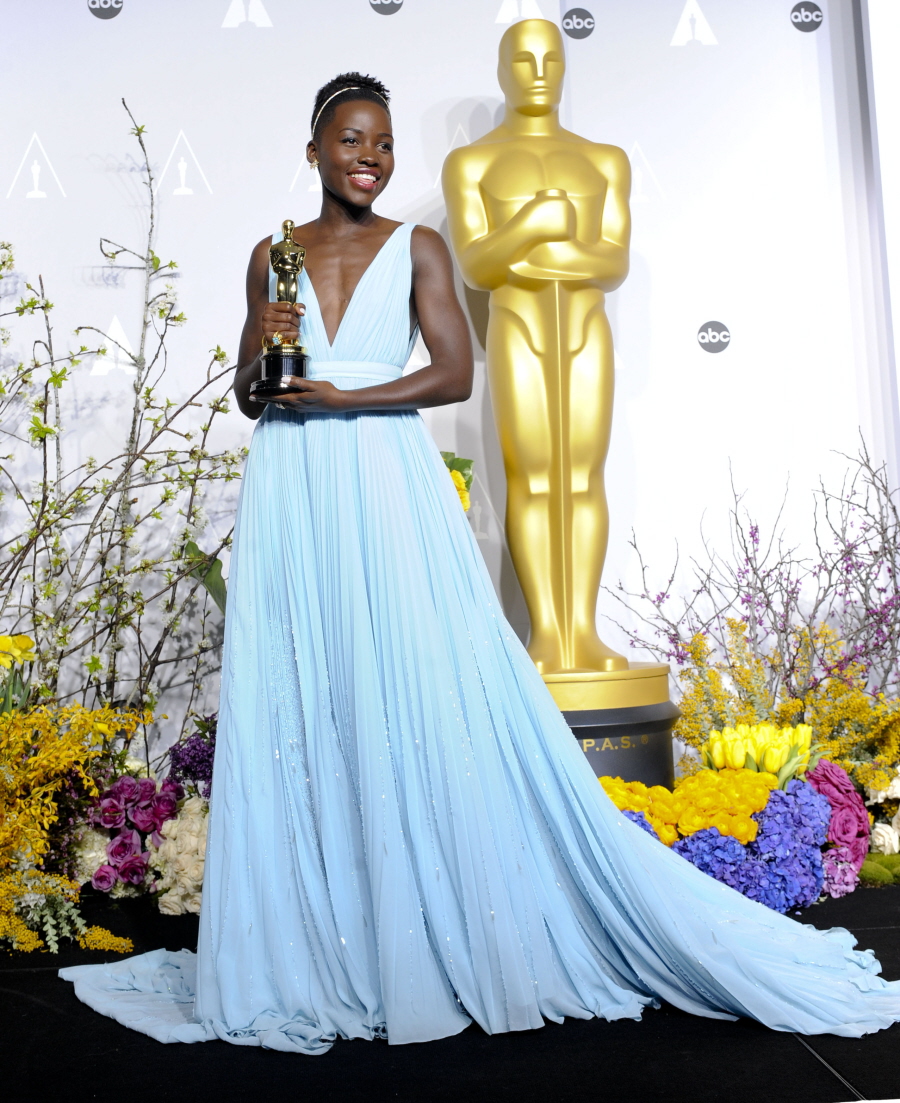 Lupita Nyong'o has gone silent. Is she home in Brooklyn? Is she in LA doing auditions? Is she in Canada with her boyfriend? Is she holed up in some fancy hotel with a new love? I have no idea. Star Magazine is trying to keep tabs on her though – they claim that Lupita is still with K'naan and that they are already sort-of engaged, much to the chagrin of her handlers, and that she's thinking about eloping. A source claims: "She's crazy for him. But she knows how much is at stake. Her Hollywood dream is in sight, and she's on the cusp of a great career. Her heart says yes, but her brain knows it's too soon."
Is it too soon? I don't know. Probably. I think her handlers are focused on her next step, which will be tricky. She's the ingénue, of course, but it's also going to be difficult to find a permanent place for her in Hollywood, or at least that's what a new THR article claims. You can read the full THR piece here – some of the quotes from industry insiders are rather insulting, but I guess that's the point: it's going to be hard for an African actress to find consistent work. Some highlights:
Now that the ball is over and the applause is dying down, what can Lupita Nyong'o really expect from Hollywood? While the stage would appear to be set for her to ascend to the A-list… it's not that simple.

Nyong'o may have charmed Hollywood as she skillfully navigated awards season, but whether or not she's endeared herself to the larger public — with just $56 million in domestic box office, 12 Years was an art house hit but no blockbuster — remains an open question. "I don't think she has an audience — not yet," says one studio executive. "And there are so few roles for women of color; those roles are just not being written."

Further complicating Nyong'o's prospects is the fact that her dark skin challenges an industry prejudice that traditionally has favored black actresses and performers with lighter complexions.

"Would Beyonce be who she is if she didn't look like she does?" asks TCA Jed Root talent agent Tracy Christian. "Being lighter-skinned, more people can look at her image and see themselves in her. In Lupita's case, I think she has two-and-half, three years. If she can find a franchise — a Star Wars or a Bourne Identity — a big crossover film, or if she's cast by a significant filmmaker, then she's golden, she'll have carved out a unique path for herself."

Yes, she faces obstacles, agrees a prominent casting agent, but they are not insurmountable. "For someone who looks like her, with a distinctly black, African face, maybe she's someone who can change the direction for darker-skin actresses, actresses who are definitely not European-looking, but it may require some forward-looking director to push for her."

"Frankly," says Christian, "she's hot enough that she can play a love interest to a Caucasian leading man, and it won't be an issue. Lupita is to film and television what Obama was to politics. She made Hollywood feel good about itself. She was a little bit of 'we shall overcome' — charming, young, gorgeous."

"Everyone would love to sign her," says one top agent of the impression Nyong'o has made on Hollywood. "I've hardly been in a meeting with directors where her name hasn't come up. Right now, she should be having meetings with Spielberg and Scorsese. What she should do is just work with great directors."

Nyong'o did have a small role as a British-accented flight attendant in the Liam Neeson thriller Non-Stop, which was released the weekend before the Oscars, but she has not yet lined up her next film. Represented by Innovative Artists and D2 Management (her reps declined to discuss her next move), she was up for the part of Tiger Lily in Joe Wright's upcoming reimagining of the Peter Pan story, but that role instead went to Rooney Mara. And she has met with J.J. Abrams, fueling speculation that she could be cast in his Star Wars movie. Says Allain, convinced that Nyong'o has a promising future ahead of her,

"She could play a neurosurgeon or somebody with Asperger's. I would imagine the opportunities that will present themselves to her will be varied and won't necessarily involve a superhero outfit, though she would also be awesome in that."
See what I mean about insulting quotes? It's like no one ever stops and says, "Hey, you know how we were looking at Scarlett Johansson/Jennifer Lawrence/Anne Hathaway for this part? Let's audition Lupita!" The role doesn't HAVE to be written for a black actress, that's that point. That being said, I do think that some of the "recommendations" are probably solid – she should (and probably will) sign up for a franchise or some big CGI film, and she'll try to work with the big directors too.
There's also a discussion in that article about Halle Berry and how if Halle (being light-skinned) couldn't find consistent work, then Lupita has no chance. Are we really still talking about light-skinned versus dark-skinned? RLY?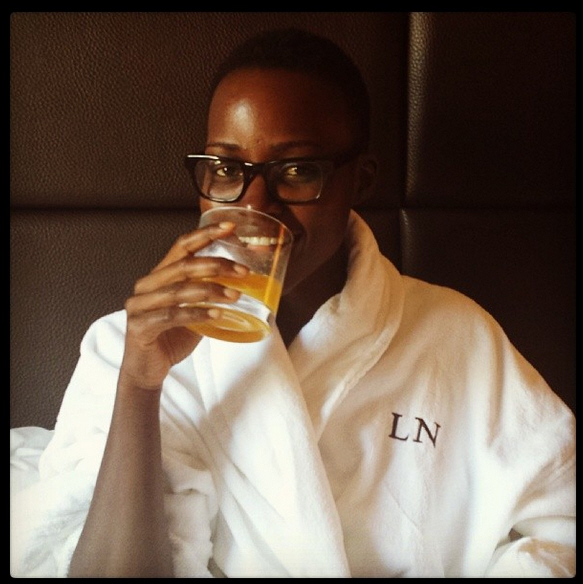 Photos courtesy of WENN, Lupita's IG.