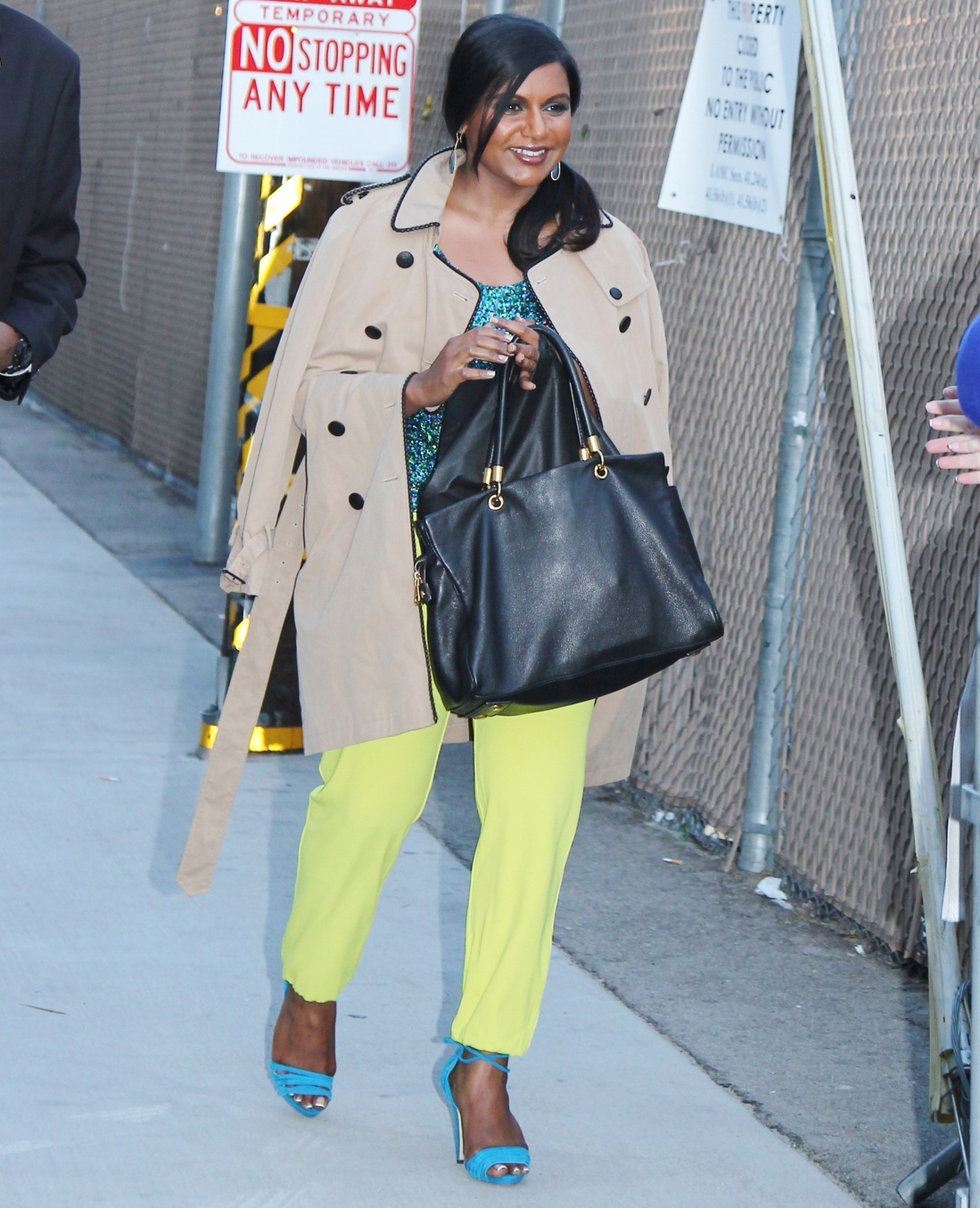 The Mindy Project finally returns tonight. I CANNOT WAIT. I've been thinking about that sexy kiss between Danny and Mindy (Chris Messina and Mindy Kaling) since January. And that's part of what I love about the show – they were so smart to go on hiatus with such a bang, such a game-changer for the show. And now we get to find out what happens after the kiss! Mindy and Chris were already teasing the aftermath at Paleyfest last week – you can read the EW coverage here (there are some minor spoilers). Basically, they say that Mindy and Danny simply have too much chemistry together to not try something, but of course it's going to be a damn mess.
Mindy also appeared on Jimmy Kimmel Live last night to promote the show. I'm including the videos at the end of the post. Mindy talked about her recent Vogue interview where she proclaimed, "I don't want to be skinny."
Mindy Kaling never set out to be the poster child for non-size-zeros. The Mindy Project star was recently praised for telling Vogue she doesn't "want to be skinny," but Kaling didn't find the admission all that revelatory.

"People were like, 'That's so great that you said it,' and I didn't think that was so weird. Every woman I know feels that way," she said on ABC's Jimmy Kimmel Live! Monday. Kaling then cited her Topshop look at PaleyFest as an example of her feedback.

"I wear these outfits and stuff. I'm not skinny, but I'm an actor, which…that never happens in the world of regular-sized people and actresses," the Emmy-nominated TV writer said. "I also am the recipient of a lot of backhanded compliments about it, where people are like, 'It's so nice that Mindy Kaling doesn't feel she needs to subscribe to the ideals of beauty that other people do.' And I'm like, 'I do subscribe!' They're like, 'It's so refreshing that Mindy feels comfortable to let herself go and be a fat sea monster.' By the way, I like run and work out. It takes a lot of effort to look like a normal/chubby woman. The way they talk about it, [it's] like, 'She's a pioneer because she's glued to her sofa.'"

So why did Kaling decide to show "a little midriff" at PaleyFest? "Unless you have problems, for most women that's a nice little area right under your bra," she explained. "Some people were pretty mean about it, but then some people were like, 'She's just so courageous!' Aren't surgeons courageous?"

All jokes aside, Kaling is happy to give her viewers body confidence. "On my show, I date guys…if that makes girls feel like, 'Oh you can be normal and get married and having sex'—which largely TV [says] you can't do—then great," said the former Office star. "But you also don't want to be the face of Stay Puft marshmallows. It's hard when you're a narcissistic vain person and you wanna be a role model."
I like what she says. Truly. I admire her for how she handles all of the weight/body-image crap that other people put on her. At the end of the day, she's got a completely normal and average figure and why are we even talking about it? She's incredibly talented, let's talk about THAT.
Photos courtesy of WENN, PR Photos.