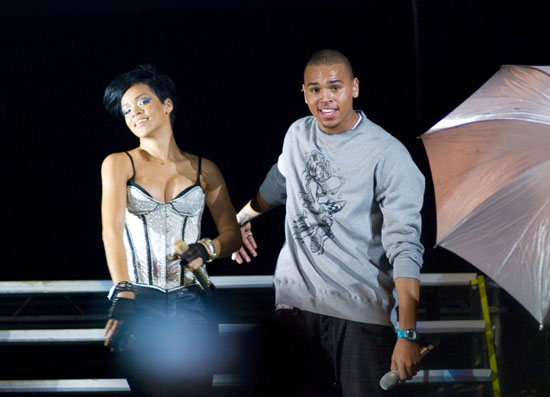 The more details that come out in the Chris Brown and Rihanna saga, the worse Brown looks. E! Online has supposed insider details of the investigation. According to their source, not only did Chris Brown threaten to kill Rihanna according to what she told to police, but he strangled her so hard so lost consciousness. He then took off and left her there. Cops that responded to the scene were so worried about Rihanna when they found her in the car that they drove her directly to the hospital instead of calling an ambulance. It's a good thing someone called the police when they did.
[Rihanna and Chris Brown] began squabbling after leaving Clive Davis' pre-Grammy party late Saturday. Shortly after midnight, things blew up. Brown pulled his silver Lamborghini to the side of a street in L.A.'s Hancock Park neighborhood. That's when, per the source, Rihanna grabbed the car keys and tossed them out the window, sending Brown into a rage.
He tried in vain to find the keys, then came back to the car, put his hands around her neck and, according to the insider, said, "I'm going to kill you!"

According to the source, the 20-year-old "Disturbia" singer told police that she lost consciousness, and when she awoke, Brown had fled.

According to the source, her right eye was blackened and badly swollen and she had hand prints on her arms. The responding officers were so concerned about her, they drove Rihanna to the hospital in their squad car instead of waiting for an ambulance.

Officers took two sets of photographs of the banged-up singer, one at the scene and the second after she was admitted to Cedars-Sinai Medical Center for treatment. Those photos were presumably among the evidence presented to the district attorney.

After being treated for her injuries, police escorted her down a rear elevator and into a waiting Mercedes, the source says.
[From E! Online]
It's pretty safe to assume that Brown's promising career is over at this point, and his endorsement deals are quickly dissolving. He was dropped from a Wrigley's gum campaign earlier in the week, his Got Milk? deal has ended, and there are even radio stations refusing to play his music.
People has more details of Rihanna's injuries, which were previously said to be "horrific," and it sounds like that account was unfortunately true. She had a black eye, "a swollen split lip and two red and purple contusions on either side of her forehead," according to a source quoted in People.
Rihanna is now safe with her family in Barbados. Her grandmother told a local newspaper that she is "fine" and that her nose isn't broken.
OK! Magazine and the NY Daily News both have potential details of the incidents that led up to the fight, but whatever they were arguing about hardly seems relevant now in light of the abusive way it ended.
Brown has said in the past that he grew up in an abusive home, and that his stepfather was physically abusive to his mother, a charge his stepfather denies.
Both Rihanna and Chris have canceled scheduled upcoming appearances. It doesn't sound like Brown will have many offers after the dust settles.
Rihanna and Chris Brown are shown performing on 12/13/08 and 12/16/08. Photo credit: WENN.