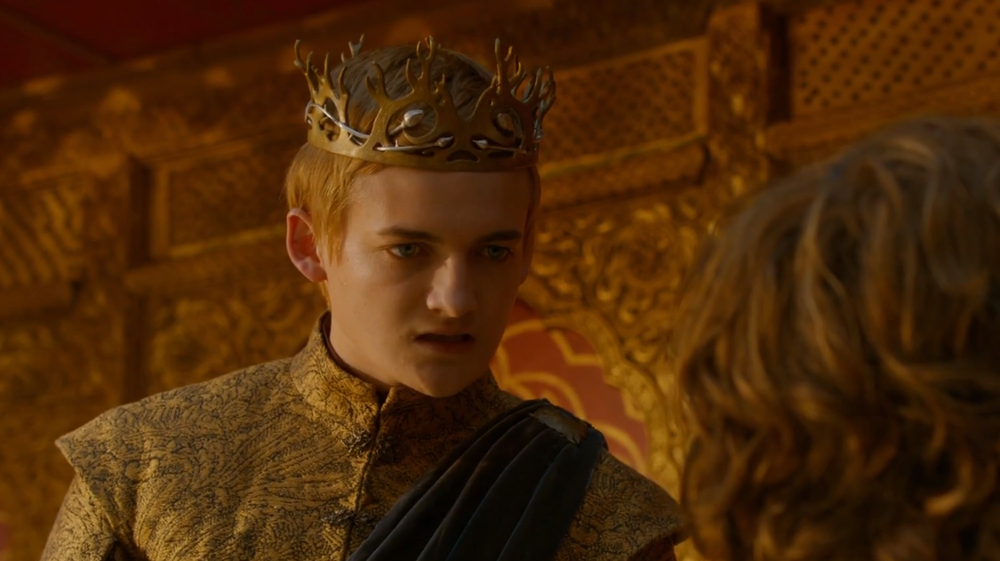 Warning: this post contains spoilers for the last Game of Thrones episode, which aired Sunday.
I'm a big Game of Thrones fan, but I haven't read the books. I've tried, but I wasn't able to get into the writing. So when Sunday's big death happened, even though I watched it later yesterday (On Sunday I had to watch The MTV Movie Awards) it was a complete surprise to me, and a very pleasant one.
Spoiler spoiler spoiler… sneering King Joffrey died, he was poisoned at his wedding to Margaery, and it was the most satisfying and spectacular death the series has delivered to date. Unlike the shocking events at the Red Wedding, this wedding death was more than welcome, and came directly after Joffrey had very ham-handedly attempted to humiliate his uncle, Tyrion (Peter Dinklage). (Of course it also came after Joffrey wielded his power in countless senseless evil ways, including murdering Sansa's dad, Ned Stark.) Tyrion got blamed for Joffrey's death, because he just happened to be serving Joffrey wine, at Joffrey's command. It's clear that Tyrion isn't guilty, so who poisoned the wine? More on that in a moment.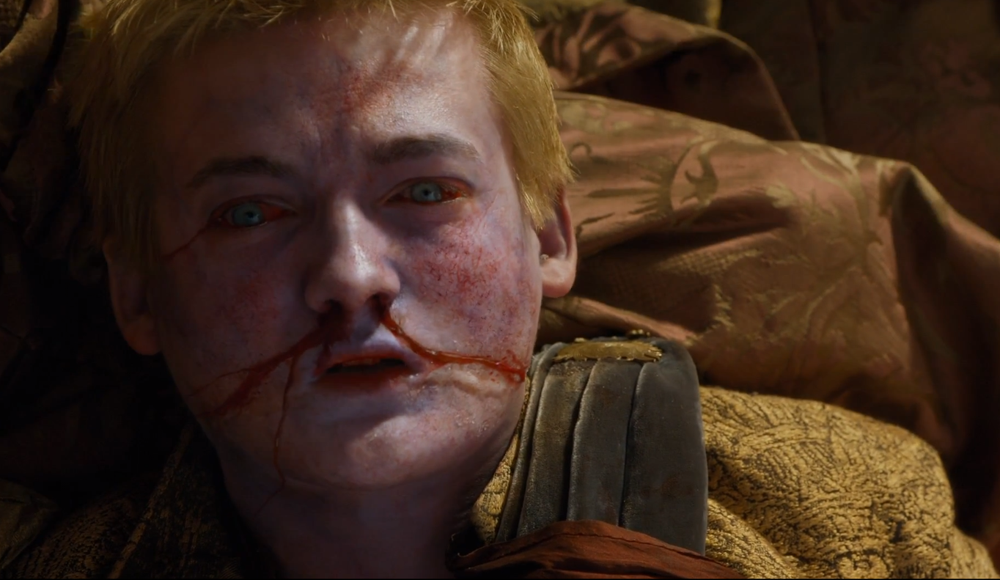 First let's talk about some of the cast tributes to the actor who plays Joffrey, Jack Gleeson, 21. While Gleeson's character may be the ultimate loathsome bastard, his co-workers admire and respect him. They sung his praises to EW, and will genuinely miss working with him. Damn he's an excellent actor.
Lena Headey (Queen Regent Cersei): "I love him. It's been four years and I've kind of seen Jack grow up — he's very smart and he's very funny and he's very charming. And he's great company! You form friendships and that's been a really special one to me and I literally look into his eyes and I get very upset because I go, 'No!' But he's going and I get it."

Headey on Cersei's wedding-day thoughts: "I think she's enjoying this moment for as much as she can. Seeing Joffrey as genuinely happy and excited to marry Margaery — it kills her, and also she f—ing loves him. She holds that boy on a very wobbly pedestal, but she holds him up. And yeah, it's the beginning of everything falling down for her."

Then she blames Tyrion: "Of course — who else could she blame? … The last thing she sees while holding her son is Tyrion and that's all she needs."

Natalie Dormer (Margaery Tyrell): "We're all going to miss him — we're all trying not to think about it that it's his last day so everyone is a little morose at the idea of actually losing Jack. But once you're part of the Thrones family, you're always part of the Thrones family, you're still part of the clan even after."

Dormer teases Margaery's reaction: "Well, politically, to lose one husband is bad, but to lose two husbands is careless! It's really bad PR for Margaery. So regardless of what she thought of Joffrey as a human being, it's not a good place for her to be in. So she's like, you know, cursed or tainted goods."

Sophie Turner (Sansa Stark): "It's been the best time working with Jack. He is one of the most talented actors on the show — he's the nicest person in real life and he's become a really close friend. He's the easiest guy to work with and it's gonna be so sad to see him go. He's not like one of those method actors that goes into a dark place to get it because if he was one of those guys, he'd be horrible to work with. Everyone who meets him is always totally surprised because he's like the funniest person and him and Peter [Dinklage] are like a double act — it's so weird! You can't meet anyone nicer on the cast — everyone wants to hang out with Jack."
Of course Gleeson can go on to work on other projects. His work on Game of Thrones was incredible. Gleeson doesn't seem to want to continue acting, though. As Kaiser covered in November, he said that he was uncomfortable with the celebrity lifestyle and wanted to use his fame to help bring awareness to charities. He's an impressive, upstanding guy. Somehow he manages to make you feel absolutely no sympathy for his whinging character and yet he's nothing like that.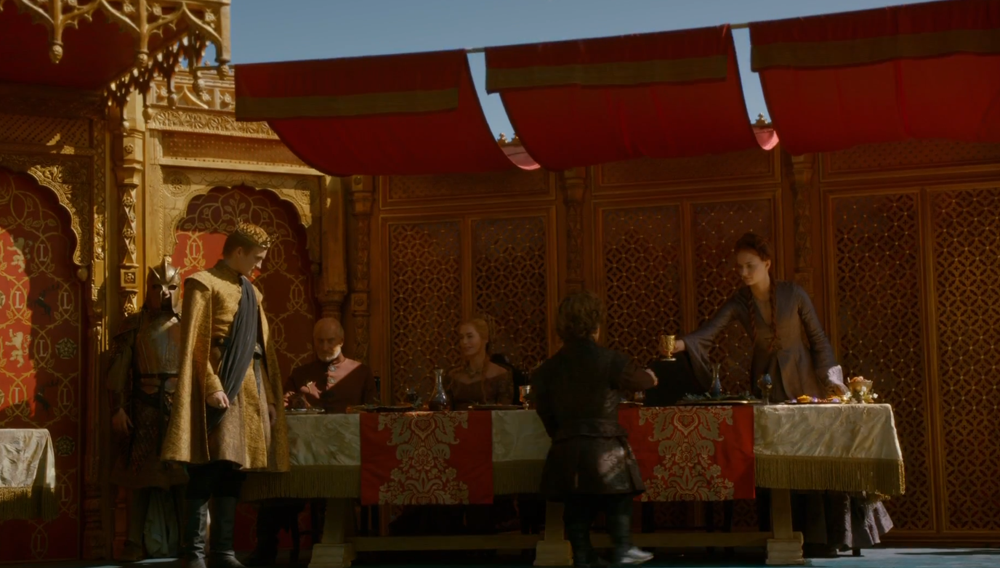 Getting back to Sunday's episode, it was heavily implied that Sansa killed Joffrey. She had the opportunity to slip something into the goblet when she picked it off the floor and handed it to Tyrion. Then she wanted to leave after the glass was returned to Joffrey but before he had the chance to drink from it. Naturally it could have been anyone else at the table too. After Joffrey keeled over, foaming at the mouth, Sansa was spirited away by her friend the court jester, suggesting he helped her plot the murder. We'll have to see though, and I get the sense that we won't learn who killed Joffrey next week. I'm not going to google it, I want to be surprised, and please do not post book spoilers in the comments. Book spoilers will be deleted.
Also, while I hated Joffrey like everyone else, I was hoping that Margaery could tame him, she seemed to know exactly how to handle the bastard. I feel robbed of watching her mold him into a less horrible person. You know that Cersei is going to make Margaery's life hell now.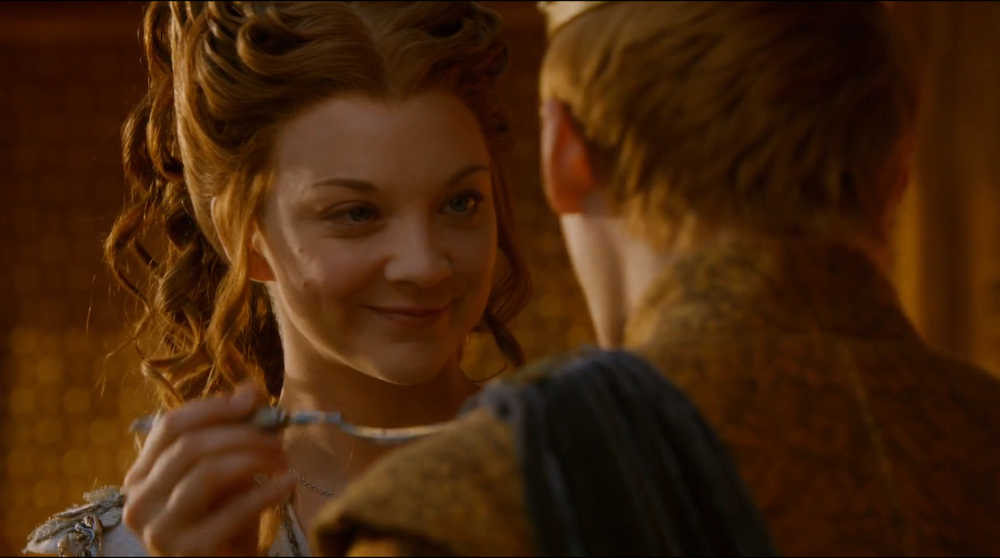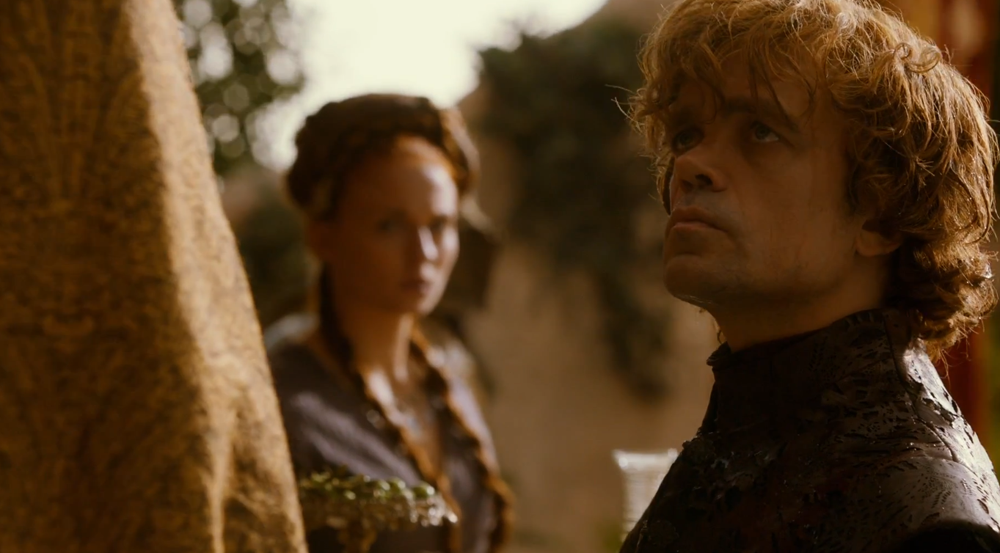 Images are screenshots from HBOGo