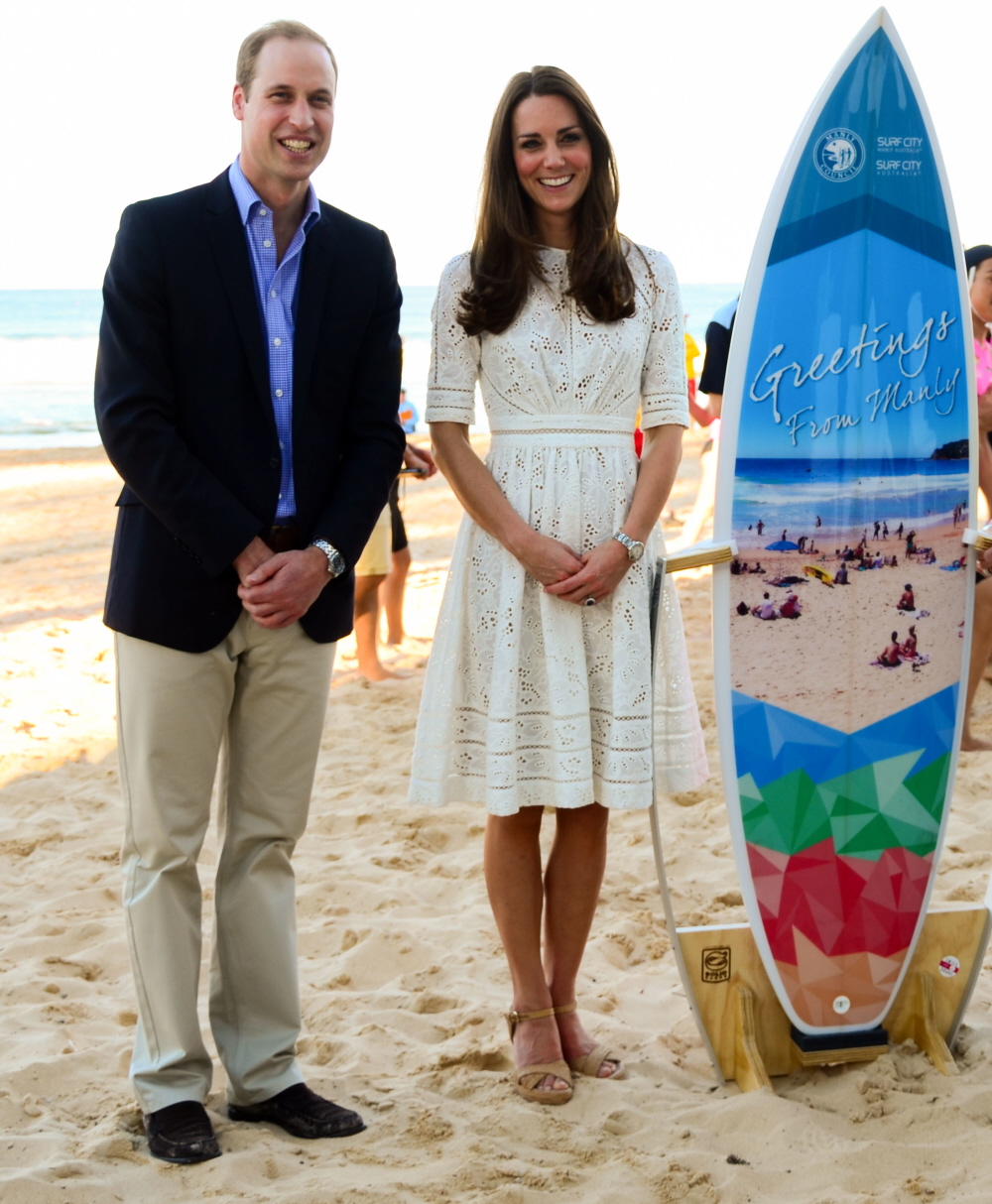 Here are some photos of Duchess Kate and Prince William during their visit to Manly Beach on Sydney's North Shore in Australia today. They also attended some kind of Easter/Good Friday fair where they interacted with animals and farmers and such, which I'll get to in a moment. First, let's talk about fashion. Kate wore her first Australian-designer dress for today's activities. This white eyelet/lace dress is by Aussie designer Zimmerman. Thoughts? I don't hate it. It's a pretty dress and it reminds me of something girly you might buy for a very young child. Is it appropriate on a woman in her 30s? In my opinion, not really, but I might feel differently if I saw the dress styled in a different way. I don't care for the dress paired with those high wedged sandals. Anyway, while Kate and William were watching some farm animals at the fair, Kate cracked a joke about William's baldness. YOU IN DANGER, GURL.
Catherine, Duchess of Cambridge and Prince William, Duke of Cambridge visit Manly Beach on Sydney's north shore, during their royal tour of Australia In the past it has often been his brother Harry ribbing Prince William about his thinning hair. But when the Duke and Duchess of Cambridge visited Sydney's Royal Easter show in Australia on Friday, Kate couldn't help but make a joke at her husband's expense. The Duchess cheekily teased her husband about his growing bald patch by suggesting he wear an alpaca toupee.

As they toured large elaborate displays of produce, grouped by Australian regions, one exhibitor Lyn Crejan, 67, talked about the wealth of fruit and vegetables displayed in a colourful design behind her. When she showed them a tuft of alpaca wool – which was a similar shade of brown to the Duke's hair – the Duchess joked about her husband using it as a wig.

'The princess said (the Duke) should put some on his head,' said Lyn Cregan, 67, from Glen Innes. 'She pointed at him and said "You need it more than me." He laughed.'

When Ms Cregan revealed she used hair lacquer on the pumpkins to give them extra shine, the Duke said he would try the trick next Halloween.
Oh, this is not good. Kate has been doing a lot of that passive-aggressive stuff on the tour, right? Whenever William insults her dress, she runs right out and announces the insult to the peasants. And now she's shading his baldness in front of people?!! That's it. No more royal babies.
Kate also made a solo visit to a children's hospice and she made a speech! Here's the video (she starts speaking around the 35-second mark):
Well, it's a slight improvement. She was more comfortable with the words, so she only… looked down… every second or… third word… thank you Duchess… Kate… for tossing… your hair so… much. And thank… you Aust…ralia.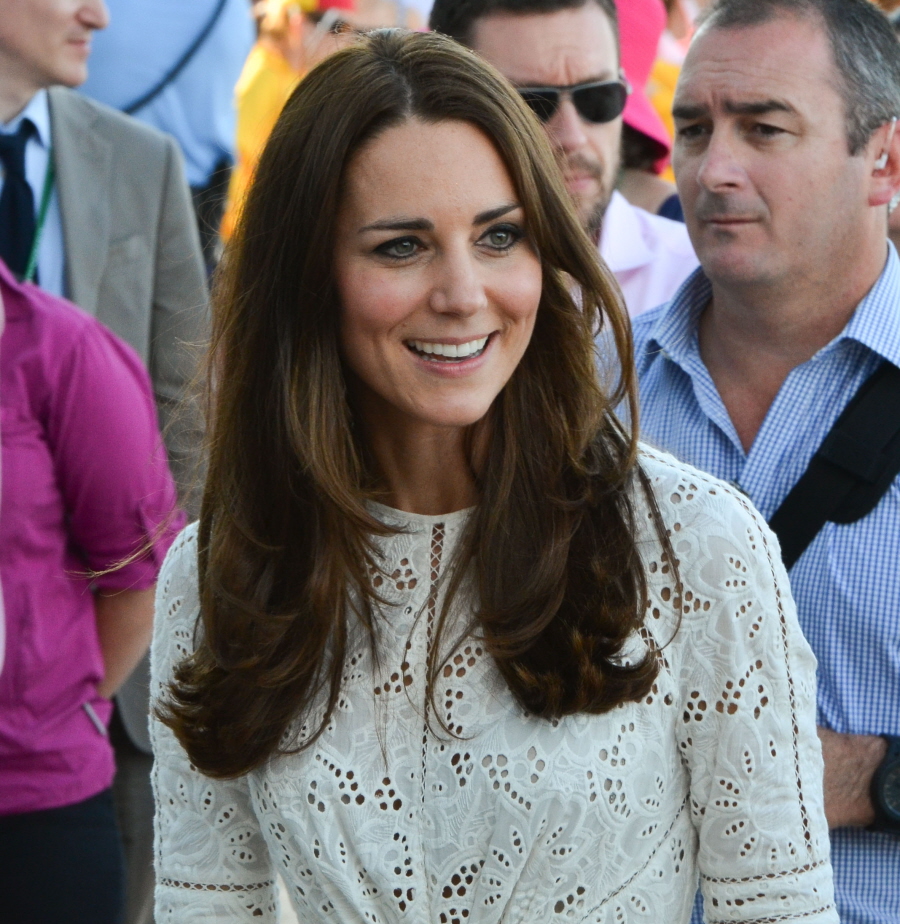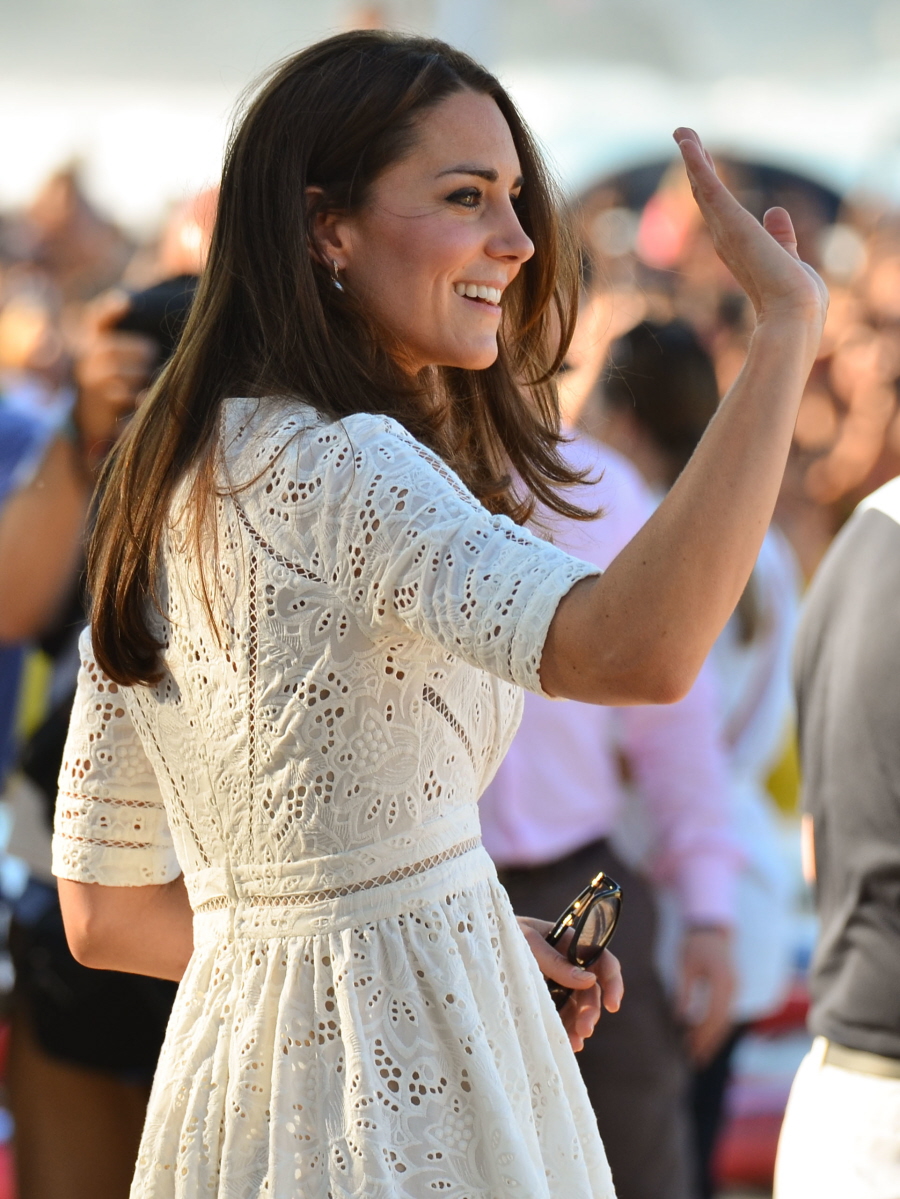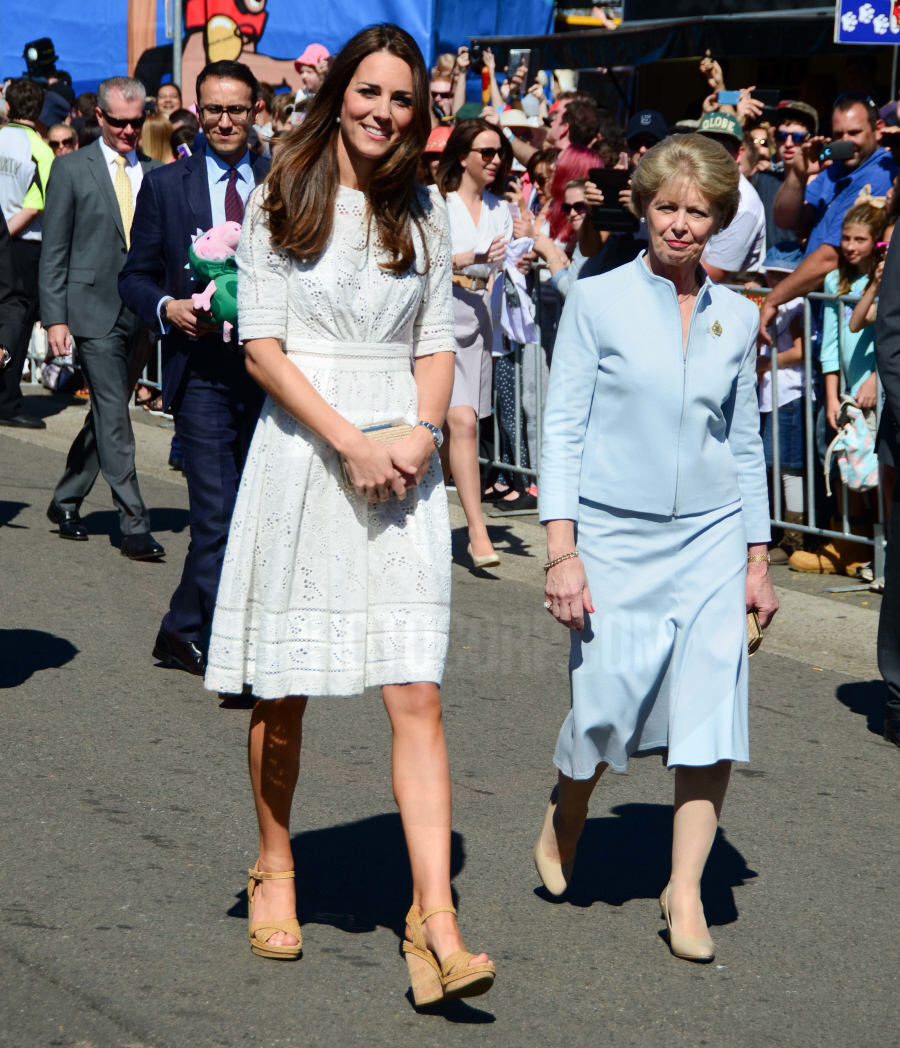 Photos courtesy of WENN.