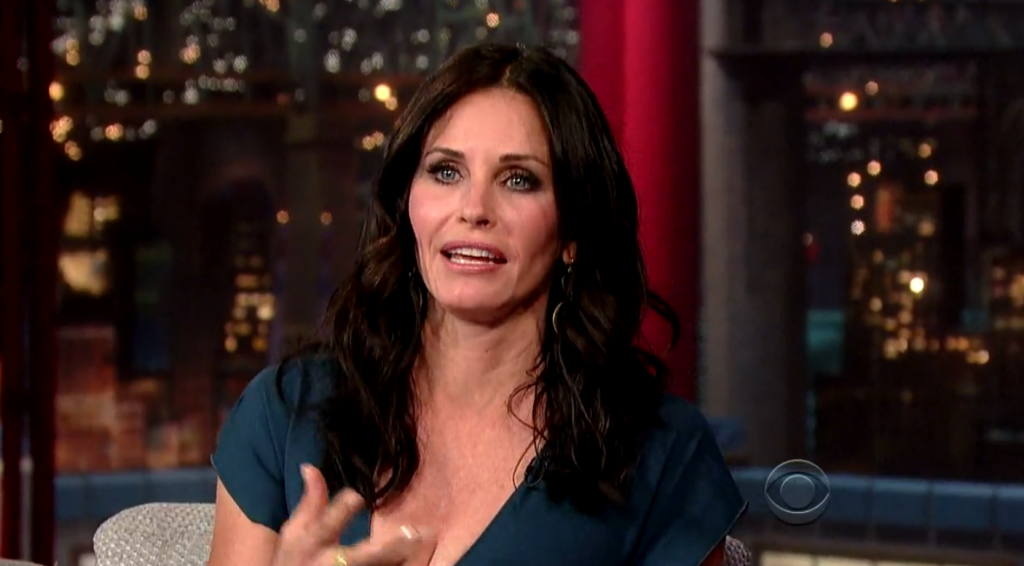 Courteney Cox, 49, was on Letterman earlier this week, where she was promoting her film directorial debut, Just Before I Go. The film stars Sean William Scott, best known as Stifler from American Pie. Scott's character is suicidal and returns home to confront his painful past. Courteney said that when Scott asked her for the part, he was so confident that it freaked her out and she asked him if he was a Scientologist. He's not!
The first thing Letterman asked Courteney when she sat down was whether a Friends reunion would happen, and she ruled it out. Courtney explained that she couldn't get all her former castmembers together for dinner, saying that the other women would come and maybe Matthew Perry but that Matt Leblanc canceled on her the last time and that David Schwimmer lives in NY City so he's out. She also said the set wouldn't translate to film, primarily Monica's apartment. Here's how she explained it, and a clip is below.
Holding out hope for a "Friends" reunion? Then Courteney Cox has some bad news for you.

The "Cougar Town" actress put rumors of a reunion to rest Monday during an appearance on the "Late Show with David Letterman."

"It's not gonna happen," Cox, 49, said.

As she pointed out, she can't even get her former co-stars together for a meal, let alone a reunion project.

"There's six friends and I have been trying to put together a cast dinner for 10 years," Cox told Letterman. "It doesn't happen. I mean, I can get the girls to come, maybe Matthew Perry. Matt LeBlanc canceled last time right at the last minute, [David] Schwimmer lives [in New York City], so it's just not going to happen."
Courteney told a story about how she went to Italy with her boyfriend and with her daughter Coco, nearly 10, "to meet my boyfriend's family." Courteney has been dating an Irish musician named Johnny McDaid, 37, who plays for Snow Patrol. They've been together about six months from my count and are possibly engaged. Courtney was seen wearing what looked like an engagement ring earlier this week, but we haven't heard anything else.
Courteney is still friendly with Coco's dad, her ex David Arquette, and even cast him in her movie. She told Letterman "We're really close friends and we are the 'modern family.' My boyfriend and David are friends. I'm friends with his girlfriend, who's pregnant. She's going to have a baby in June. It is strange, but we're not doing it just for Coco. We actually really like each other." That's nice and I get the impression that she's just being honest.
As nice as Courteney is, I have to say something about how stiff she looks. Her face barely moved and there was something going on with her mouth. She's admitted to wanting to look younger and it's a shame because all this work has the opposite effect.
Here's a clip of Courtney's appearance on Letterman where she talks about Friends.

Here's Courteney on 4-21 outside Letterman with her boyfriend and on 4-20 flying out of LAX. I didn't spot a ring on Letterman but she was wearing what looked like an engagement ring at the airport. Maybe she's not ready to announce it yet.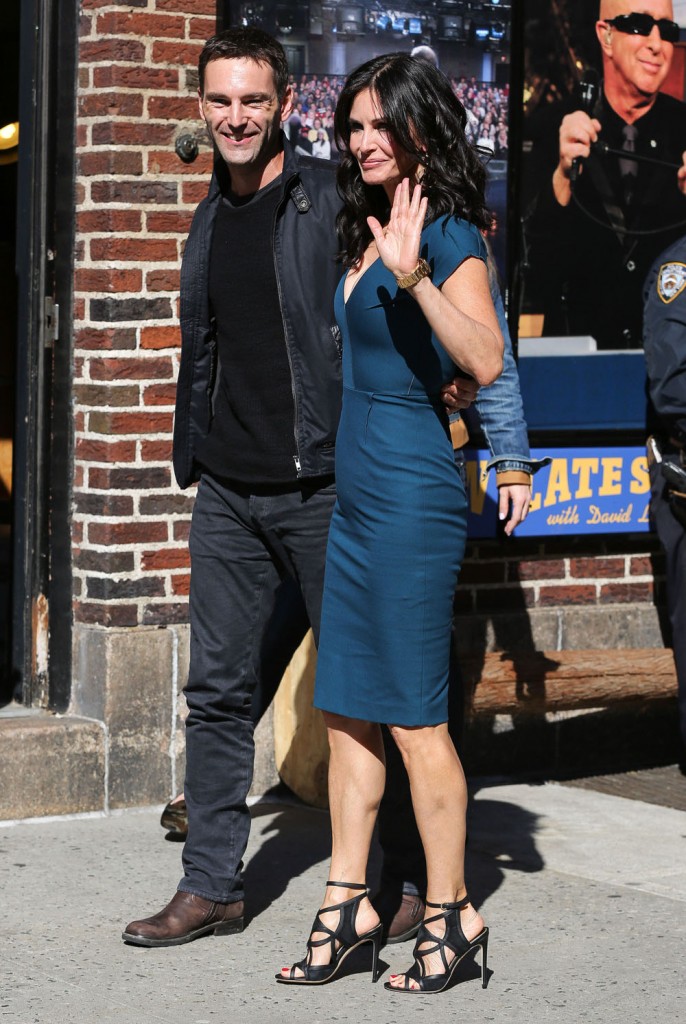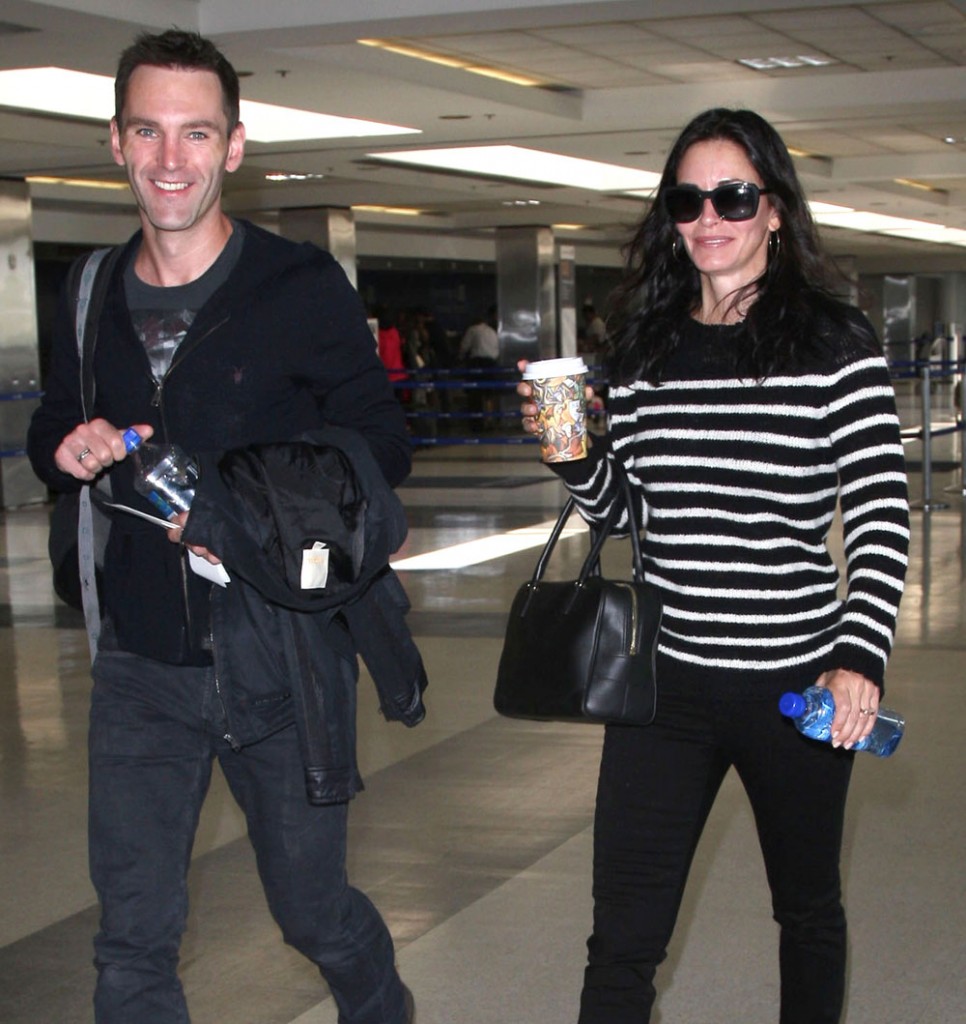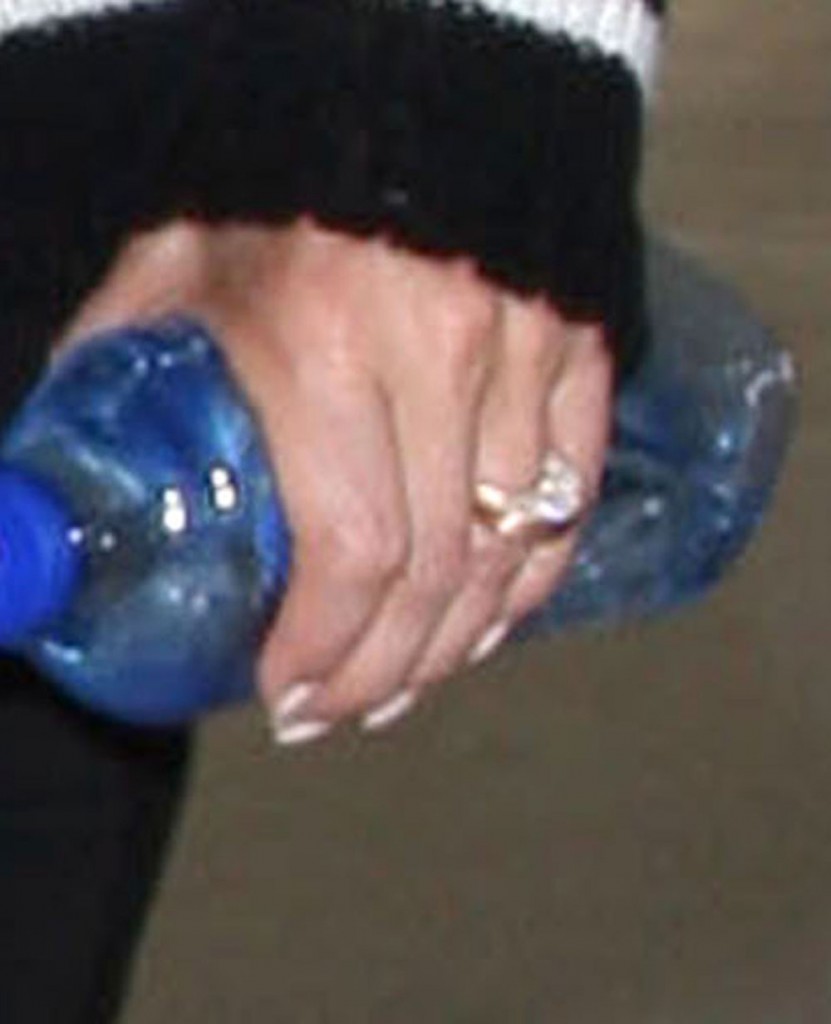 Photo credit: FameFlynet