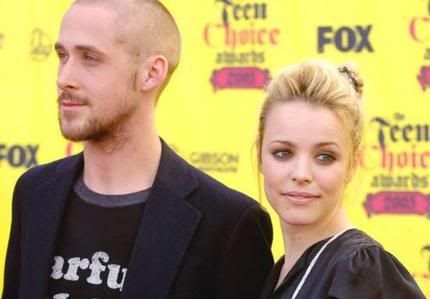 We reported a rumor about two weeks ago that cute Canadian couple Ryan Gosling and Rachel McAdams were over – at least according to Life and Style. Then last week came the rumor that they were engaged again – as was also said to be true last December.
Today's NY Daily News says it's off again, which might mean that the engagement rumor was false:
We hear that "The Notebook" true-life couple Ryan Gosling and Rachel McAdams have split. A pal of Gosling's was overheard asking the actor, "Where's Rachel tonight?" at the Los Angeles premiere of "Fracture" Wednesday. Gosling responded, "Don't you know? We broke up." A rep for Gosling refused to comment on the actor's personal life.
[Third bullet item under Sidedish]
Everyone was so happy to hear that they were maybe-engaged for what looked like the third time, and that's too bad if this is true. I never saw that chick flick they starred in The Notebook, but it sounds cheesy enough from the plot. They were born in the same hospital in London, Ontario Canada about two years apart and met while filming The Notebook in 2004.
Header image from the 2005 Teen Choice Awards and image below from the 2005 MTV Movie Awards, where they reinacted their on-screen kiss. [via]