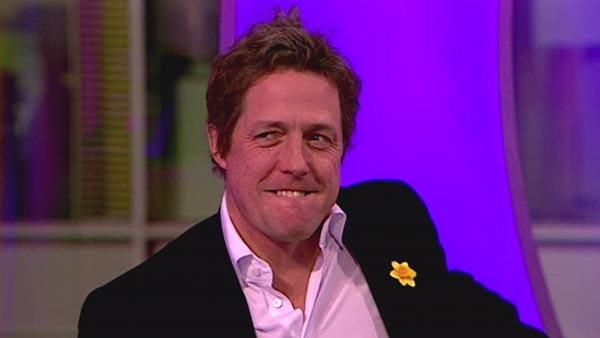 Right when we were rooting for a potential Hugh Drew pairing comes a story that explains why the former co-stars fell so easily into each other's arms – Grant is on the prowl. The 48 year-old quirky English bachelor was seen making out with two women at a bar in New York on Tuesday night, just one night after he was spotted getting overly affectionate with Drew Barrymore in public:
Hugh Grant is "off again" with sometimes steady Jemima Khan. The quirky Brit was spotted at Meatpacking lounge Kiss & Fly smooching not one but two women Tuesday night.

"Hugh went straight to the bar and made out with a pair of girls for the entire evening," snitches a spy.

"After drinking all night and not eating a thing, he just up and left alone, leaving both girls standing at the bar looking very confused."
[From The NY Daily News]
I know I'd make out with Hugh Grant at a bar if I were single. It's kind of surprising and oddly endearing that Hugh didn't take either or both of the women back to his hotel with him. I picture him pushing his hair back with his palm, mumbling his apologies and kind of shuffling out of there, head down, like a character in one of his films still pining for his ex girlfriend, a lovely British heiress he can't get off his mind despite all his acting out. He might have resorted to hired help if hadn't learned the hard way to stay away from hookers. Maybe his brush with the law 14 years ago and the resulting public embarrassment have made him too afraid to even have one night stands with willing 20 somethings.
Hugh Grant is shown on BBC's The One Show on 1/29/09. Thanks to WENN