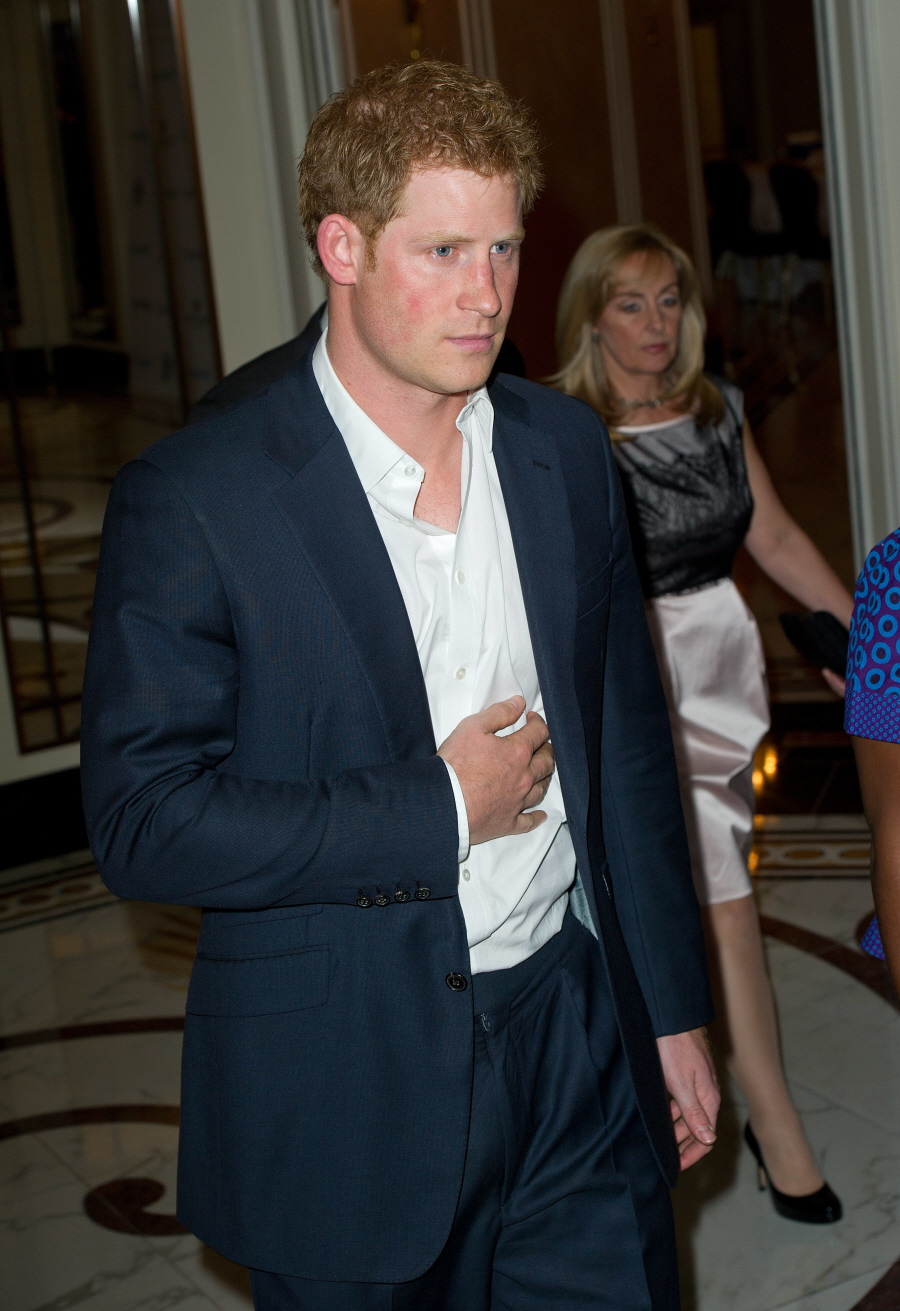 Here are some photos of Prince Harry at last night's Sentebale Summer Party at The Dorchester Hotel. Sentebale is the charity Harry started in Lesotho ten years ago – this year's event celebrated their 10-year anniversary of working to help children with HIV/AIDS in Lesotho. Joss Stone performed and Harry was in fine, conservative form after spending his time in America last week getting his booze on and twerking at his friend's wedding. But what about Cressida Bonas?! Won't anyone think of Cressy?! Katie Nicholl is still thinking about Cressy. Nicholl not only wrote that absolutely crazy story in The Daily Mail over the weekend, Nicholl also wrote this piece for Vanity Fair:
Prince Harry is planning to meet up with Cressida Bonas in the hope of rekindling their two-year long romance, Royal Watch can reveal. Harry, 29, is back in the U.K. after spending the weekend in Memphis for his best friend Guy Pelly's wedding, and, according to close friends, he is planning to meet up with Cressida "imminently."

The couple split two weekends ago after a monumental row over the wedding, Royal Watch has learned. Cressida was upset that she was not invited to a bachelors' party in Miami, and told Harry she wasn't prepared to fly to America for a bash she wasn't invited to. The argument soon escalated and resulted in Cressida calling off the romance. But, according to the couple's inner circle, Harry is desperate for a rapprochement and spent most of the wedding weekend talking about Cressida and sending her text messages.

"There will be another chapter to the Harry and Cressida love story," predicts a friend. "Harry likes the drama of a breakup and then a make up." Another added: "Cressida is really cut up about how things ended and spent the weekend feeling very down."

After being given some time off work, the 24-year-old is back at her desk in London's Soho, where she works for a media marketing firm, after the long May bank holiday rocking her usual fabulous look in a sharp suit jacket and Doc Martin boots. Harry is reported to have told Cressida she would have to smarten up her look to befit a royal girlfriend (Cressida has an amazing collection of trainers) but Cressy has told friends that she won't be changing her look for anyone. "Cressida is very confident and won't be conforming to the royal look like Kate Middleton did. She is her own person, and Harry will have to accept that," says one of her crew.

Tonight, Prince Harry is attending a dinner for his charity, Sentebale, in London. But sources say the couple will be meeting up for a heart-to-heart very soon, although they plan to keep details of the rendezvous top secret. "Harry likes the fact the media are reporting they've split, because it gives him and Cressida some time to try and sort things out away from the limelight."
If we have to choose between Duchess Kate's wedges of doom and Cressy's trainers, I'm going to choose the trainers. Even though I'm starting to believe Cressida might be too immature for Harry, I do hope they get back together. They are an amusing train wreck, and I'm starting to wonder if Cressida isn't an undercover diva. Still, Harry could do much worse.
Photos courtesy of Getty, WENN.