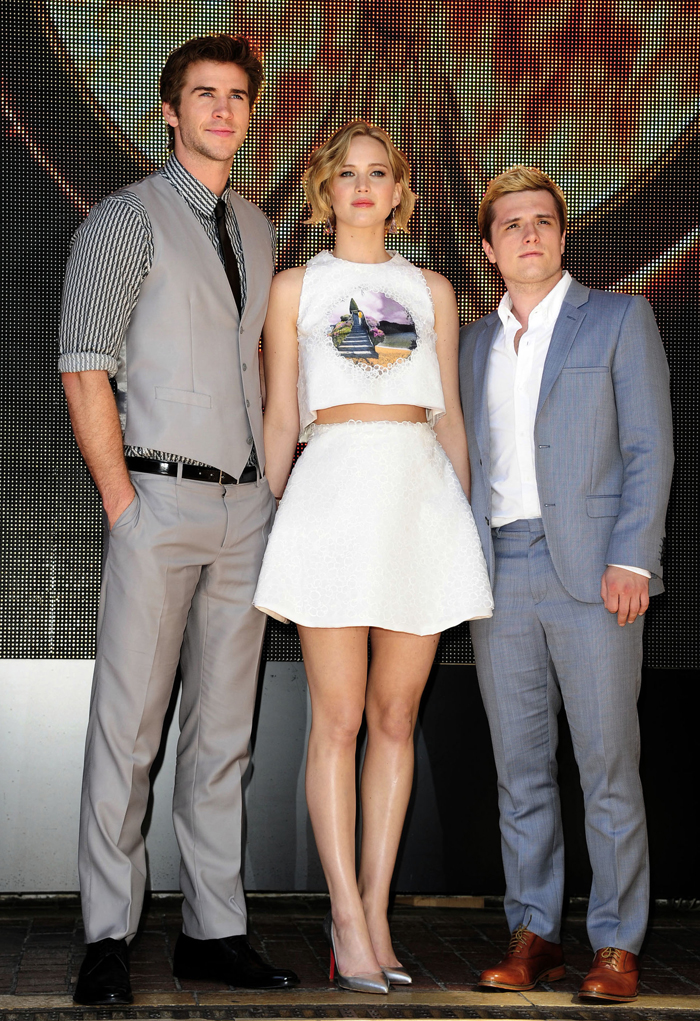 Jennifer Lawrence appeared in Cannes for a Hunger Games: Mockingjay Part 1 photocall. The movie isn't finished yet and doesn't come out until November, but Lionsgate enjoys stoking the flames with an official appearance. The studio released a teaser website last week that includes a bunch of fan goodies. There's a motion poster, film stills, and a sneak peek of the script. This fall suddenly seems so far away. I'm getting major sads by not seeing Philip Seymour Hoffman on this stage. But Josh Hutcherson, Liam Hemsworth (remember him?), and Sam Claflin were on hand. Plus Julianne Moore and the soft-voiced Donald Sutherland.
Jennifer went back to Dior couture for this photocall. This was a very young look, which could be directed towards the younger audience Dior covets by hiring JLaw. I wasn't crazy about this outfit at first (my exact words were "What fresh hell is this?), but it's growing on me. JLaw has a great figure for a two-piecer, and Dior has taken note of her prior belly-baring success. The A-line skirt and and crop-top are cut well, and the white fabric bubbles with softness. The "mystical beach chest photo" throws things off a bit, but it's funky and fun. Is this look a little too twee? Perhaps, but it's far less awkward than when Dior tries to go high fashion with JLaw. I can't say enough good things about Jennifer's hair these days. This offbeat, wavy bob really suits her.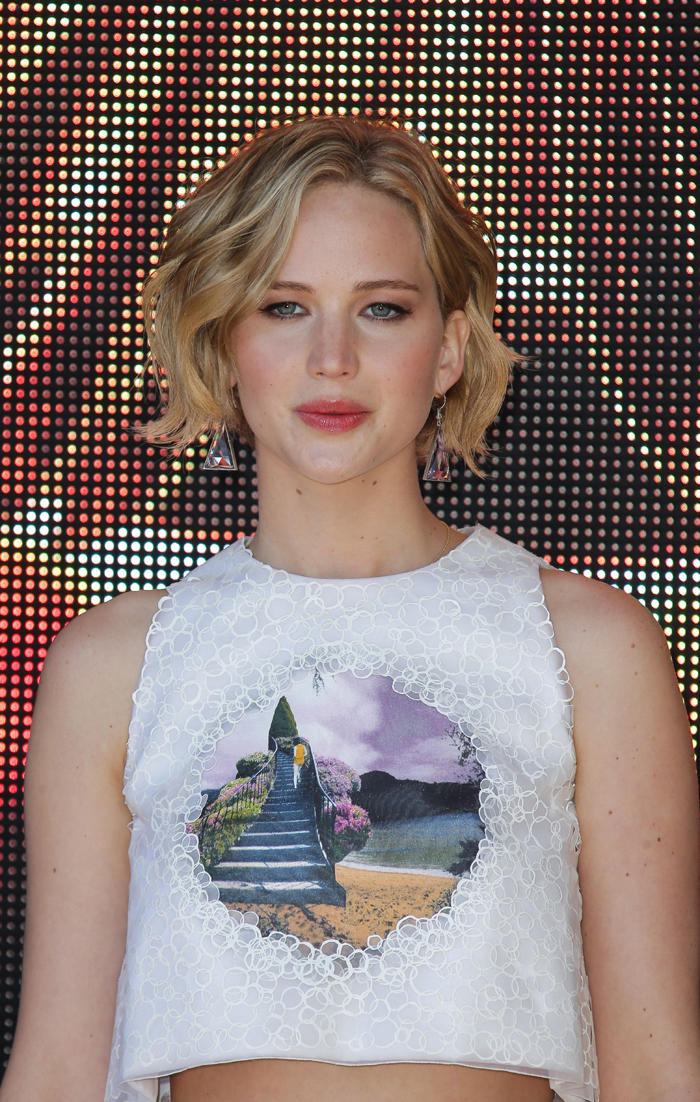 I'm including some photos of JLaw arriving at her hotel earlier that day. She's wearing a Dior Resort ensemble with a breezy striped top and a matching fitted skirt with a scarfy overlay. She looks chic and comfy. Johnny Depp would be jealous of this skirt.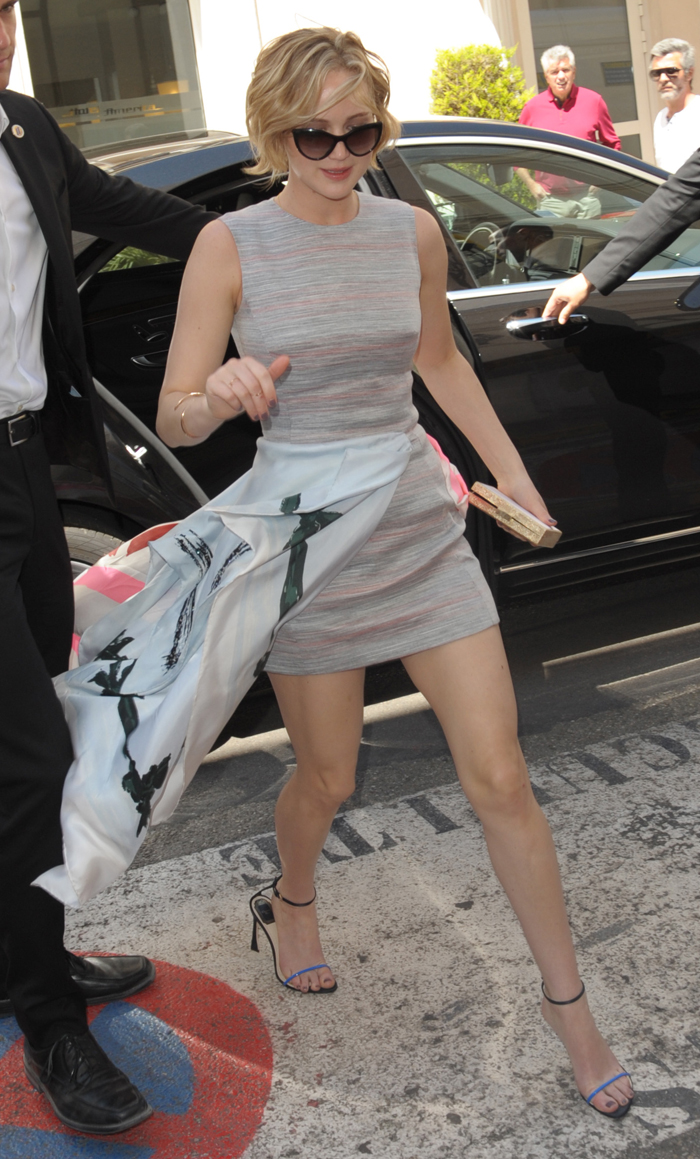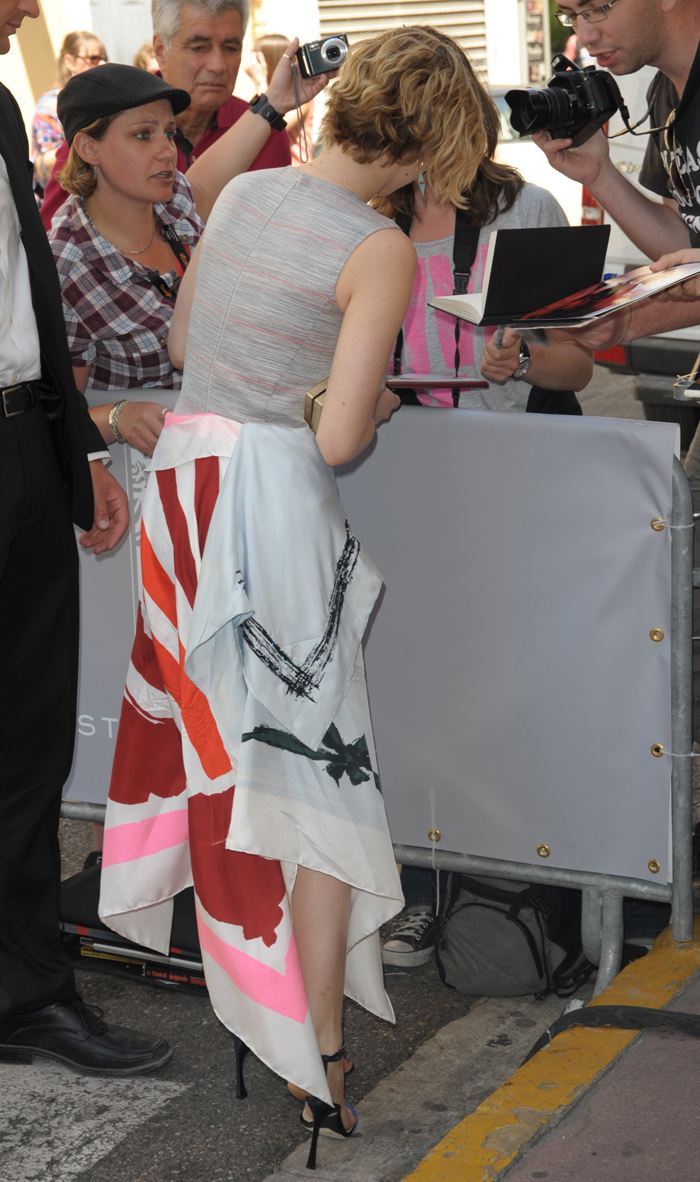 JLaw also attended the Armani party in a cute pantsuit.
Here's Julianne wearing a green toga at the Mockingjay afterparty.
Photos courtesy of Fame/Flynet & WENN