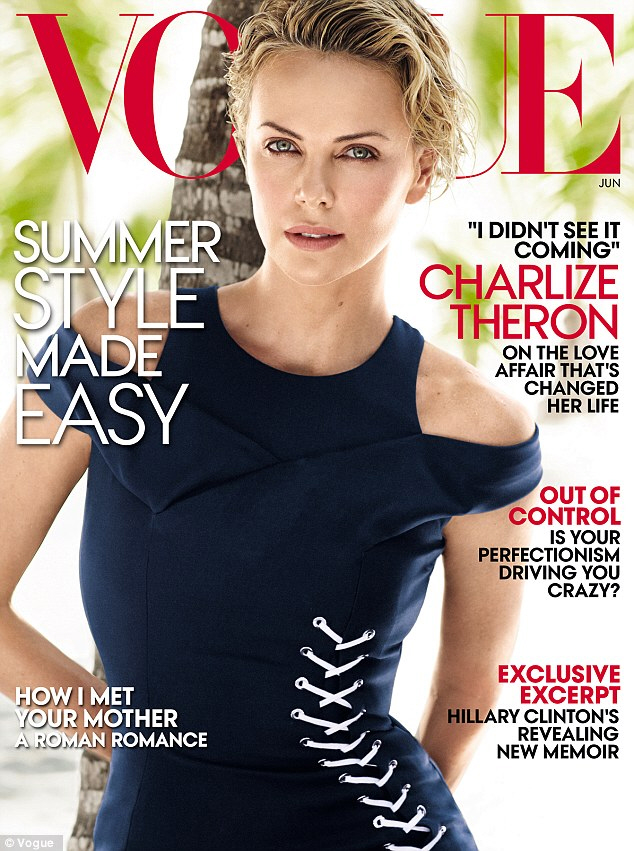 Charlize Theron covers the new issue of Vogue, the June issue. The theme of the Mario Testino shoot is beachy and athletic, lots of swimwear and resort-collection clothes. It suits Charlize – she's got that model figure, but she also looks strong and athletic. She covers the mag because she's promoting A Million Ways To Die In the West, and Seth MacFarlane is quoted extensively throughout the piece. You can tell he adores her, and she really liked being part of the movie too – she talks a bit about how she's typecast as an "icy bitch," and how she reveled in the chance to play a different kind of character. You can read the full piece here (she talks over screwdrivers and steaks). She has a lot to say about Sean Penn. It's actually a really interesting profile and it was difficult to cull the most significant quotes because there were so many.
On marriage: "I mean, I really do understand the importance and what that ceremony represents to so many people, but it's just such a personal thing. Let's put it this way: I never had the dream of the white dress. And watching other people getting married? I think it's beautiful for them, but to be quite honest, usually I'm sitting there just devastated. It's supposed to be this night of celebrating love, and all you see is a couple separated all night making sure everybody else is OK. It just looks like a lot of work. And as you get older, you start sifting through the stuff that really matters… A lot of people want to make it about my past, my mom and dad not being in a great marriage, but I will tell you honestly: I have had a good amount of healthy therapy about it, and it really isn't about that. Because I think that would kind of showcase itself more in a fear of long-term relationships, which I don't have at all. I want the long-term relationship. And I don't really know how to invest in the other thing."

Mommyhood & Sean Penn: "Look, we're dating, and I don't think we were trying to hide anything. We were photographed; the relationship was kind of written about… What I will say is, I was single for a really long time. I was enjoying mommyhood. You just naturally become kind of selfish about your time, and all of it is dedicated to this little thing, whether he needs it or not. And then they get into more of a schedule and you start to think, Wow, wait a second. There's this passionate creature in me. And going about dating in your late 30s is such a different ball game. I know so well what I want to fit in my life. And the simple answer to that is: Unless he can make my life better? My life is really pretty f–king good"

Friends first with Sean: "What I guess I am trying to say is: A friend kind of stepped into that role, and I really didn't see it coming. Sean and I have known each other for eighteen years. We were just really good friends. And it's been slow going because you are aware that you could screw that up and lose it. We had to think about it. But at the end of the day, it was somewhat effortless. It just kind of naturally happened, and before I knew it, I was in something that was making my life better—the people who really love me can see the effect it has had on me. The last time I was dating, I was 24. I was like, 'Awww, you're miserable and moody, but I'm just going to forgive that because you're so cute! Oh, you treat me so badly, but maybe that will change in five years when I have your children!' " She drains her cocktail and orders another. "That just doesn't exist anymore."
See? It's interesting. I know a lot of people think Charlize's thing with Sean will end badly, and yes, it probably will. But I don't begrudge her the relationship. I think Sean makes her happy… for now. We'll see what it's like long-term.
She talks more about hitting "rock bottom" in her 30s and asking for a reference to a good therapist from a friend. She also talks a lot about Jackson, his personality and how she always wanted to adopt, even when she was just a kid herself. She references Stuart Townsend when she talks about adoption, saying: "But even in my relationship with Stuart, that was something I was very clear about. We had very different ideas of what a family looked like. There's no judgment; that was not the reason why we broke up, but when we did, adopting was not a last resort for me—it was almost like a first resort." That's interesting, isn't it? I'll buy that adoption wasn't "the reason" they split, but it's probably a big factor – he wanted to have biological kids and she wanted to adopt. Interesting.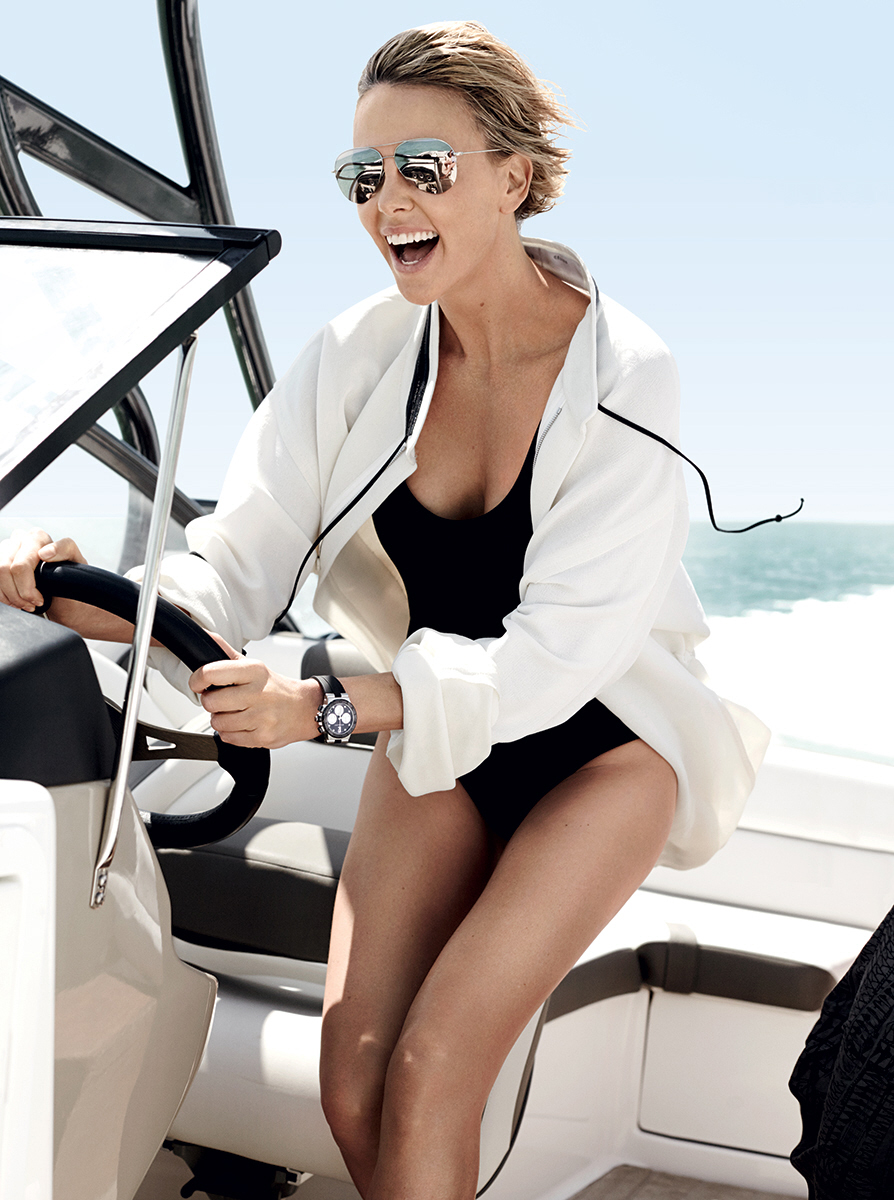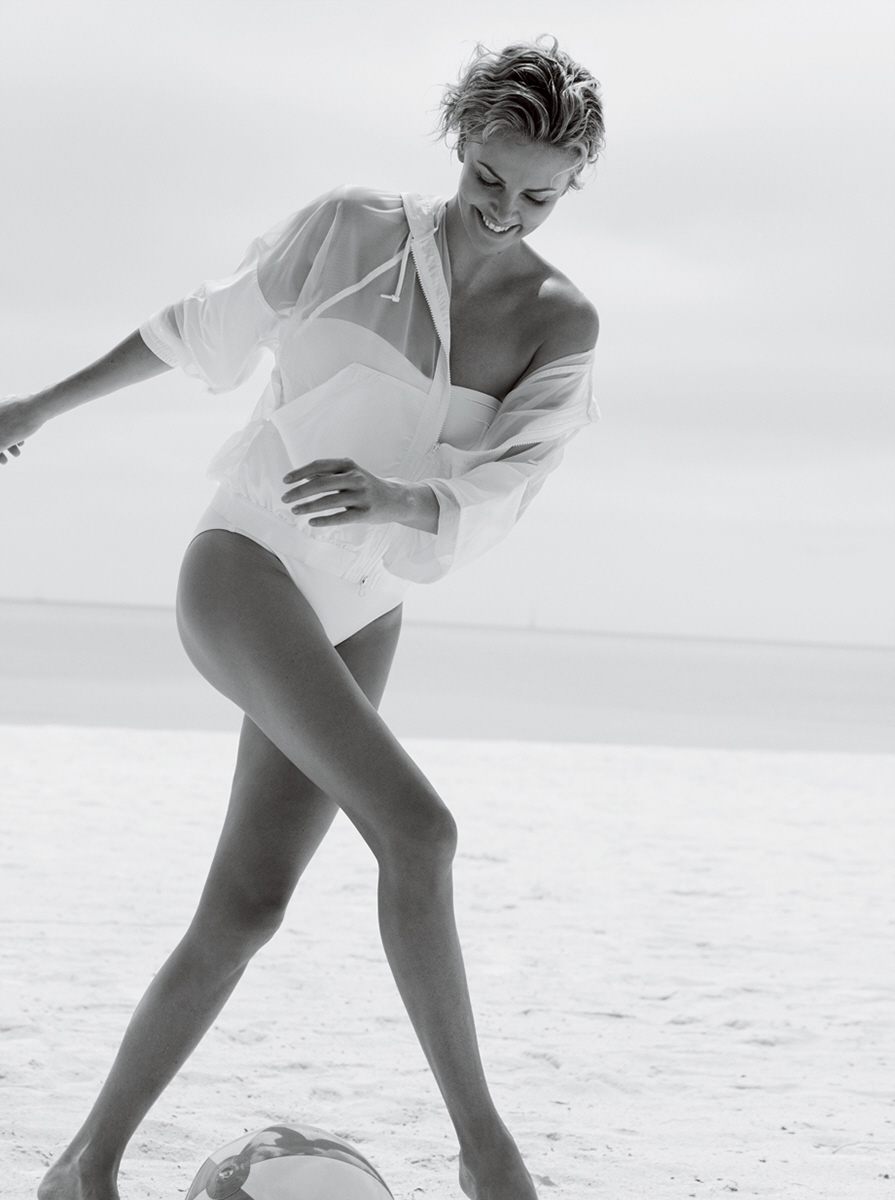 Photos courtesy of Testino/VOGUE.