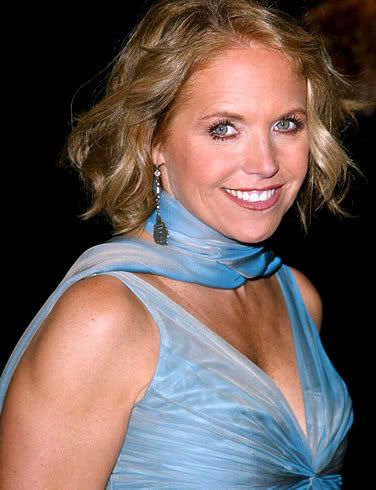 People is covering Katie Couric's six month romance with a 33 year-old triathlete who is 17 years her junior. They have a typical feel-good story about how they met at a cancer benefit last September and have a "drama free relationship." Brooks Perlin he had a privileged upbringing in Connecticut and is now an entrepreneur with his own business selling green materials to construction companies.
I wasn't going to cover this, but The Enquirer has a three page story about Katie's ongoing problems as the ratings for The CBS Evening News tank under her anchorship. They say her new hot relationship is a bright spot in her otherwise troubled life and that she went into a jealous rage after boozing heavily.
The perky news anchor has a tendency to go off on minions and co-workers, according to The Enquirer, which says that people who work with her fear her temper.
Katie is bragging to pals about the hot sex she's having with the athletic Perlin, but she's jealous when other women talk to her man, is really messed up over her career and just can't keep it together:

"Katie loves to describe all the sex they are having, but she's clearly conscious of the age difference between them. She keeps asking people if they think Brooks looks older than he really is." [revealed a source close to her]

"There was an incident after Brooks accompanied Katie to one of the Super Bowl parties thrown by CBS."

Katie had been boozing, and she took a limo back to the… hotel where she was staying.

"But when she got up to her floor, she was a mess. She was crying so hard that her mascara was streaming down her face.

"She began banging on the room of another staffer, asking to be let in so she could talk.

"It turned out Kate was upset that Brooks hadn't come back to the hotel with her. They had separate rooms, but Katie had no intention of sleeping by herself.

"She claimed Brooks had spent too much time talk to her female colleagues at the party.

"Katie raged: 'I left him talking to all those women, and he didn't come back with me. I'm going to cancel his room! He can forget about seeing me!'"…

The next day Katie calmed down and she and Brooks were seen walking around the hotel today. And now Katie is even more determined to make the relationship work. She even dumped her previous steady beau, billionaire beer baron Jimmy Reyes, for Brooks.
[From The National Enquirer print edition, April 23, 2007]
The article goes on to say that Katie was heartbroken to learn that her sister in law Marilyn had died from blood poisoning. Katie was on vacation in Mexico with Perlin and his family when she learned the sad news. Her husband Jay Monahan passed away from colon cancer in 1998.
The Enquirer claims that Katie is all over the place since she learned that her sister in law died. She also can't cope with the stress from her job. According to the rag, she suffers severe mood swings, and can "fly into a rage… over the smallest of things." Her co-workers are said to have a bet about who she'll go off on next.
The ratings are tanking for CBS News since she became anchor, but they're also down at The Today Show since she left. If her latest job doesn't work out, Katie has her sights on an interview talk show like Oprah's.
Whatever is going with Katie, who can blame her for having trouble coping after her sister-in-law died? I kind of like to imagine her being this tyrannical diva at work and I hope that part is true. Good for her for bagging a hot young guy. It might not last though, The Post reports that Perlin is a serial dater of older women, and that he's worked for "three Connecticut-based hedge funds in the past five years and has been out of work since September." They also say he is one of those creeps who checks out every woman that walks by, according to two different sources.