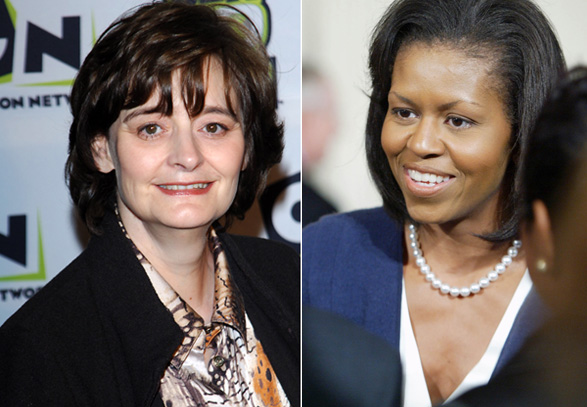 Cherie Blair, the wife of former British Prime Minister Tony Blair, has written an open letter to Michelle Obama offering advice on life as a first lady. Cherie Blair has a similar background to Michelle, they both studied and practice law, but Cherie did not change her career when her husband was elected. I like to think the Michelle Obama, who has taken leave from her Chicago job, has found a new way to use her skills, not given up on her career.
In the letter, Cherie gives advice on how Michelle should handle her role as first lady.
"I think in the end Michelle's primary role is to give her husband support and succour," said Mrs Blair, who continued to work as a QC during her husband's terms in office at Downing Street.

Mrs Obama, who was educated at Harvard, was also advised that she should never look like she has any power or influence over her husband.

"Once upon a time you could say: 'Well, he's got his views, and I've got my views,'" added Mrs Blair. "But when he's elected its almost like you cannot afford to express any separate views," she said.
Cherie offers more advice in an interview with More magazine.
The open letter was part of an interview for the US magazine More where Mrs Blair was also asked: "So is the spouse discounted even though your marriage was originally one of equals?"

Mrs Blair's responded: "You have a partnership, and the man and woman are equally educated, but that dynamic changes suddenly when one of them is elected. Whatever it is you're doing as first lady, it is not equal to being the president of the United States."

In the interview, Mrs Blair also complained about feeling "silenced" during her husband's reign at No 10 before passing judgement on Mrs Obama's potential to influence political agendas.

"A first lady can have influence, but she cannot be seen to have power. She [Mrs Obama] needs to identify causes that she wants to take on – but from an angle that isn't the hard policy angle. You don't want to give traction to your husband's opponents. It's such a lonely job being president. Not even Michelle can go all the way with him, but she can go further with him than anyone else."
Michelle has been criticized by some feminists for designating herself 'Mom-in-Chief', while Cherie was criticized by some for continuing to work and not giving up her career to take care of the Blair's four children while their father was Prime Minister. It seems to me you can't win whether you choose to be a working mother or a stay-at-home-mom, but I applaud Michelle for supporting her husband and children at what is going to be a difficult transition for them, and I applaud Cherie for pursuing her own goals. Both decisions would have been hard to make.
I agree with Cherie that Michelle, on the political agenda, is not as important as the President, but that the role of First Lady must be the most demanding, time consuming and difficult unpaid role in politics. As Cherie says, she's not as important as the president, but they are both under equal scrutiny and pressure. Michelle is expected to play an active public role as First Lady, in addition to caring for her children and supporting her husband during his most demanding job ever. While in the White House as a whole Michelle might not be the equal of her husband, in the family's private quarters in her role as his life partner she is.
Michelle and Barack Obama are shown on 2/4/09 in the East Room of the White House "greeting members of Congress and guests after he signed the State Children's Health Insurance Program (SCHIP) bill" They are also shown on 2/3/09 "visiting the 2nd grade class of Capital City Public Charter School in Washington." Credit: UPI/Newscom. Header image of Michelle Obama on 1/29/09. Cherie Blair is shown on 2/15/09. Credit: WENN